"Little Witch Academia: Chamber of Time" es un juego de RPG creado por Bandai Namco Entertainment basado en la popular serie de anime Little Witch Academia. En este, las estudiantes de Luna Nova inician una aventura completamente inédita creada especialmente para este título. El juego se lanzó para consolas PS4 en Japón el noviembre pasado, pero llegará por primera vez a Occidente el próximo mes para la consola y PC. En un comunicado de prensa, Bandai dio a conocer las nuevas funciones que se incorporarán al juego, como su modo cooperativo offline, online y competitivo.
Todos los niveles estarán disponibles en el modo cooperativo offline, mientras que sólo "La mazmorra infinita" estará disponible en línea. En "La mazmorra infinita" los jugadores tendrán que ayudarse unos a otros para avanzar a las profundidades del nivel. Además, los usuarios podrán crear su propia sala para reclutar jugadores.
En el modo competitivo de "Little Witch Academia: Chamber of Time", los jugadores se enfrentarán uno contra uno en tres rondas de juego. Hay distintas modalidades: destruir obstáculos, derrotar a más enemigos, sumar puntos, infligir más daño y obtener más botines dentro del tiempo límite.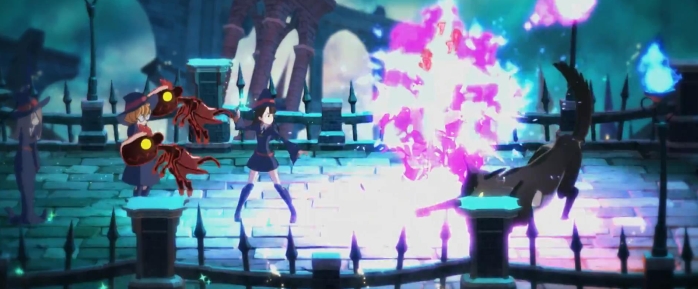 Puedes disfrutar del anime de Little Witch Academia en Netflix. La historia transcurre dentro de la Academia Mágica Luna Nova, una prestigiosa escuela que admite jóvenes estudiantes con el propósito de convertirse en brujas. Después del increíble espectáculo de Shiny Chariot, Atsuko Kagari descubre su vocación por la magia y se inscribe en la escuela para cumplir su sueño. Sin embargo, debido a su procedencia y su falta de aptitud mágica, Akko se enfrenta a todas las dificultades que implica convertirse en una bruja. La animación, a cargo de Trigger, es de muy alta calidad lo que hace que su narrativa sea fluida y dinámica.