Se ha reportado la muerte a los 47 años del actor canadiense de doblaje Kirby Morrow, quien prestó su voz a Cyclops en X-Men: Evolution.
El sitio GateWorld ha reportado la muerte del actor de doblaje canadiense Kirby Morrow, conocido por interpretar a Scott Summers / Cyclops en X-Men: Evolution, Miroku en Inuyasha y Goku en Dragon Ball Z, entre otros.
También la cuenta de Twitter "The Voice Artist's Spotlight" ha dado noticia de la muerte del actor de 47 años.
The news is coming in and I'm rather sadden to report Canadian voice actor @KirbyMorrow has passed away at the age of 47. No further details are available at this time, but later tonight I will be posting a tribute video for him.#RIPKirbyMorrowhttps://t.co/i75pJeP6ZX

— The Voice Artist's Spotlight (@vas_90s) November 19, 2020
Según GateWorld, la muerte de Kirby Morrow fue anunciada a través de una publicación de Facebook por su hermano, Casey Morrow, aunque no hay detalles adicionales. "Kirby fue una persona bendecida y talentosa que trajo alegría a muchos, pero también prosperó con todo su amor y amistad", escribió Casey Morrow. "Él vivió para ello y lo alimentó todos los días".
Kirby Morrow nació en Jasper, Alberta, Canadá el 28 de agosto de 1973. Su carrera comenzó alrededor de finales de los 90, y pasó a dar voz al personaje de Cyclops en X-Men: Evolution de 2000 a 2003. Morrow dio la voz en el doblaje estadounidense a personajes de anime japonés como Miroku de Inuyasha, Teru Mikami en Death Note, Goku en Dragon Ball Z a partir del Episodio 160.
En varias cuentas de Twitter, algunos usuarios han recordado otras de sus participaciones como artista de voz:
Michelangelo
TV Show: Ninja Turtles: The Next Mutation
Year: 1997-1998
Note: Produced by Saban Entertainment as it gave us our first crossover between TMNT and Power Rangers. Along with Kirby, there were @michaeldobson07 as Leo, Matt Hill as Raph, and more.#RIPKirbyMorrow pic.twitter.com/NDnyPnf3m8

— The Voice Artist's Spotlight (@vas_90s) November 20, 2020
Rest in peace, Kirby Morrow… It was an honor to share the stage with you. You gave voice to our childhoods and we'll never, ever forget you.

But personally, I'll always remember you like this. Hot Shot. My childhood hero. pic.twitter.com/OQqsCQCG7F

— Kellen Goff (@kellengoff) November 19, 2020
Zadam
TV Show: B.R.A.T.S. of the Lost Nebula
Year: 1998-1999
Note: An interesting show presented by the Jim Henson Company. Aired on YTV in Canada and Kids WB in the U.S.; the cast included Kirby Morrow, @EvanSabba, Glen Cross, and @AnnickObonsawin.@KirbyMorrow @HistoryMuppet pic.twitter.com/JYknWwrvH8

— The Voice Artist's Spotlight (@vas_90s) November 19, 2020
Fuente: GateWorld
No te pierdas en la tienda online de Smash:
Marvel Básicos – X-Men/Fantastic Four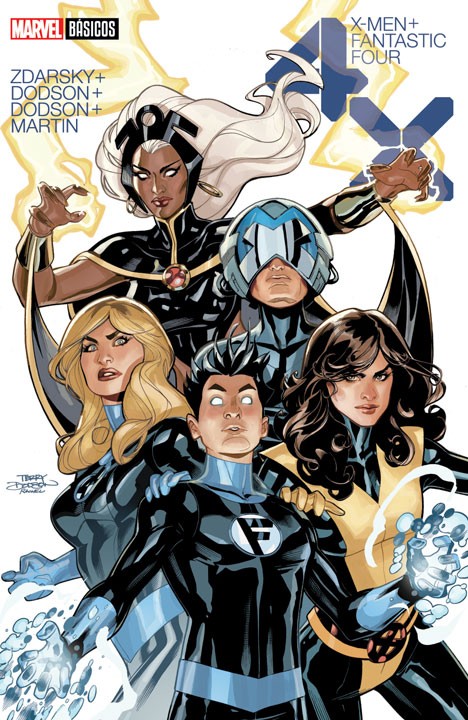 ¡Hijo rebelde!
Cada mutante conocido vive en Krakoa, la nueva isla paradisíaca creada por el Profesor X, –excepto uno–. Para los X-Men llegó la hora de que Franklin Richards vuelva a casa. Sólo hay un problema: ¿qué tiene que decir su Familia Fantástica al respecto?
Mientras las líneas de batalla se dibujan, los X-Men encaran a los Cuatro Fantásticos y, ¡nada volverá a ser lo mismo!
En este nuevo y valiente Amanecer X, Charles Xavier y sus compañeros mutantes han remodelado el mundo. Pero, no puedes cambiar un universo sin encontrar a su verdadero amo: ¡Doom!
Ahora, con el destino de la nación de Krakoa en juego, Franklin enfrenta una decisión trascendental –y los X-Men y los Cuatro Fantásticos– lucharán ¡para salvar el futuro!
Líneas serán cruzadas, se harán enemigos –y el Universo Marvel– ¡sufrirá una alteración sin precedentes!
Recopila X-Men/Fantastic Four (2020) #1-4

También se está leyendo:
-Washington DC podría tener un equipo de fútbol relacionado con X-Men
-La Capitana Marvel puede levantar más de 215 libras
-Marvel confirma la llegada de su primera superheroína transgénero
-Marvel podría hacer una película protagonizada por heroínas
-Fanáticos de X-Men piden a Marvel a Dominique Jackson como Storm