Jason Momoa subió en sus redes sociales que ya está entrenando para volver a interpretar a Arthur Curry en la película Aquaman 2.
A pesar de que la película de Aquaman 2 está prevista que se estrene hasta el 2022, el protagonista Jason Momoa subió en sus historias de Instagram que ya está entrenando para volver a interpretar a Arthur Curry.
Y es que el actor se ha integrado mucho más a lo que será está cinta, ya que según ha declarado ha estado aportando ideas, las cuales Warner Bros. las ha tomado de buena manera.
Jason Momoa will be getting MMA training for Aquaman 2 by the guy in this video. pic.twitter.com/LXkwl5xM1e

— Batman (@Batmancanseeyou) January 8, 2020
Aquaman 2 estará dirigida por James Wan y probablemente tendrá de regreso al villano Black Manta, según lo que le dijo el actor Abdul-Mateen a Entertainment Weekly .
"Tenemos una fecha de diciembre de 2022. Con suerte, eso se mantendrá. Black Manta volverá, me siento seguro al decir eso. Estoy emocionado de volver a entrar en ese mundo y causar más problemas. Realmente quiero agregar más personalidad y más carácter a David Kane y desarrollarlo", aseguró.
El actor Jason Momoa habló sobre lo que vendrá próximamente para Aquaman 2, en una entrevista exclusiva que le hizo Entertainment Tonight.
"Hay mucho más por mostrar en varios niveles. Habrá mucho. ¡Es mucho más grande!", dijo.
"Estoy realmente entusiasmado con los admiradores y con lo que hicimos con la primera película. Warner Bros., DC y nosotros estamos emocionados de hacer otra (película)", expresó.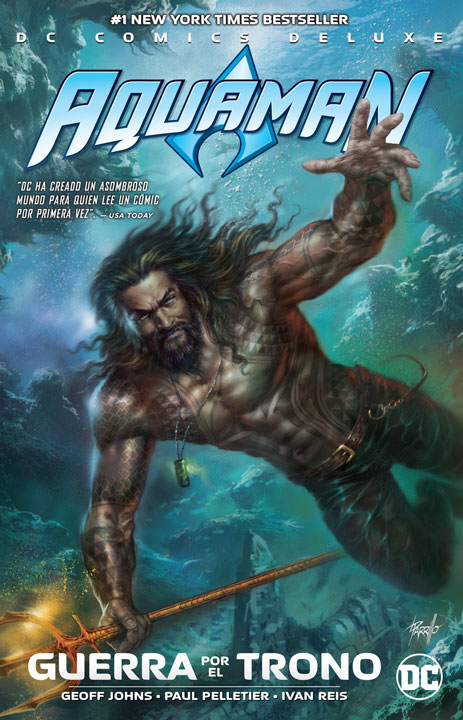 Arthur Curry es un hombre de dos mundos. Hace seis años era un habitante de la superficie, criado como el hijo del guardián de un faro. Pero un día, la tragedia apareció. El destino fue revelado. Y el joven Arthur Curry reclamó su derecho de nacimiento: el Trono de la Atlántida.
Su reinado fue breve. Cuando la oscuridad amenazó el mundo de la superficie, el Rey Arthur salió a enfrentarlo. Él era Aquaman, y se unió al equipo de héroes llamado la Liga de la Justicia, y así abandonó su reino. Pero incluso bajo el agua, el pasado no se quedará enterrado. Una fuerza siniestra está empujando los dos mundos de Aquaman al borde de la guerra, con el destino del planeta pendiendo de un hilo. Si Arthur no reclama su trono, el trono bien podría reclamar su vida…
¡Conoce esta historia épica de conflicto y conquista, del equipo creativo de estrellas conformado por Geoff Johns (Doomsday Clock), Paul Pelletier (Justice League) e Ivan Reis (Superman)!
Recopila Aquaman #0, #14-16 y Justice League #15-17