El siguiente largometraje de DC Comics y Warner Bros. será Aquaman, una cinta que ya se encuentra en los ajustes finales, para su arribo en la pantalla grande en el mes de diciembre.
James Wan, director de la cinta, mostró en redes sociales dos de sus inspiraciones para la trama que acompañará la primera aventura del Rey de los Siete Mares en solitario dentro de la pantalla grande
Los dos libros son King Arthur and his Knights y Moby Dick. King Arthur and his knights fue escrito en 1955 por Henry Frith, mientras que Moby Dick es una novela de la autoría de Herman Melville, publicada por primera ocasión en 1851.
Esta foto la tomo Wan dentro del las cabinas de sonido, durante el proceso de postproducción de la cinta, en particular el diseño de sonido del largometraje protagonizado por Jason Momoa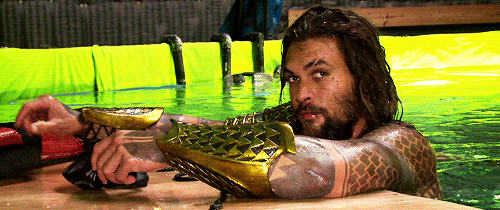 Estas dos historias serán las que aporten los elementos míticos y épicos al guión escrito por Will Beall, derivado de la historia creada por Geoff Johns y James Wan.
Aquaman será la sexta cinta del Universo Extendido de DC Comics. Y su estreno en la pantalla grande está programado para el día 21 de diciembre de 2018.
El reparto de esta producción está encabezado por Jason Momoa como Arthur Curry/Aquaman; Amber Heard como Mera, Willem Dafoe como Vulko; Temuera Morrison como Tom Curry;Dolph Lundgren como Nereus; Yahya Abdul–Mateen II como Black Manta; Patrick Wilson como Orm/Ocean Master, y Nicole Kidman como Atlanna.