Como sabes, DC FanDome se dividió para que la disfrutes mejor, y así quedaron los horarios del Salón de los Héroes de DC FanDome.
DC FanDome será una verdadera locura, el evento virtual más esperado que presentará lo que viene de las películas, series, los videojuegos, los cómics y más. Y apenas hace un par de días se anunció que DC FanDome se dividió en dos eventos con nuevos horarios. El primero de estos llega el sábado 22 de agosto y el segundo el sábado 12 de septiembre.
El cambio permitirá a los fans tener una oportunidad mayor de apreciar mejor la fantástica oferta que DC te presenta. Mientras que el evento de agosto se centrará en los paneles más grandes de la sección "Salón de los héroes", el de septiembre te permitirá explorar la experiencia inmersiva que se preparó para ti.
Como consecuencia lógica del anuncio, el Salón de los Héroes modificó un poco su horario.
Así serán los horarios del Salón de los Héroes de DC FanDome
Wonder Woman 1984 Panel – 12:00 pm. Con Gal Gadot, Chris Pine, Kristen Wiig, Pedro Pascal y Patty Jenkins (25 min)
Warner Bros. Games Montreal Announcement – 12:25 pm (20 min)
The Sandman Universe: Enter the Dreaming Panel – 12:45 pm. Con Neil Gaiman, Dirk Maggs, G. Willow Wilson y Michael Sheen (30 min)
Multiverse 101 – Panel – 1:15 pm. Con Jim Lee, Walter Hamada y Greg Berlanti. (30 min)
Introducing Flash – Panel – 1:45 pm. Con Andy Muschietti and Barbara Muschietti, Ezra Miller y Christina Hodson (10 min)
Beyond Batman – 1:50 pm (5 min)
The Suicide Squad Panel – 1:55 pm. Con James Gunn y el elenco de la película (30 min)
BAWSE Females of Color Within the DC Universe – Panel – 2:40 pm. Con Meagan Good (SHAZAM!), Javicia Leslie (Batwoman), Candice Patton (The Flash), Tala Ashe (DC's Legends of Tomorrow), Nafessa Williams y Chantal Thuy (Black Lightning), y Anna Diop y Damaris Lewis (Titans). (20 min)
Esto no termina, los horarios de DC FanDome siguen
Legacy of the Bat – Panel – 3:00 pm (15 min)
Chris Daughtry: Performance – 3:20 pm (10 min)
The Joker: Put on a Happy Face – 3:30 pm (5 min)
Jim Lee Portfolio Review – DC Super-Villain Fan Art – 3:35 pm (10 min)
Surprise DC Comics Panel – 3:45 pm (20 min)
I'm Batman: The Voices Behind the Cowl – Panel – 4:10 pm (20 min)
The Snyder Cut of Justice League – Panel – 4:30 pm feat. Zack Snyder (25 min)
The Flash TV Panel – 4:54 pm. Con el cast y crew de la serie (16 min)
Black Adam Panel – 5:10 pm. Con Dwayne Johnson y otros (20 min)
CNN Heroes: Real-Life Heroes in the Age of Coronavirus – 5:30 pm (20 min)
Titans TV Panel – 5:50 pm. Con el cast y crew de la serie (15 min)
Aquaman Panel – 6:05 pm. Con James Wan y Patrick Wilson (10 min)
"Ask Harley Quinn" – 6:15 pm (5 min)
Wonder Woman 80th Celebration – Panel – 6:20 pm. Con Gal Gadot, Patty Jenkins, y una invitada especial (5 min)
Tomorrow's Super Heroes with Jim Lee brought to you by Gold House – 6:25 pm. Con Jim Lee y Gold House founder Bing Chen (15 min)
SHAZAM! Panel – 6:40 pm. Con Zachary Levi y otrós (10 min)
Wonder Woman 1984 – The WW84 Cast Play "Werewolf 1984" – 6:50 pm (22 min)
Suicide Squad: Kill the Justice League – 7:10 pm (20 min)
The Batman Panel – 7:30 pm feat. Matt Reeves y otros (30 min)
No te lo puedes perder.
Fuente: DC FanDome
No dejes de leer: The Suicide Squad presenta un divertido previo de lo que verás en DC FanDome
De la tienda de Smash: DC Definitive Edition – Injustice vs. Masters of The universe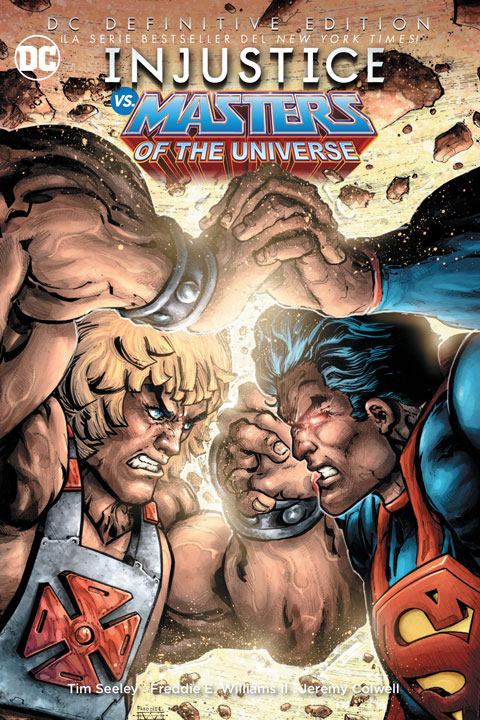 ¡El Caballero Oscuro se enfrenta a Grayskull!
¡El reino de Eternia enfrenta desafíos incalculables cuando los campeones de Injustice, el juego de peleas más exitoso, buscan la ayuda de He-Man!
¡Y cuando Skeletor se vuelve el aliado del Superman oscuro y de Wonder Woman, INJUSTICE VS. AMOS DEL UNIVERSO se convierte en una guerra que abarca dos universos!
El príncipe Adam, alias He-Man, ha recuperado su trono, pero los secretos que su gente descubrió cuando él desapareció debilitaron severamente su autoridad. Adam acepta la invitación de Batman, Harley Quinn, Green Arrow, Starfire y otros héroes del mundo de Injustice, y el malvado Skeletor ve una oportunidad para derrotar a su enemigo de una vez por todas, ofreciéndole a Superman los secretos para derrotar a He-Man, Teela y los otros Amos del Universo. Además: Swamp Thing y Mossman encuentran intereses en común, Darkseid llega al Castillo Grayskull y aun más sorpresas, cortesía de Tim Seeley (NIGHTWING) y el artista Freddie E. Williams II (HE-MAN/THUNDERCATS).
¡INJUSTICE VS. MASTERS OF THE UNVERSE recopila los 6 números de la serie!
También se está leyendo:
Margot Robbie se quita la ropa… ¡y algo sale mal!
Batgirl: Daisy Ridley y Katherine Langford podrían interpretarla
Así se enteró Margot Robbie de su nominación al Oscar
Lindsay Lohan se disfraza de la novia del Guasón