Por fin tenemos la lista de invitados a la DC FanDome, y entre nombres conocidos, hay algunos que no se esperaban.
Por supuesto, esperamos con ansias ver a James Gunn y su Suicide Squad y saber algo de The Batman con Matt Reeves y Robert Pattinson, o de Shazam 2, por supuesto de Wonder Woman 1984 y lo que nos depare el Arrowverse. Sin embargo, entre la lista de invitados a DC FanDome hay sorpresas que aquí enlistamos.
Estas son las sorpresas de la lista de invitados a DC FanDome
Val Kilmer ¿Veremos un Batmanverse, una versión extendida de Batman Forever?
Alice Braga ¿Se confirmará como Poison Ivy en Suicide Squad 2?
Dwayne Johnson ¿Al fin sabremos algo concreto de Black Adam?
THEY NEEDED A HERO.
INSTEAD THEY GOT ME⚡️🖤
Excited for the first-ever global celebration of the DC Multiverse – #DCFanDome!
This one's just for you – THE FANS AROUND THE WORLD!
Stay healthy, my friends, and I'll see you all on August 22nd! 🥃
-The Man In Black#BlackAdam pic.twitter.com/m3S4tySYT8

— Dwayne Johnson (@TheRock) August 7, 2020
John Glover ¿Vendrá para anunciar la celebración de 20 años de Smalville?
Alfre Woodard ¿Directamente de Luke Cage al DC Universe?
Anthony Carrigan ¿Habrá noticias desde Gotham?
Neil Gaiman ¿Nos presentará algo de la serie de The Snadman?
Troian Bellisario ¿Qué hace aquí una chica de Pretty Little Liars?
Peter Capaldi ¿Qué demonios hará en Suicide Squad 2?
Tamara Tunie ¿Algo no pudo resolver al Unidad de Víctimas Especiales de la Ley y el orden?
Tony Shalhoub ¿Qué hace por acá el detective Monk?
Dean Norris Breaking Bad se hace presente.
Daniel Dae Kim Aún extrañamos Lost.
Brett Dalton ¿Qué llevaría a uno de los Agents of S.H.I.E.L.D. iniciales a cambiar de bando?
Brian Michael Bendis Queremos nuevos proyectos…
Christina Hodson ¿Tendremos secuela de Birds of Prey?
Damon Lindelof ¿Anunciará Watchmen 2?
Danica McKellar ¿Vendrá acompañada de Kevin Arnold de Los Años Marvillosos?
Eric McCormack Hey, Will, ¿dónde dejaste a Grace?
Grant Morrison ¿Ahora qué estás tramando, Grant?
Jason Alexander Aún te extrañamos en Seinfeld
BossLogic ¡Bienvenido a las grandes ligas!
Lynda Carter ¿Estarás con Gal Gadot en Wonder Woman 1984?
Nathan Fillion Invita a Buffy, por favor.
Sefton Hill Sin duda nos dará sorpresas sobre el videojuego de Suicide Squad
Tom King ¿Nos mostrará algo de Rorschach?
Fuente: DC FanDome
Esta es la lista completa de invitados  a DC FanDome (con y sin sorpresas)
Abdo
Abigail Shapiro
Adam Brody
Adam Lagattuta
Adam Wylie
Alan Ritchson
Alan Tudyk
Alex Sanchez
Alfre Woodard
Alice Braga
Aline Bonetto
Allison Klein
Amanda Conner
Amara La Negra
Amy Louise Pemberton
Amy Smart
Andrew Petrotta
Andy Milder
Andy Muschietti
Andy Siegel
Andy Washington
Anna Diop
Anna Lynch-Robinson
Anthony Carrigan
Anthony Rapp
April Bowlby
Armen Kaverorkian
Asher Angel
Barbara Muschietti
Ben Aldridge
Beth Mickle
Bill Brzeski
Brandon McKinght
Brandon Vietti
Brec Bassinger
Brenton Thwaites
Brett Dalton
Brian Michael Bendis
Briony Scarlett
Bronte Lavine
Bruno Heller
Butch Lukic
Candice Patton
Cari Thomas
Carlos Valdes
Caroline Dries
Caterina Scorsone
CCH Pounder
Cecil Castelucci
Chantal Thuy
China Anne McClain
Chris Daughtry
Chris Dingess
Chris Jai Alexander
Chris Palmer
Chris Pine
Christina Hodson
Christine Adams
Christoper Priest
Chrstiaan Bettridge
Clancy Brown
Clay Enos
Colleen Atwood
Connie Nielsen
Conor Leslie
Constance Zimmer
Cress Williams
Crispin Freeman
Curran Walters
D Nice
Damaris Lewis
Damon Lindelof
Dan Jurgen
Danica Mckellar
Daniel Dae Kim
Daniela Melchior
Danielle Nicolet
Danielle Panabaker
Danny Cannon
Danny Le Boyer
Darren Criss
David Dastmalchian
David G. Sandberg
David Harewood
Dayna Grant
Dean Hale
Dean Lorey
Dean Norris
Denisse Boutte
Diane Guerrero
Diedrich Bader
Dirk Maggs
Dou Hong
Dustin Nguyen
Dwayne Johnson
Ed Boon
Elizabeth Tulloch
Emanuela Lupacchino
Emma Paetz
Eric McCormack
Eric Wallace
Erich Bergen
Erin Benach
Eunice Huthart
Ezra Miller
Faithe Herman
Fleur Marty
Flula Borg
Franco
Gabriel Picolo
Gabriela Downie
Gal Gadot
Gene Luen Yang
Geoff Johns
Giancarlo Esposito
Gina Gerhson
Giuseppe Camuncoli
Grainne Godfree
Grant Gustin
Grant Morrison
Greg Berlanti
Greg Cipes
Greg Walker
Greg Wiseman
Griffin Puatu
Gwendolyn Osborne
Heidi Falconer
Henry Winkler
Idris Elba
Ike Amady
Ildy Modrovich
Isacc Goodhart
Jack Bannon
Jack Dylan Grazer
Jade Johnson
Jai Courtney
Jamal Campbell
Jamal Igle
James Gunn
James Remar
James Tucker
James Tynion IV
James Wan
Jason Alexander
Jason Fabok
Jason Isaacs
Jason Spisak
Javicia Leslie
Jennifer Clarke
Jennifer Coyle
Jenniffer Holand
Jenniffer Spence
Jenny Pacey
Jeremy Carver
Jes Macallan
Jesse Warn
Jessica Miglio
Jessie Graff
Jim Krieg
Jim Lee
Joaquin Cosio
Joe Henderson
Joel Kinnaman
Joëlle Jones
John Cena
John DiMaggio
John Glover
John Ridley
Joivan Wade
Jonathan Ajavi
Jorgan Calloway
Jorge Fornés
Jorge Jiménez
Joshua Orpin
Joshua Williamson
Josie Campbell
Juan Diego Botto
Justin Halpern
Kaley Cuoco
Kami García
Karen Obilom
Kari Wahlgren
Karl Mostert
Katie Yu
Kayla Compton
Kelvin Yu
Keto Shimizu
Khary Randolph
Kirk Scroggs
Kkary Payton
Klaus Janson
Kode (Bosslogic)
Kristen Wiig
Mckinney
Lake Bell
Larnell Stovall
Laurie Halse Anderson
Lea Delaria
Lilly Aspell
Lindy Hemming
Lynda Carter
Lynda Chapple
Mairghead Scott
Marc Guggenheim
Margot Robbie
Marieke Nijkamp
Mark Strong
Mark Waid
Marvin "Krondon" Jones III
Matt Bomer
Matt Oberg
Matt Reeves
Matt Ryan
Matthew Wilson
Matthew Zuk
Maya Mani
Mayling NG
Meagan Good
Meagan Tandy
Michael Rooker
Michael Sheen
Mike Wassel
Mikel Janín
Minka Kelly
Miranda Chamber
Moe Sasegbon
Monica Kubina
Nafessa Williams
Nathan Fillion
Nathan Sawaya
Neil Gaiman
Nick Zano
Nicola Scott
Nicolas González
Nicole Kang
Nicole Maines
Nolan North
Olivia Swann
Paloma Faith
Patrick Redding
Patrick Schumacker´
Patrick Tatopoulos
Patrick Wilson
Patty Jenkins
Paul Levitz
Pedro Pascal
Pete Davidson
Pete Michail
Peter Capaldi
Phil Klemmer
Philip Chipera
Phony PPL
Rachel Skarsten
Ravi Patel
René Ruiz
Rian Hughes
Richard King
Riley Rossmo
Riley Shanahan
Rob Inch
Robert Pattinson
Robin Wright
Robyn Smith
Ron Funches
Ryan Potter
Sam Daly
Sarah Kuhn
Sarah Schechter
Sasha Alexander
Scott Campbell
Scott Menville
Scott Snyder
Sean Giambrone
Sean Gunn
Sefton Hill
Shannon Hale
Shawn Harrison
Shayan Sobhian
Simon Burnett
Stanley "Artgerm" Lau
Stephanie Lemelin
Steve Agee
Steve Wilkie
Storm Reid
Sung Jin Ahn
Tala Ashe
Tama Becher-Wilkinson
Tamara Tunie
Tara Strong
Teagan Croft
Temeura Morrison
Terry Crews
Tim Daly
Tim Sheridan
Timothy Dalton
Todd Helbing
Tom King
Tom Taylor
Tony Shalhoub
Trevir Hairsine
Troian Bellisario
Troy Baker
Tyler Hoechlin
Val Kilmer
Victoria Ying
Vincent Martella
Viola Davis
Willow Wilson
Yancey Labat
Yolanda Ross
Yuri Lowenthal
Yvette Monreal
Zachary Levi
Zack Snyder
Ziggy Marley
De la tienda de Smash: DC Comics Deluxe The World's Greatest Super-Heroes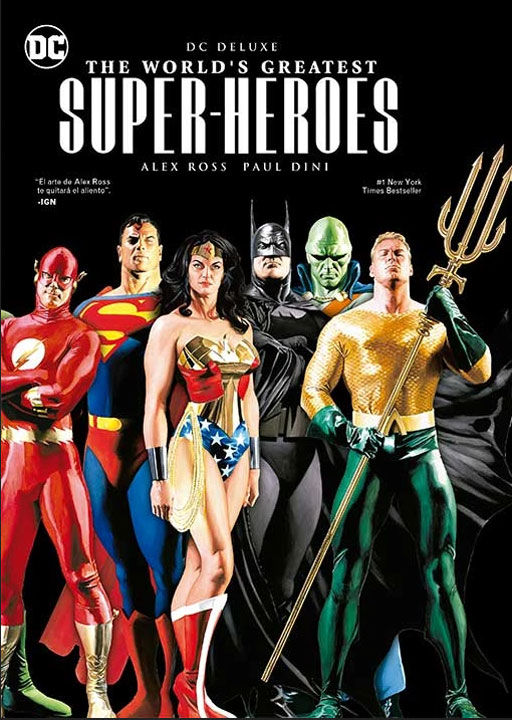 The World's Greatest Super-Heroes es una de las obras más espectaculares que podrán encontrarse en el medio del cómic. Presentadas originalmente como novelas gráficas unitarias, las historias que se reúnen en este volumen: Superman: Paz Sobre la Tierra, Batman: Guerra Contra el Crimen, ¡Shazam!: El Poder de la Esperanza, Wonder Woman: Espíritu de la Verdad y JLA: Libertad y Justicia, así como JLA: Orígenes Secretos (el cual presenta espectaculares inicios de los héroes más importantes de DC), conforman un esfuerzo de más de cinco años en las carreras del escritor Paul Dini y del ilustrador Alex Ross. En dichas historias, ambos autores recuerdan los momentos más heroicos y emotivos de estos arquetipos superheroicos, que adquieren mayor trascendencia gracias a las impresionantes ilustraciones creadas por Ross para cada una de ellas. Por primera vez en México presentamos completa esta saga de seis novelas gráficas.
TAMBIÉN SE ESTÁ LEYENDO
Así luce Robert Pattinson como Batman
DC cómics presentó la boda de de Batman y Gatúbela
Grant Morrison: Superman era bully