Descubre la esperada lista de invitados, que contará con grandes personalidades de los cómics, el cine, la televisión, los videojuegos y hasta los deportes que tomarán parte de la DC FanDome

El 22 de agosto de 2020, DC Comics será el anfitrión de una de las más grandes convenciones en línea nunca antes vista, la DC FanDome, donde por 24 horas, creativos, actores, directores, y  personalidades presentarán las novedades de DC Comics.
Desde los grandes estrenos en la pantalla grande, los proyectos para televisión, nuevos videojuegos y los planes de diferentes cómics, DC Comics se ha preocupado por traer a grandes figuras de todos los ámbitos para un evento sin igual
No te pierdas: ¡Bienvenidos a la DC FanDome!
Estos son los invitados que tomarán parte de los diferentes paneles que se llevarán a cabo en la DC FanDome
En el mundo del cine la DC FanDome contará con las participaciones estelares de Matt Reeves y Robert Pattinson, quienes presentarán The Batman, al igual que Zack Snyder, que dará a conocer los avances de su corte a Justice League
También destaca la presencia de Patty Jenkins, Gal Gadot, Chris Pine, Pedro Pascal, Connie Nielsen, Jonathan Ajayi, Kristen Wiig, Lilly Aspell y Robin Wright, que estarán a cargo de presentar los últimos detalles de Wonder Woman 1984
Otros actores que tomarán parte de las próximas películas y series de DC, que estarán en la DC FanDome son: Alice Braga, Dwayne 'The Rock' Johnson, Alfre Woodard, Anthony Carrigan, Brett Dalton, Danica McKellar, Daniel Dae Kim, Eric McCormack, John Glover, Jason Alexander, Sasha Alexander, Juan Diego Botto, Kaley Cuoco, Matt Bomer, Lake Bell, Lynda Carter, Meagan Good, Nathan Fillion, Peter Capaldi, Richard Kind Tony Shalhoub, Michael Rooker, Val Kilmer y Yolonda Ross.
Más invitados a la DC FanDome
También están confirmados los artífices de series aclamadas para DC Comics como Marc Guggenheim, Damon Lindelof, Greg Berlanti, Christina Hodson
Sefton Hill, una de las mentes detrás de los juegos de Arkham también confirmó su presencia, en lo que podría ser la presentación de un nuevo proyecto de DC en las consolas de videojuegos
También estarán creativos del mundo de los cómics como Artgerm, Amanda Conner, Brian Michael Bendis, Dan Jurgens, Dustin Nguyen, Gabriel Picolo, Geoff Johns, Giuseppe Camuncoli, Grant Morrison, J. Scott Campbell, James Tynion IV, Jason Fabok, Jim Lee, Joëlle Jones, Jorge Jimenez, Jorge Fornes, Joshua Williamson, Kami Garcia, Klaus Janson, BossLogic, Mark Waid, Mikel Janin, Neil Gaiman, Nicola Scott, Paul Levitz, Scott Snyder, Tom Taylor y Tom King, entre otros.
Una lista selecta de los invitados a DC FanDome:
Alice Braga
Dwayne Johnson
Alfre Woodard
Amanda Conner
Anthony Carrigan (¿Gotham?)
Brian Michael Bendis
Brett Dalton
Christina Hodson
Damon Lindelof
Dan Jurgens
Danica McKellar
Daniel Dae Kim
Dustin Nguyen
Eric McCormack
Gabriel Picolo
Geoff Johns
Giuseppe Camuncoli
Grant Morrison
Greg Berlanti
Scott Campbell
James Tynion IV
Jason Fabok
Jason Alexander
Jim Lee
Joëlle Jones
John Glover
Jorge Jimenez
Jorge Fornes
Joshua Williamson
Juan Diego Botto
Kaley Cuoco
Kami Garcia
Klaus Janson
BossLogic
Lake Bell
Lynda Carter
Marc Guggenheim
Mark Waid
Mikel Janin
Nathan Fillion
Neil Gaiman
Nicola Scott
Paul Levitz
Peter Capaldi
Richard Kind
Sasha Alexander
Scott Snyder
Zack Snyder
Sefton Hill
Artgerm
Tom King
Tom Taylor
Tony Shalhoub
Val Kilmer
Yolonda Ross
Crece la lista con más invitados y paneles
The Batman
Matt Reeves
Robert Pattinson
Pennyworth
Ben Aldridge
Emma Paetz
Jack Bannon
Paloma Faith
Doom Patrol
Abigail Shapiro
Alan Tudyk
April Bowlby
Diane Guerrero
Joivan Wade
Karen Obilom
Timothy Dalton
Matt Bomer
Shazam
Adam Brody
Asher Angel
David F. Sandberg
Faithe C. Herman
Jack Dylan Grazer
Mark Strong
Zachary Levi
Meagan Good
Titans
Alan Ritchson
Brenton Thwaites
Conor Leslie
Curran Walters
Joshua Orpin
Minka Kelly
Ryan Potter
Teagan Croft
Stargirl
Brec Bassinger
Amy Smart
Anjelika Washington
Cameron Gellman
Yvette Monreal
Legends of Tomorrow
Amy Pemberton
Anna Diop
Caity Lotz
Jes Macallan
Matt Ryan
Nick Zano
Tala Ashe
Flash película
Andy Muschietti
Barbara Muschietti
Ezra Miller
Flash serie
Candice Patton
Carlos Valdez
Danielle Nicolet
Danielle Panabaker
Grant Gustin
Kayla Compton
Batwoman
Camrus Johnson
Javicia Leslie
Meagan Tandy
Nicole Kang
Rachel Skarsten
Black Lighting
Chantal Thuy
China Anne McClain
Nafessa Williams
Cress Williams
Christine Adams
James Remar
Jordan Calloway
Wonder Woman
Chris Pine
Pedro Pascal
Patty Jenkins
Connie Nielsen
Gal Gadot
Jonathan Ajayi
Kristen Wiig
Lilly Aspell
Robin Wright
Suicide Squad 2
Daniela Melchior
Flula Borg
Idris Elba
Jai Courtney
James Gunn
Jennifer Holland
Joaquin Cosio
Joel Kinnaman
John Cena
Margot Robbie
Michael Rooker
Sean Gunn
Storm Reid
Viola Davis
Supergirl
David Harewood
Nicole Maines
Superman & Lois
Bitsie Tulloch
Tyler Hoechlin
Aquaman
James Wan
Patrick Wilson
Temuera Morrison
Conoce el Multiverso de los presentadores y conductores
Para un magno evento como la DC FanDome, los conductores de los diferentes paneles y presentaciones serán una parte fundamental para que éste evento sea todo un éxito.
Es por ello que DC Comics convocó a personalidades del cine, la televisión y hasta el mundo de los deportes (como Gael Monfils y Venus Williams) en su roster de conductores, que minuto a minuto acompañarán al evento geek del año).
Consulta a algunos de los conductores que se darán cita en la DC FanDome.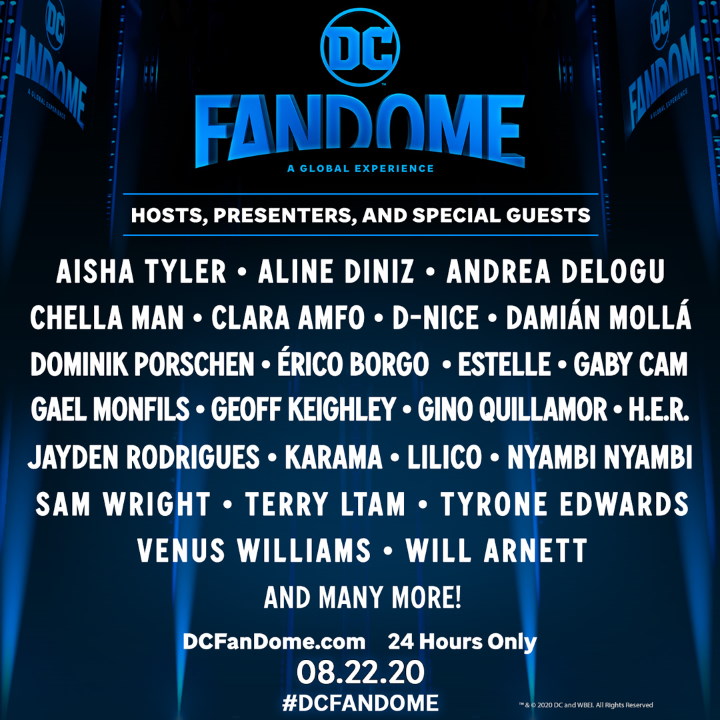 ¡Esto es DC FanDome!
DC FanDome, una megaexperiencia virtual e inmersiva de 24 horas que dará vida al universo de DC con los actores, directores, productores y creadores detrás de las más grandes películas, series de tv, videojuegos y cómics.
El sábado 22 de agosto de 2020, a partir de las 2 p.m. Argentina, 12 p.m México/Colombia y 1 p.m Chile, Warner Bros. dará la bienvenida a los fans de todo el mundo al DC FanDome, una experiencia virtual gratuita que no requiere de acreditaciones especiales para participar.
Imagina que todos los superhéroes y los supervillanos a quienes has amado desde que los conociste, finalmente se reúnen en un mismo lugar para celebrar el pasado, presente y futuro de DC. Con acceso por 24 horas seguidas desde el sitio web DCFanDome.com, este evento global transportará a los fanáticos al interior del Multiverso DC con primicias de WB sobre videojuegos, películas, TV y cómics.
Te puede interesar: DC FanDome presenta su tráiler oficial
Fuente: DC Comics
Justice League: La Guerra de Darkseid ha llegado a SMASH y DC Comics México
Para evitar que la Tierra sea un daño colateral en la guerra de dioses, la Liga de la Justicia debe descubrir los secretos de los Nuevos Dioses y revelar la verdad detrás de la identidad del Anti-Monitor y su historia con Darkseid.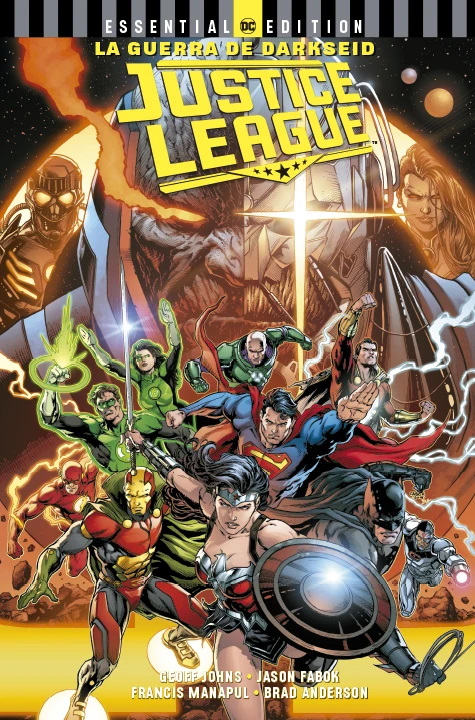 SMASH y DC Comics México tienen para ti DC Essential Edition Justice League: La Guerra de Darkseid, un tomo imperdible que debes conseguir en este enlace, con la seguridad que te llegará a las puertas de tu casa.
También se está leyendo
Así luce Robert Pattinson como Batman
DC cómics presentó la boda de de Batman y Gatúbela
Grant Morrison: Superman era bully