Uno de los cambios más significativos que tiene la formación de la Liga de la Justicia dentro de Rebirth es la ausencia de Hal Jordan, mejor conocido por sus compañeros como el más grande Green Lantern que ha tenido la Corporación. Sin embargo, aunque Jordan no está en la Tierra, eso no quiere decir que no este trabajando.
¡Advertencia de spoilers! El siguiente texto contiene información sobre diferentes números del cómic Hal Jordan and the Green Lantern Corps, por lo que si aún no lo has leído y quieres sorprenderte, te recomendamos no seguir leyendo.
Retrocediendo en el tiempo a través de los primeros títulos publicados del héroe en Rebirth, los Green Lantern logran vencer a la Corporación Sinestro y retomar su lugar de policías espaciales. Con la diferencia de que la reconstrucción y sucesos posteriores como el ataque de Larfleeze a ambos equipos, lleva a Soranik Natu, hija de Sinestro, y a John Stewart, líder de los Green Lanterns, a llegar a un acuerdo de cooperación.
Nunca antes los héroes de DC Comics habían imaginado una alianza de este estilo. Aunque la Corporación Green Lantern y Sinestro tienen la misma misión: mantener el orden en el universo. Sus métodos y valores son muy diferentes.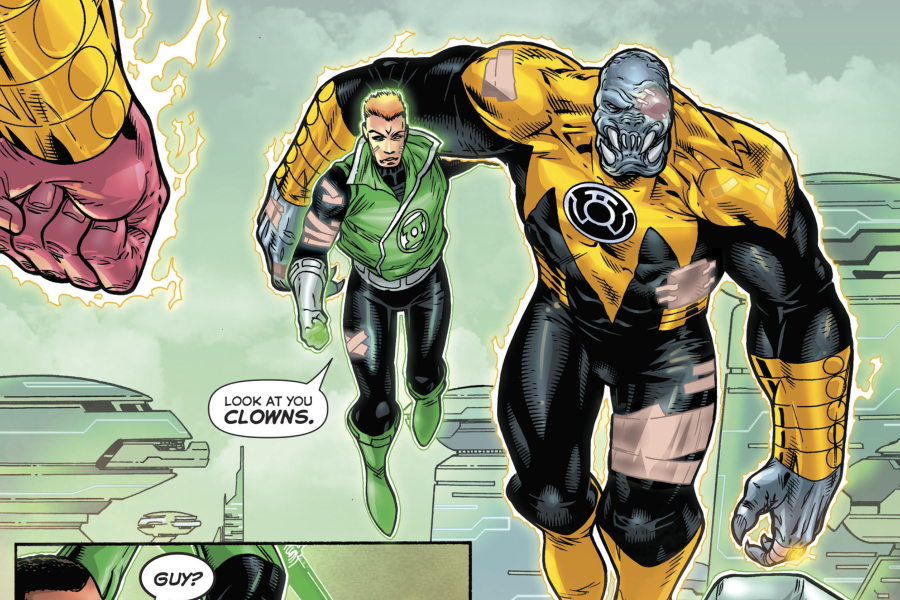 Más allá de si se logra mantener -o no- esta nueva etapa. Stewart y Soranik han marcado un gran cambio en la historia de ambas Corporaciones. Estamos seguros de que ni ellos se imaginaron la reconstrucción de una Batería de Poder del espectro amarillo en Mogo -planeta viviente que funciona como Base de los Green Lanterns– o ver a Guy Gardner haciendo equipo con Arkillo.
Sin duda, aún queda mucho por aclarar en el universo sobre el papel y futuro de las diferentes Corporaciones. Es por eso que no te puedes perder Hal Jordan and the Green Lantern Corps, uno de los títulos que SMASH y DC Comics México publican de forma mensual.