Como regalo de año nuevo, la producción de Peacemaker ha compartido el tráiler final de la serie spin-off de Suicide Squad de James Gunn.
DC compartió el tráiler final de Peacemaker, la serie spin-off de Sucide Squad que James Gunn desarrolla para la cadena de contenidos en streaming HBO Max.
En sus redes sociales, DC compartió el adelanto con un mensaje del protagonista de la serie, John Cena, y acompañó el clip con la leyenda: "2022 se ve muy pacífico. ¡Prepárate para salvar el mundo con @DCpeacemaker, que se transmitirá el 13 de enero en @hbomax! #Peacemaker".
2022 is looking mighty peaceful. 💥🕊💥 Get ready to save the world with @DCpeacemaker, streaming January 13 on @hbomax! #Peacemaker pic.twitter.com/DDkgMzyRR4

— DC (@DCComics) January 1, 2022
Peacemaker cuenta con un elenco encabezado por John Cena como Christopher Smith / Peacemaker, Jennifer Holland como Emilia Harcourt y Steve Agee como John Economos.
A esta serie se suman Danielle Brooks como Leota Adebayo, Robert Patrick como Auggie Smith, Freddie Stroma como Adrian Chase / Vigilante, Christopher Heyerdahl como el Capitán Locke, Chukwudi Iwuji como Clemson Murn, Lochlyn Munro como Larry Fitzgibbon, y Annie Chang como Sophie Song.
Busca ya en nuestra tienda online:
DC Clásicos Modernos – Batman Arkham: Ra's Al Ghul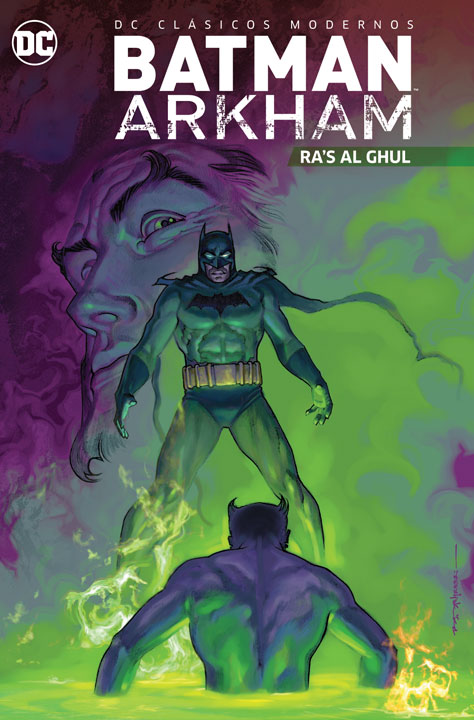 Despiadado, malvado e inmortal.
Como Batman, Ra's al Ghul es acaudalado e inteligente. También es un brillante estratega y un maestro de las artes marciales. Sin embargo, a diferencia de Batman, él es inmortal y líder de un letal clan de élite de guerreros conocidos como la Liga de Asesinos.
A lo largo de los años, Ra's al Ghul ha demostrado ser uno de los más peligrosos y destructivos adversarios del Caballero Oscuro. Conocido alrededor del mundo como la Cabeza del Demonio, él es la única persona capaz de ir a la par de Batman en cada nivel mental y físico.
Ahora, por primera vez, las más grandes historias de Ra's al Ghul y Batman han sido recopiladas en una increíble antología, presentando los talentos combinados de Denny O'Neil, Greg Rucka, Peter J. Tomasi, Peter Milligan, Neal Adams, Dick Giordano, Michael Golden y Jim Aparo.
Batman Arkham: Ra's Al Ghul recopila BATMAN #232 y #243-244, BATMAN ANNUAL #26, BATMAN AND ROBIN #23.3 DC SPECIAL SERIES #15, THE BRAVE AND THE BOLD #159, DETECTIVE COMICS #750 y NIGHTWING #152. También incluye el perfil de Ra's al Ghul de WHO'S WHO IN THE DC UNIVERSE #13.

También se está leyendo:
Margot Robbie se quita la ropa… ¡y algo sale mal!
Batgirl: Daisy Ridley y Katherine Langford podrían interpretarla
Así se enteró Margot Robbie de su nominación al Oscar
Lindsay Lohan se disfraza de la novia del Guasón