En 2020 no solo Catwoman y Robin cumplen 80 años, también Joker, el enemigo número uno de Batman, y este es el contenido de su especial de aniversario.
Ya en enero pasado te compartimos información preliminar del contenido de The Joker 80th Anniversary 100-Page Super Spectacular #1, título con el que se publicará este especial. Ahora, se ha dado a conocer el índice completo de este ejemplar que muy pronto DC Comics México pondrá en tus manos.
El Super Spectacular one-shot de 100 páginas, será lanzado en Estados Unidos el 9 de junio. La colección reúne a creadores de Batman pasados ​​y presentes como Scott Snyder, Peter J. Tomasi, James Tynion IV, Brian Azzarello, Tony S. Daniel, Tim Sale y muchos más, quienes nos regalarán nuevas historias, como el origen de Punchline, y también espectaculares pin-ups.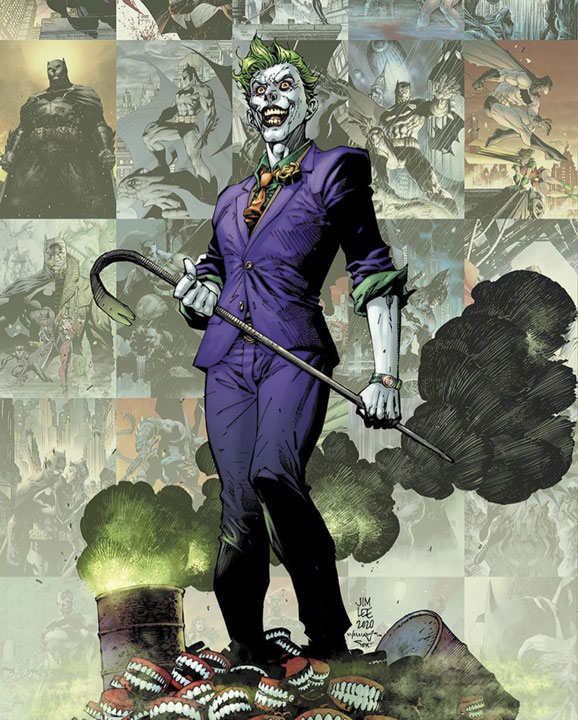 Este es el contenido del especial de Joker por sus 80 años
"Scars" por Scott Snyder y Jock
"What Comes at the End of a Joke?" por James Tynion IV y Mikel Janín
"Kill the Batman" por Gary Whitta, Greg Miller y Dan Mora
"Introducing the Dove Corps" por Denny O'Neil y José Luis García-López
"The War Within" por Peter J. Tomasi y Simone Bianchi
"The Last Smile" por Paul Dini y Riley Rossmo
"Birthday Bugs" por Tom Taylor y Eduardo Risso
"No Heroes" por Eduardo Medeiros y Rafael Albuquerque
"Penance" por Tony S. Daniel y Tomeu Morey
"Two Fell Into the Hornet's Nest" por Brian Azzarello y Lee Bermejo
Pin-ups por Kelly Jones y Michelle Madsen; Stjepan Sejic; Ivan Reis y Marcelo Maiolo; Tim Sale y Brennan Wagner; John Romita Jr., Danny Miki y Peter Steigerwald; y Fiona Staples.
Primer vistazo a las páginas del especial por los 80 años de Joker
Te damos un primer vistazo a algunas de las historias que conformarán esta edición de colección.
What Comes at the End of a Joke?
El escritor James Tynion IV cuenta la historia del origen del sensacional personaje nuevo Punchline. Con arte estelar del aclamado equipo de Mikel Janín y Jordie Bellaire.
Birthday Bugs
Joker se convierte en payaso de cumpleaños en esta historia de Tom Taylor y Eduardo Risso. Cuando Joker va a la casa de un cómplice para encararlo, encuentra al hijo pequeño del hombre sentado solo recogiendo insectos en su banquillo. El niño supone que Joker es el payaso de su fiesta de cumpleaños y le dice que no vendrá nadie. Joker considera que esto es inaceptable y recorre el vecindario "convenciendo" a las familias para que asistan a la fiesta de cumpleaños y lo conviertan en el mejor día que haya tenido. En cuanto al padre del niño, ¡está en el peor momento de su vida!
Kill the Batman
En una historia ambientada en un futuro no muy lejano, Joker finalmente ha hecho realidad su sueño de matar a Batman y vemos todo el universo de DC de luto. Pero este acto no proporciona la catarsis que Joker pensó que lograría… necesita más… ¿algo en el memorial público de Batman, tal vez? Escrito por el aclamado guionista Gary Whitta y el popular escritor / podcaster Greg Miller e ilustrada por el artista ascenso Dan Mora.
Algunas portadas variantes de la edición estadounidense del especial de Joker 80 años