No sólo los crossovers son un elemento que ata cabos en el Arrowverse. La serie animada Vixen juega un papel muy importante, ya que algunos de sus eventos podrían repercutir en la trama de DC's Legends of Tomorrow.
Vixen es una serie donde la protagonista es Mari Jiwe McCabe, una heroína con el poder para imitar las habilidades de cualquier animal que haya vivido en la Tierra. Esta serie comparte universo con el Arrowverse, e inclusive los actores de Flash, Arrow y DC's Legends of Tomorrow han prestado sus voces para interpretar en versión animada a sus mismos personajes.
Para la tercera temporada de DC's Legends of Tomorrow, los acontecimientos que se han dado en Vixen tendrán repercusiones, incluida la aparición de Kuasa, la hermana de Vixen quien será interpretada por Maisie Richardson-Sellers.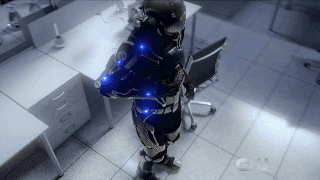 "Si ves la segunda temporada de Vixen no sería lo que llamamos una pelea de Ray, ella (Vixen) ha sido cuestionada moralmente… Creo que eso lo hace interesante, el cómo Amaya está interesada en lo que hace Ray, le dirá con exactitud que hay momentos en los que Kuasa es capaz de hacer el bien de manera desinteresada, así que creo que le da a Amaya un poco de esperanza", declaró el productor ejecutivo de la serie, Marc Guggenheim, a la revista Entertainment Weekly.
DC's Legends of Tomorrow regresa el 10 de octubre, en la pantalla de la cadena CW, en los Estados Unidos. En Hispanoamérica aún se desconoce la fecha de estreno de la tercera temporada.
https://www.youtube.com/watch?v=qwGNep39atY
http://www.smashmexico.com.mx/dc/2017/08/07/constantine-y-su-posible-llegada-a-legends-of-tomorrow/
http://www.smashmexico.com.mx/dc/2017/08/03/datos-temporada-3-legends-of-tomorrow/
http://www.smashmexico.com.mx/dc/2017/07/23/dcs-legends-of-tomorrow-presenta-el-trailer-de-su-temporada-tres/
http://www.smashmexico.com.mx/dc/2017/05/26/primer-poster-de-la-tercer-temporada-de-legends-of-tomorrow/