Dark Nights: Death Metal promete ser la nueva serie que marque un antes y un después en DC Comics, y Robin King está destinado para convertirse en un embajador del terror

El Multiverso Oscuro no sólo nos mostró la peor cara del horror con The Batman Who Laughs. Éste siniestro personaje ha infectado con su locura al Universo DC no solo con sus macabros planes, y entre sus nuevas creaciones emerge el terror de Robin King.
DC Comics presentó a través de redes sociales la imagen de Robin King, el despiadado compañero de The Batman Who Laughs, quien tendrá un papel importante dentro de Dark Nights: Death Metal, serie que próximamente SMASH y DC Comics México traerán para ti
"The Robin King is evil in the way the Batman Who Laughs is, but he's almost scarier to me because he was always that way."—@Ssnyder1835

Meet the Robin King on Riccardo Federici's variant cover for Dark Nights: Death Metal #3. pic.twitter.com/KoRpUE1U93

— DC Nation (@thedcnation) July 4, 2020
Pero el horror del (¿Maniatico joven maravilla?) no se detiene ahí. A través de su cuenta de twitter, Soctt Snyder, autor de Dark Nights: Death Metal, presentó una ilustración a cargo de Greg Capullo, con la imagen de Robin King.
No one does badass like @GregCapullo does badass.

The Robin King. From DEATH METAL #4. pic.twitter.com/2ld35F94iD

— Scott Snyder (@Ssnyder1835) July 5, 2020
"Nadie hace lo rudo como Greg Capullo hace lo rudo", escribió Snyder, quien informó que este boceto pertenece al tomo número cuatro de Dark Nights: Death Metal.
Robin King, la más reciente pesadilla de Scott Snyder.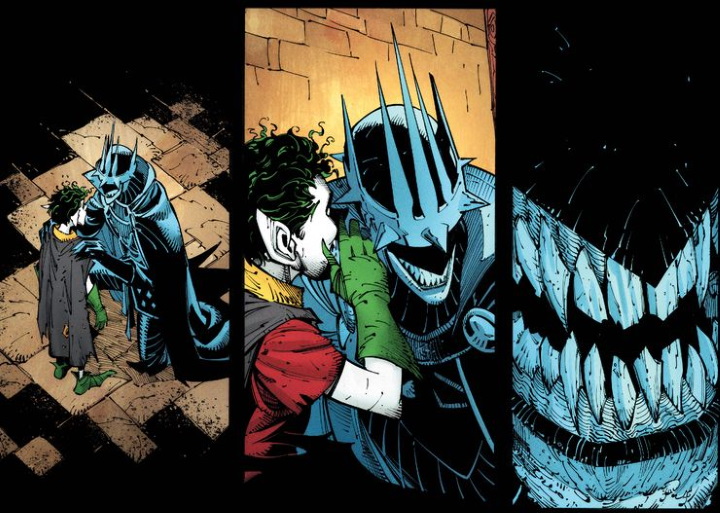 Si bien The Batman Who Laughs inició su carrera como defensor de la justicia en la Tierra-22, antes de estar infectado por la toxina Joker, Robin King es un personaje que viene de una génesis perversa.
"Robin King es malvado como The Batman Who Laughs, pero me da más miedo porque siempre fue así; nunca ha sido otra cosa. Cuando era niño, todo lo que hizo fue pensar en formas de matar a sus héroes… ¡y esperar hasta ver su cinturón!", declaró Scott Snyder en entrevista a CBR.
No te despegues de nuestras redes sociales, ni de nuestro sitio oficial, ya que te informaremos de manera oficial cuando podrá conseguir la serie que ha sembrado el terror en el Universo DC.
La emoción y el horror de Dark Night: Metal están en SMASH y DC Comics México
Más allá de nuestro universo, existe un Multiverso… y debajo del Multiverso hay un reino de pesadilla donde todo temor que se haya sentido en nuestra Tierra se vuelve realidad.
Cuando la puerta entre mundos es abierta, no son cualquier tipo de pesadillas las que son derramadas Batman es atrapado en el Multiverso Oscuro, y la Liga de la Justicia debe realizar una búsqueda imposible para encontrar al misterioso metal capaz de repeler a los Caballeros Oscuros y al temible Barbatos.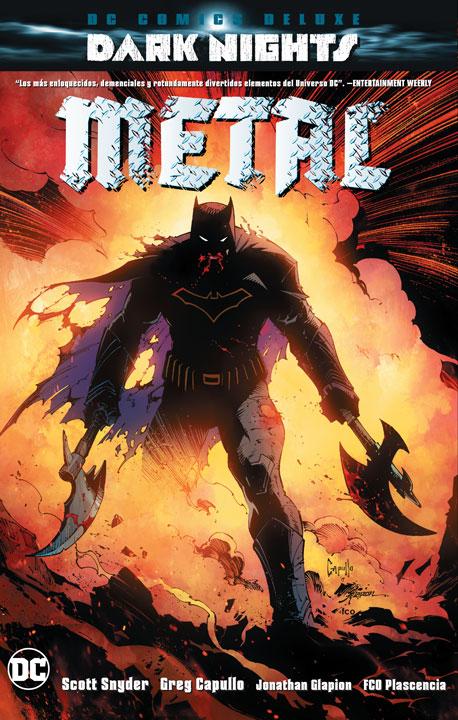 SMASH y DC Comics México traen para ti Dark Nights: Metal, el evento que combró al Universo DC en los últimos años. Adquiérelo en este enlace.