La Liga de la Justicia sigue dando noticias, ahora el tráiler de la versión en blanco y negro nos muestra a Superman rendido ante Darkseid.
Conocido como Justice Is Gray, el corte en blanco y negro de La Liga de la Justicia de Zack Snyder ha presentado su primer tráiler, con la presencia del villano Darkseid al lado de Superman. Se trata de una ampliación de la "visión" que tiene Cyborg antes del regreso a la vida de Superman.
En el avance vemos el funeral de Wonder Woman, la muerte de Aquaman a manos de Darkseid, además de a Superman postrado ante el cadáver de Lois Lane ante la presencia del villano. Posteriormente, el Hombre de Acero se alza sobre las ruinas del Salón de la Justicia sosteniendo la capucha de Batman.
Mientras esperamos la fecha del estreno de esta versión en blanco y negro, no te pierdas esta maravilla. ¡Dinamita pura!
For years, the #SnyderCut existed in black and white and shown only to a select few.

Zack Snyder's Justice League: #JusticeIsGray, a black and white version of the film, is now streaming on @HBOMax in 4K UHD, HDR10, Dolby Vision, Dolby Atmos on supported devices. pic.twitter.com/3c40221N27

— Zack Snyder's Justice League (@snydercut) March 25, 2021
Busca en nuestra tienda online
DC Essential Edition: Crisis Final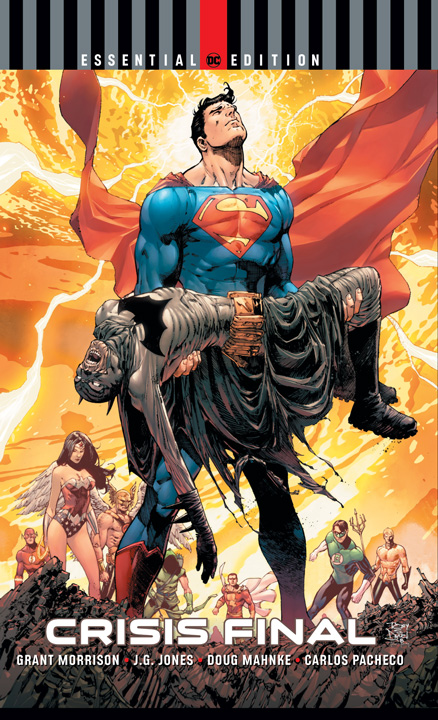 La caída de Darkseid trajo la Crisis Final…
Hace mucho tiempo hubo una guerra en el cielo, y el mal ganó. Ahora Darkseid, el tirano déspota de Apokolips, ha caído a la Tierra…y con él ha traído el Infierno.
Con la Ecuación Anti-Vida bajo su poder, Darkseid está determinado a rehacer a la humanidad a su semejanza y a destruir la realidad misma en el proceso. ¿Podrán los superhéroes más poderosos en la Tierra —¡y en todo el Multiverso!— detener la locura? Y cuando la Crisis Final llegue a su inevitable clímax, ¿quién dará un paso adelante y realizará el sacrificio definitivo?
Escrito por el visionario escritor GRANT MORRISON (ALL-STAR SUPERMAN) e ilustrado por una muestra de los mejores artistas, entre ellos J.G. JONES, DOUG MAHNKE y CARLOS PACHECO, esta edición de lujo de CRISIS FINAL recopila DC UNIVERSE #0, FINAL CRISIS #1-7, FINAL CRISIS: SUPERMAN BEYOND #1-2, FINAL CRISIS: SUBMIT #1, BATMAN #682-683, FINAL CRISIS SKETCHBOOK #1 y cerca de 50 páginas de material extra.
Portada de Tony S. Daniel.

También se está leyendo:
Batman, Superman, Wonder Woman y Flash tienen un nuevo enemigo…
Henry Cavill desea ser el próximo James Bond
Galería | La nostalgia de Superman
10 alimentos con hierro que debes incluir en tu dieta
El entrenamiento de Henry Cavill como Superman