La sana distancia no impidió que el mundo entero celebrara el Batman Day, pero Zack Snyder y Justice League nos volaron la cabeza.
La notica del año en el mudo geek sigue siendo que, luego de años de lucha usando el hashtag ReleaseTheSnyderCut, los fans de Zack Snyder consiguieron que en el 2021 veamos la versión de Justice League que planeó el director.
Pues bien, a pesar de que ya vimos una versión de la película en 2017, el "revival" dado a la producción hace que las noticas que se van liberando sobre el nuevo corte, lideren los comentarios en redes. Aunque se trate de pequeños anuncios.
Esta vez tocó el turno a la celebración del Batman Day a la que se sumaron la producción de Justice League de HBO MAX y Zack Snyder. En sus distintas cuentas, el cineasta y la cadena de contenidos de entretenimientos compartieron imágenes no vistas del Batman de Ben Affleck para la Liga de la Justicias. Sin más, estas son las…
Impactantes fotos con que Zack Snyder y Justice League celebraron el Batman Day
Want a closer look at Batman in the #TheSnyderCut? Open for a surprise! #BatmanDay pic.twitter.com/5K32Ol6Uog

— The Director's Cut of Justice League (@snydercut) September 19, 2020
Batman is all of us… he is our rage at injustice… he stands alone, as we all wish we could, in the face of a corrupt system which wishes to oppress and exploit… he is that broken child, searching the dark alleys of the human soul to bring balance to the world. #BatmanDay pic.twitter.com/X20jolqqtZ

— Zack Snyder (@ZackSnyder) September 19, 2020
#BatmanDay pic.twitter.com/w72aUsG5Uu

— Zack Snyder (@ZackSnyder) September 19, 2020
Fuente: Twitter
De la tienda de Smash: DC Comics Deluxe: Dark Nights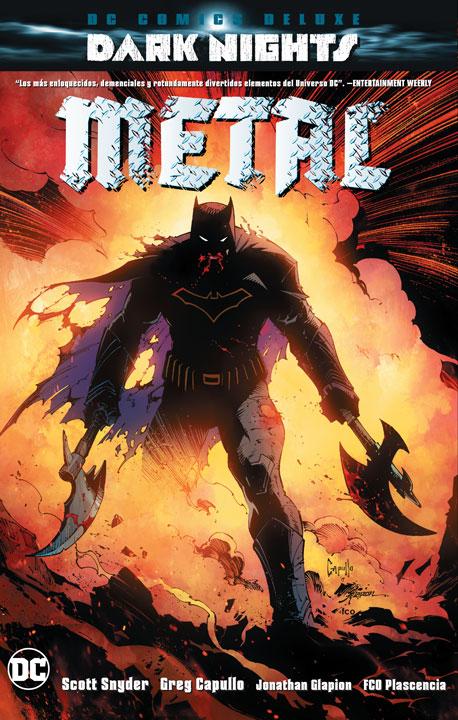 Más allá de nuestro universo, e
xiste un Multiverso… y debajo del Multiverso hay un reino de pesadilla donde todo temor que se haya sentido en nuestra Tierra se vuelve realidad. Ahora una fuerza maligna tan antigua como el tiempo desea arrastrarnos hacia las sombras, hacia el reino del terror que nunca termina.
Pero cuando la puerta entre mundos es abierta, no son cualquier tipo de pesadillas las que son derramadas. Se hacen llamar los Caballeros Oscuros. Cada uno es una versión retorcida de Batman proveniente de un mundo donde uno de sus peores temores se ha vuelto realidad.
Con la invasión en proceso y Batman atrapado en el Multiverso Oscuro, la Liga de la Justicia debe realizar una búsqueda imposible para encontrar al misterioso metal capaz de repeler a los Caballeros Oscuros y a su amo, el temible Barbatos. Si fallan, todo aquello que han conocido se hundirá en la oscuridad eterna. Pero el verdadero horror es… lo que sucederá si ya han llegado demasiado tarde.
Uno de los eventos más importantes en la historia de DC está aquí en la impactante épica repleta de acción Dark Nights: Metal, construida por el narrador maestro Scott Snyder y Greg Capullo, quienes se reúnen tras su exitoso paso por la serie de Batman.
Recopila Dark Nights: Metal #1-6.
También puedes leer:
¡Así se ve el niño que interpretó a Bruno Díaz en Batman Inicia!
Tacca Chantrieri: La flor de Batman
La razón por la que Christian Bale no ha visto a Ben Affleck como Batman
Christian Bale, un actor al límite
Ésta es la famosa que ayudó a Gal Gadot a conseguir el rol de Wonder Woman