El sitio web de la adaptación a anime de The Promised Neverland reveló los nombres de quienes forman parte del elenco principal y staff, así como los diseños de trece de sus personajes.
Sumire Morohoshi, Maaya Uchida y Mariya Ise darán su voz a Emma, Norman y Ray respectivamente. La serie será dirigida por Mamoru Kanbe con el estudio CloverWorks. La composición de la serie estará a cargo de Toshiya Ono y Kazuaki Shimada se encarga del diseño de los personajes.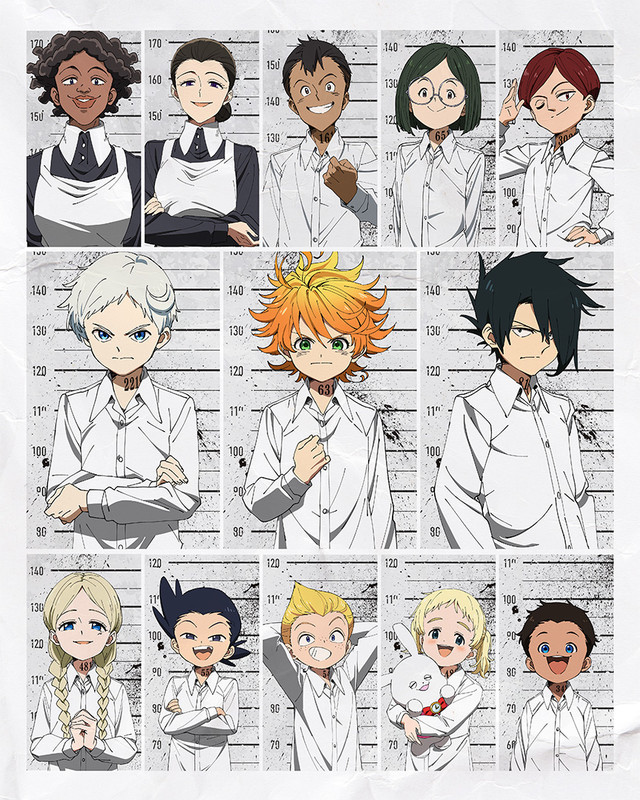 La historia ocurre en el año 2045. Emma, de 11 años de edad, vive en un orfanato con otros 37 niños. Su vida es buena: tienen buena comida, y habitaciones cómodas, además del cariño de Isabella, su cuidadora. Un día, Emma y Norman siguen a uno de sus compañeros que será adoptado sólo para descubrir que el orfanato es en realidad una granja para criar niños que luego serán alimento de demonios. Ahora Emma y sus amigos deberán buscar la forma de escapar…
Esta historia está basada en el manga original de Kaiu Shirai y Posuka Demizu, que se publica desde agosto de 2016. A la fecha se ha recopilado en diez volúmenes.
The Promised Neverland ha sido galardonado con el premio a Mejor Shōnen en los premios de Shogakukan y nominada tanto para los premios Manga Taisho y el Premio Cultural Osamu Tezuka.