Una de las discusiones más frecuentes entre los lectores de La Casa de las Ideas es en referencia a las historias que a lo largo de 80 años nos ha entregado Marvel, cuyos editores han elegido a Daredevil: Born Again como la mejor trama de todas.
Tom Brevoort, editor ejecutivo en Marvel, comentó a través de un mensaje de twitter la conclusión a la que llegó con los demás editores de La Casa de las Ideas en relación a Daredevil: Born Again.
Opening this question up for discussion. At a recent Marvel editors round table we attempted to determine the best Marvel story ever done. Consensus was that it was "Born Again" in Daredevil by Miller & Mazucchelli. Can anyone top it?

— Tom Brevoort (@TomBrevoort) March 6, 2020
"Abriendo esta pregunta para discusión. En una reciente mesa redonda de editores de Marvel, intentamos determinar la mejor historia de Marvel jamás realizada. El consenso fue que fue "Nacido de nuevo" en Daredevil por Miller y Mazucchelli. ¿Alguien puede superarlo?"
El tuit de Brevoort de inmediato causó eco entre sus colegas en la industria del cómics, así como de los miles de fans de la Casa de las Ideas, quienes no se quedaron callados y compartieron lo que para ellos era la mejor historia de Marvel de todos los tiempos.
Days of Future Past is amazing. And God loves, man kills. But Born Again is a great answer

— James (@Richjb77) March 6, 2020
Mientras que otros usuarios se decantaron por la trama de Chris Claremon: X-Men: Days of the Future Past.
I feel this deserves contention pic.twitter.com/sRP2VySMAi

— Ben 🔯🧡④🏳️‍🌈 (@BenliciaWarrior) March 6, 2020
Otros evocaron lo hecho por Stan Lee y Jack Kirby dentro de la saga de Fantastic Four, con el episodio This Man, This Monster.
I'd make a case for SILVER SURFER: PARABLE. Big, existential questions from the classic emo space boy (and Stan Lee), and unparalleled art by Moebius. pic.twitter.com/Ckw4Fgchcp

— Read THE WORLD FRONT on comiXology! (@KurtBelcher) March 6, 2020
Otro de los trabajos recordados como los mejores fue el hecho por de The Man, a lado de Moebius, quienes nos dieron Silver Surfer: Parable
Born Again is probably my favorite multi-issue arc Marvel has ever done, but for me, ranking among the top as well:
Shooter/Perez Ultron arc
Englehart/Various Celestial Madonna
Starlin Warlock
FF Galactus Trilogy
X-Men Phoenix Saga
and NFL Superpro Special and #1-4

— Fabian Nicieza (@FabianNicieza) March 6, 2020
Para Fabian Nicieza, cocreador de Deadpool, hay otras tramas que pueden compartir el honor de ser la mejor de Marvel, como el Arco de Ultrón de Jim Shooter y George Pérez, Celestia Madonna de Steve Engleheart, Warlock de Jim Starlin.
I'd like to throw my hat in the ring. pic.twitter.com/wButtgBWQ1

— Zingy 🏳️‍🌈 (@Thw1p) March 6, 2020
Otros usuarios sugirioeron la historia Spider-Man No More, publicado en The Amazin Spider-Man #50
¿Qué leemos en Daredevil: Born Again?
Desde el número 227 hasta el número 233 de la serie regular de Daredevil, Frank Miller y David Mazzucchelli nos entregaron una trama donde Matt Murdock transita un camino que le lleva a perder la cordura, lo hace tocar fondo, pero lo lleva nuevamente a levantarse como el defensor de Hell's Kitchen.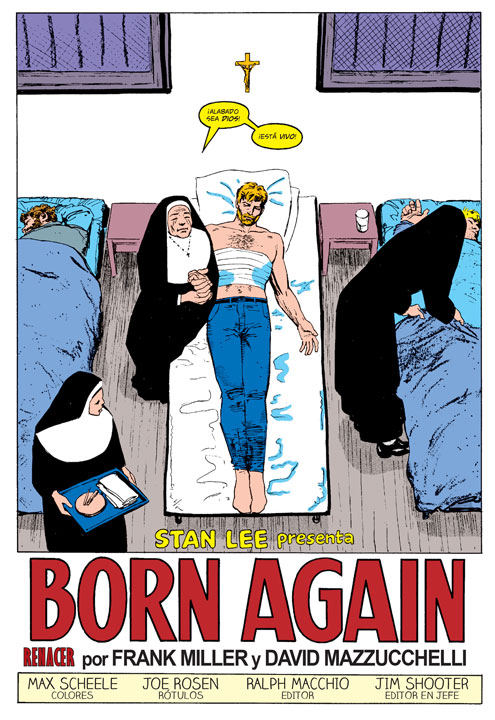 Wilson Fisk usas sus influencias para empezar a acabar con la vida Murdock, primero con el congelamiento de sus cuentas, después al hacer que el banco embargara su departamento, y para rematar, Murdock es acusado de perjurio, por lo que es inhabilitado para ejercer como abogado.
Desahuciado, sin hogar y sin dinero, Murdock llega a un punto donde ha confundido la realidad con la fantasía, al pensar que su viejo aliado Foggy y su esposa Gloria O'Breen se encontraban fraguando su desgracia.
Daredevil: Born Again en SMASH y Marvel Comics México
¡Las leyendas de la industria, Frank Miller y David Mazzucchelli desarrollaron la historia definitiva de Daredevil! Karen Page, ex amante de Matt Murdock, reveló la identidad secreta del 'Hombre Sin Miedo' a cambio de drogas.
Ahora, Daredevil debe reencontrar su fuerza pues, Kingpin no dejará pasar esta oportunidad para dañarlo tan profundo como sólo un humano puede hacerlo.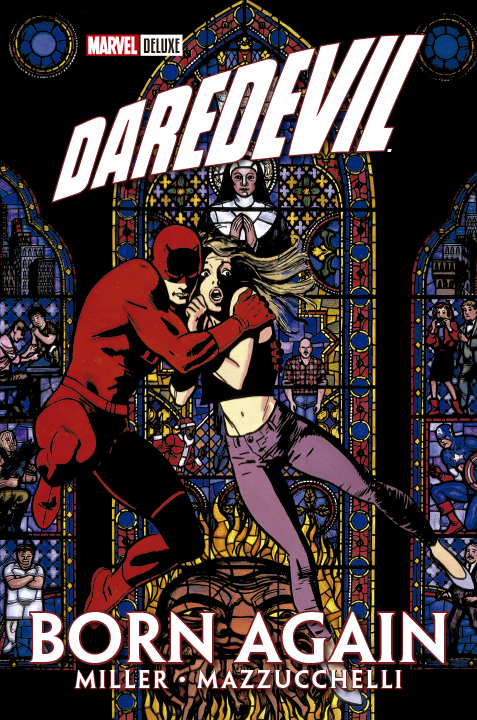 SMASH y Marvel Comics México traen para tí Daredevil: Born Again, un tomo que puedes encontrar en el siguiente enlace.