Luego de conocer el nombre de la esperada secuela de Spider-Man: Homecoming, Marvel Studios y Sony Pictures han empezado a dejar en el aire algunos detalles de la cinta. Mientras que el nombre ya nos deja especular sobre la situación que podría enfrentar Peter Paker, algunos infiltrados de Hollywood apuntan a nuevas e importantes cambios para el MCU.
Entre las más recientes filtraciones tenemos la posible aparición de Jessica Drew A.K.A. Spider-Woman. Una de las Avengers más importantes en tiempos recientes dentro de los cómics e inseparable compañera de Carol Danvers podría hacer su debut en Spider-Man: Far From Home.
Yes, Jessica Drew will appear in the film, she's an MI-6 operative. https://t.co/JjYIkaBnsJ

— Skyler Shuler (@Skylerhxc) June 28, 2018
La información llega gracias al reportero de That Hastag Show Skyler Shuler, quien en anteriores ocasiones ha sido el portavoz de rumores que se terminaron por confirmar en el MCU. Shuler menciona que Jessica Drew sería una agente del MI-6 dentro de la historia de Marvel Studios… aunque se desconoce si ya tiene los poderes de Spider-Woman.
En anteriores ocasiones se ha reportado que Far From Home tendrá lugar en Londres -de ahí que la película nos lleve "lejos de casa"- lo que daría sentido a tener a una agente del Servicio de Inteligencia Secreto del Reino Unido. Por otro lado, se había rumoreado la participación de una "femme fatale" con poderes similares a Spidey.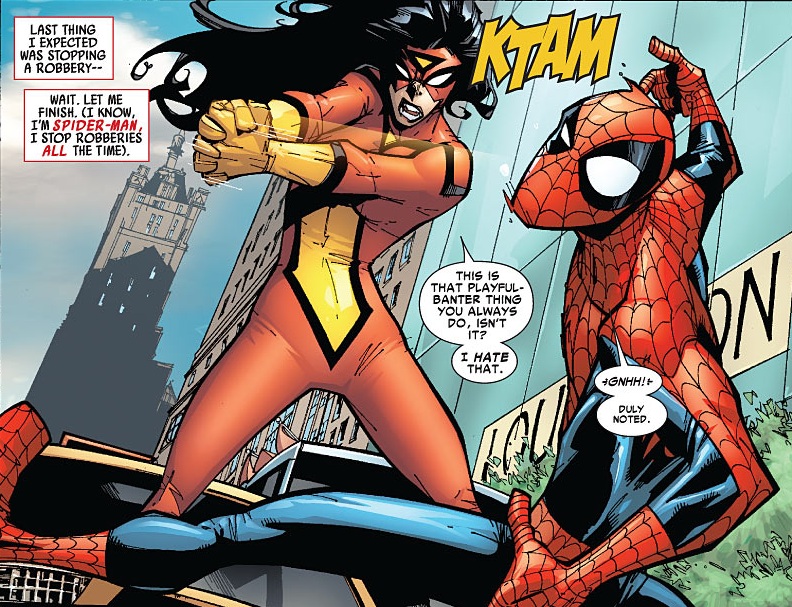 Jessica Drew no es británica en el universo Marvel, pero su madre si radicó en Reino Unido. Su pasado como agente del MI6 tampoco forma parte del canon de la heroína. Lo que sí es una realidad es que sus poderes los adquirió luego de que su padre utilizara un "suero de araña" para detener su fatal muerte tras exponerse al uranio. Por lo que es intrigante conocer cuál será el origen de sus habilidades en el MCU.
Spider-Man: Far From Home llegará en 2019 para ser la primera cinta del MCU en contar los eventos posteriores al cierre de la Fase 3 de Marvel Studios. Mientras tanto, puedes seguir las aventuras de Spider-Man en su nueva etapa en Marvel Legacy y conocer un poco más del legado arácnido más importante.
¡Spider-Man hace su debut en Legacy este mes!
No te pierdas The Amazing Spider-Man #789 y todas sus portadas variantes.
¡Ya está a la venta!https://t.co/wD0XDvsHSp pic.twitter.com/ZtlfGUxVCc

— Marvel Cómics México (@marvelmex) June 29, 2018