Un vistazo a una versión no usada del traje de batalla de Loki para Thor: Ragnarok en este arte conceptual.
La ilustración de Loki proviene de la cuenta Instagram del artista Aleksi Briclot , quien entre sus créditos presume haber hecho arte conceptual para algunas producciones del MCU como Thor Ragnarok, Avengers Infinity War, Ant-Man and the Wasp, Captain Marvel, Black Widow y Avengers Endgame.
De hecho, hace poco mostramos una versión alternativa del traje para viajar al Reino Cuántico en Avengers: Endgame (puedes verlo aquí).
Briclot escribió en el posteo donde comparte el arte conceptual de Loki
Mientras esperamos el programa de televisión de Loki con el impresionante @twhiddleston, aquí hay más artes conceptuales de Loki para Thor: Ragnarok. En este caso, la hombrera recordaba demasiado a otro superhéroe que vive bajo el agua. Pero mi elección descansaba principalmente en un estilo crudo y creíble que se centraba en telas gastadas, cuero, pieles… para darle un sentido histórico. ¿Mejor con o sin el casco? #loki #marvelstudios #mcu # phase4 #marvelcinematicuniverse #marvel #characterdesign #conceptart #thorragnarok #thor #timhiddleston.
Lo que sigue para Loki y el MCU
Si eres fan de Loki, pronto podrás seguir sus aventuras en la serie homónima que prepara Disney+, la cual será de las primeras producciones de Marvel Studios para este nuevo servicio en streaming. Le seguirán The Falcon and the Winter Soldier y WandaVision, y poco después Marvel's What If…?, Moon Knight, She-Hulk y Ms. Marvel.
Por su parte, a Thor y a algunos otros asgardianos como Valquiria, regresarán al cine en febrero de 2022 con Thor: Love and Thunder.
Le cine de Marvel continua con Black Widow en november de este año. En 2021 tendremos The Eternals en febrero, Shang-Chi and the Legend of the Ten Rings en mayo, Spider-Man 3 en noviembre. En 2022 tendremos la mencioanda Thor: Love and Thunder, Doctor Strange in the Multiverse of Madness en marzo, Black Panther II en mayo, y Captain Marvel 2 en julio.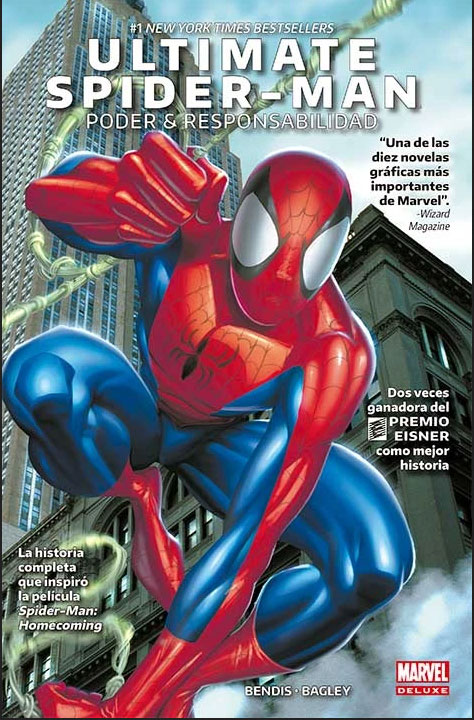 Preparatoria, pubertad, primeros bailes —hay muchas dificultades en ser joven. ¡Agrava eso con tragedia personal intensa y superpoderes, y puedes comenzar a visualizar el mundo de Peter Parker, alias Spider-Man!
¡Presencia el renacimiento de una leyenda a la vez que Peter aprende que un gran poder conlleva una gran responsabilidad!
Recopila Ultimate Spider-Man #1-7, escrita por Brian Michael Bendis e ilustrada por Mark Bagley, ¡la dupla creativa con mayor duración en un solo título en la historia de Marvel Comics!