Con la salida de Thanos como el villano principal del MCU, los fans de Marvel ya han empezado a sugerir al próximo gran némesis de La Casa de las Ideas en la pantalla grande
Thanos se colocó como el villano principal del Universo Cinematográfico de Marvel (MCU), el cual estuvo detrás de la génesis del mal. Tras el aparente final de Thanos ¿Qué villano podría ocupar su lugar en el MCU?
"Lo que estábamos buscando en el personaje de Thanos es la figura más fuerte e intimidante del universo. Mientras que al mismo tiempo Queríamos contar una historia sobre un personaje" mencionó Anthony Russo en una entrevista que rescata comicbook.
Thanos is dead! So what's the next worst threat for the Avengers? pic.twitter.com/nZING45Xq6

— Marvel Entertainment (@Marvel) July 11, 2020
En redes sociales, la Casa de las Ideas le preguntó a sus seguidores que villano podría ocupar el lugar de Thanos dentro del MCU, y las respuestas de los fanáticos de Marvel fueron abrumadoras.
Los villanos preferidos para entrar al MCU
Doctor Doom.

— Héctor Mallet (@Hector_Mallet) July 11, 2020
Uno de los más solicitados fue el Doctor Doom, enemigo al que los lectores de Marvel desean ver en pantalla.
— StealthyBird (@stealthynoodle) July 11, 2020
It should be Doc Doom. They got his rights back with the Fox acquisition. Why wait for the FF, when you've got Marvel's great villain ready. And a terrestrial threat would be interesting after cosmic Thanos.

— William B McCormick (@WBMCAuthor) July 12, 2020
"¿Por qué esperar al FF, cuando tienes listo al gran villano de Marvel? Y una amenaza terrestre sería interesante después de Thanos"
What about Kang the Conqueror? pic.twitter.com/BWrYhi2FvG

— Navee White (@WhiteNavee) July 11, 2020
Kang el Conquistador es otra opción de los fanáticos, quienes ya también están vislumbrando lo que puede hacer en la pantalla grande.
Kang… And he could create Wonder Man (or use Baron Zemo too since he did create him in Avengers #9) if you were interested in bringing him in. With Kang there's about 6 ways to go, Kang, Immortus, Nathaniel Richards, Rama-Tut, Scarlet Centurion & Iron Lad!

— Fanimation (@DucksFanimation) July 11, 2020
"Podría crear a Wonder Man (o usar al Barón Zemo también, ya que lo creó en Avengers # 9) si estuviera interesado en traerlo. Con Kang hay alrededor de 6 formas que vendrían, Kang, Immortus, Nathaniel Richards , Rama-Tut, Scarlet Centurion y Iron Lad!"
Galactus

— Lexi G (@LexiOnFiyah) July 11, 2020
Otro de los némesis de los Fantastic Four que también estarían en la órbita del MCU, gracias a los fans es Galactus, el devorador de mundos, quien tuvo un fugaz paso en el cine en Fantastic Four: Rise of Silver Surfer.
¿A tí que villano te gustaría que ocupara el lugar de Thanos en el MCU?
Preparate para el Infinity Countdown
Las piedras infinitas. Individualmente, ellos otorgan a sus problemas gran poder. Juntos, otorgan el poder de un dios. Previamente destruidas, las gemas del infinito se han reformado y están dispersas en todo el universo.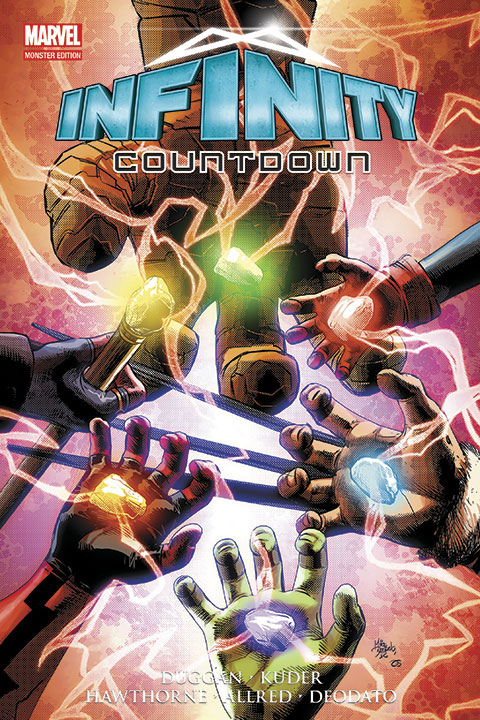 SMASH y Marvel Comics México traen para ti Marvel Monster Edition Infinity Countdown, una historia de Gerry Dugan que puedes conseguir en éste enlace