El 5 de mayo tendremos la oportunidad de ver en las salas de cine una de las películas más esperadas de este 2017, Guardians of the Galaxy Vol. 2.
Después de ver una increíble película con la primer parte, complacer fielmente a sus viejos seguidores y ganando nuevos,Guardians of the Galaxy Vol. 2 nos ha ido dando poco a poco probaditas de lo que tratará esta segunda parte y no resulta ser nada decepcionante.
Una de las cosas que más resalta de esta película es su soundtrack, ya que utiliza canciones clásicas que todos conocemos y que Peter Quill nos deja escuchar a través de su walkman, las cuales encajan a la perfección con la historia, pero eso no es lo único que resalta musicalmente hablando, ya que la banda sonora es también un tema muy complicado y, sobre todo, nos ambienta las escenas.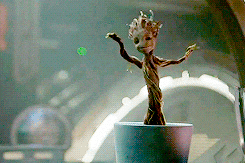 A través de un video publicado por el director James Gunn en su página de Facebook, podemos disfrutar un video de lo que será la banda sonora de Guardians of the Galaxy Vol. 2, donde la orquesta encargada de interpretarla toca totalmente en vivo una parte de la música que acompañará en la película.
Tras una pequeña introducción en la que aparece Gunn y el compositor Tyler Bates, te dejamos el video:
Este video se grabó en el estudio de Abbey Road, donde también se han grabado bandas sonoras míticas como El Señor de los Anillos y Star Wars.
Este pedazo de banda sonora que podemos escuchar nos pone hasta la piel chinita, no fueron necesarias las escenas para lograr llegarnos hasta lo más profundo de nuestro ser. Además, ver esto nos anuncia que cada vez está más cerca el estreno de la película y que estamos muy impacientes por verla, sobre todo a Baby Groot.
TAL VEZ TE INTERESA Primer póster de Guardians of The Galaxy 2
TAL VEZ TE INTERESA Checa cómo se hizo Bebé Groot