Tras el estreno del tráiler final de Deadpool 2, nos dimos cuenta que esta película sería simplemente increíble, maravillosa y lo más ingeniosa que hayamos visto nunca, pero, entre todas las escenas de acción y superpoderes, lo que se robó nuestros corazones sin duda fue el casting que Deadpool y Weasel realizan a los héroes que formarán parte del X-Force, del cual, sin duda alguna, Peter W. fue el mejor.
Después de presentar uno a uno los miembros que formarán parte del X-Force, lo mejor obvio tenía que quedar al final, siendo el querido Peter W., un humano común y corriente, el último en ser el elegido para el equipo y cerrar con broche de oro.
¿Qué hace a Peter especial?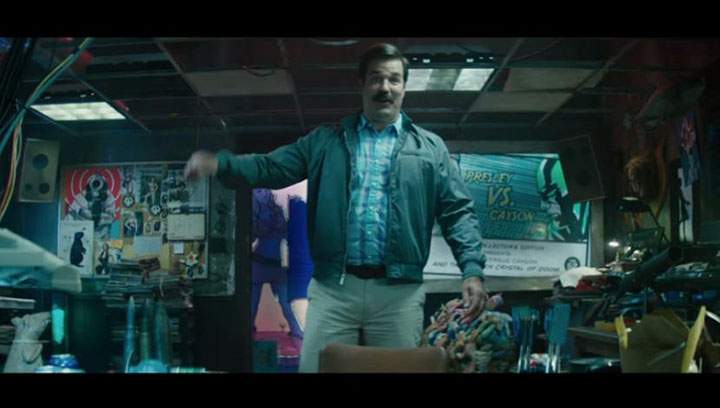 Para muchos será una exageración, pero el hecho de ver un humano común y corriente combatir grandes peligros a lado de un grupo de "héroes" lunáticos es simplemente increíble, ya que todos nos preguntamos, ¿qué podría ofrecerle un hombre de aspecto Godín y sin poderes a Deadpool 2? Tal vez todo podría resumirse a "las escenas más cómicas que encontraremos en la película".
El actor que da vida a Peter W., Rob Delaney, es uno de los comediantes más grandes del mundo del cine, y verlo en una película de superhéroes en un universo donde no encaja lo ha hecho perfecto para el filme y la estrella más popular de Deadpool 2; lo siento, Deadpool, alguien ha llegado a robarte el trono, y prueba de ello es que, en menos de 24 horas, la cuenta de twitter de Peter, que desde hace un mes 20th Century Fox le creó, ha logrado conseguir más de 50 mil seguidores.
La cuenta de Twitter de Peter W. ha estado activa desde marzo donde se describe como "Marido. Apicultor experimentado (Apicultor). Me gustan los deportes y asar en mi terraza."  y, como se puede ver en sus tweets, este ha estado publicando un montón de cosas hilarantes.
Big time hive inspection today. Can't wait to lick this! #BeeUtifil #BeeSafe pic.twitter.com/IFlYqs8cpp

— Peter W. (@PeterW_1974) April 18, 2018
Flashback! I love this show. #Reruns #Monica pic.twitter.com/aKsdr1GoNF

— Peter W. (@PeterW_1974) April 11, 2018
Susan is in the garage lifting weights with her trainer, Gus. Looks like it's TurboTax time for me! #MondayMotivation

— Peter W. (@PeterW_1974) April 9, 2018
Pero no sólo eso, ya que también comparte parte de su preparación para la película y comenta los tweets de los actores que conforman el reparto.
Spent the afternoon practicing our X-Forcing. These guys are really good. REALLY good. Need to work on my cardio. pic.twitter.com/Huj4nfwOUD

— Peter W. (@PeterW_1974) April 19, 2018
I appreciate all the attention. But I'm just an honest guy, looking for work in a contracting economy. #XForce

— Peter W. (@PeterW_1974) April 19, 2018
Excited about my new weekend job. Gonna make some extra Honey Money! #BeeHumor.

— Peter W. (@PeterW_1974) April 19, 2018
Lo que más admiramos de Peter W. es que forma parte de X-Force simplemente así lo deseó y justamente esta determinación fue lo que impulsó a Deadpool a contratarlo, tanto que el mismo Ryan Reynolds reconoció que Peter es el 90% del éxito de la película, porque el 10% restante lo complementa el resto del filme.
90 percent of success is showing up. #Peter pic.twitter.com/Hx2xlk74di

— Ryan Reynolds (@covershisface) April 20, 2018
Y tú, ¿por qué amas a Peter W.?