Después del estreno de The Defenders, una de las series que esperamos hacia el final de 2017 será The Punisher. Tras su debut en la segunda temporada de Daredevil, Frank Castle seguirá su lucha por mantener las calles limpias del crímen en su propio show.
Entrevistado por el sitio MovieFone, el protagonista de la historia, Jon Bernthal, declaró que no ve a Punisher como un héroe, derivado de su naturaleza violenta.

"Frank es brutal, Frank está dañado. Frank está torturado. Cuando Frank se involucra en la violencia, hay algo completamente satisfactorio y adictivo para él, y puede que eso no sea algo con lo que el público pueda estar de acuerdo".
Bernthal reconoce que expresar la violencia de Punisher es un verdadero reto para su interpretación en la serie.
"Creo que mi mayor lucha con este personaje, es que siempre quiero preservar la esencia de Frank y debemos tener el derecho y ser lo suficientemente audaces para dar la espalda a la audiencia y no hacer las cosas para ganarnos su favor, sino mantenernos fieles a él, a su carácter y a la esencia de lo que es".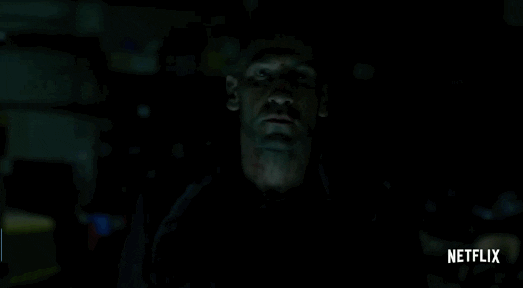 El elenco de Punisher lo integran  Jon Bernthal (Frank Castle/Punisher), Ebon Moss-Bachrach (Microchip), Jason R. Moore (Curtis Hoyle), Michael Nathanson (Sam Stein), Jaime Ray Newman (Sarah Lieberman), Amber Rose Revah (Dinah Madani) y Deborah Ann Woll (Karen Page).
The Punisher será la sexta serie que Marvel Televisión produzca en asociación con Netflix.
http://www.smashmexico.com.mx/marvel/2017/07/14/primer-poster-de-the-punisher/
http://www.smashmexico.com.mx/marvel/2017/04/17/conoce-el-aspecto-de-frank-castle-en-la-serie-the-punisher/
http://www.smashmexico.com.mx/marvel/2017/04/13/esto-es-lo-que-sabemos-al-momento-de-la-serie-de-punisher/
http://www.smashmexico.com.mx/marvel/2017/03/27/the-punisher-suma-a-su-elenco-a-actriz-de-scarface/
http://www.smashmexico.com.mx/marvel/2017/03/14/daredevil-ofrece-nuevas-pistas-sobre-the-punisher/