En redes sociales, la doble de riesgo de Elizabeth Olsen en Avengers: Infinity War compartió un video de su preparación para el combate entre Scarlet Witch y Proxima Midnight
Avengers: Infinity War nos presentó varios momentos que marcaron el curso del Universo Cinematográfico de Marvel, como la lucha entre Scarlet Witch y Proxima Midnight. Secuencia que tuvo una gran preparación previa a su rodaje.
C.C. Ice, stunt woman, encargada de las escenas de riesgo de Elizabeth Olsen en Avengers: Infinity War, compartió en redes la manera en la que preparó el combate que en pantalla sostienen Proxima Midnight y Scarlet Witch en Escocia.
"Un pequeño recuerdo de la secuencia de Escocia de Avengers: Infinity War: la lucha a través de los pilares: ¡Wanda vs Proxima!", escribió Ice en la publicación, la cual nos muestra cómo fue que se preparó para rodar esta secuencia
El secreto detrás del combate Scarlet Witch vs Proxima Midnight
Ice se enfrenta en la preparación para la filmación con Anis Cheurfa, otro doble de riesgo, con el que ha trabajado en cintas de Marvel Studios como Ant-Man, Black Panther, Avemgers: Infinity War, Ant-Man and the Wasp y Avengers: Endgame.
La doble de riesgo es quien se encarga de filmar las escenas peligrosas de Elizabeth Olsen, desde Captain América: Civil War, Infinity War, Endgame y en el próximo lanzamiento de WandaVision.
Ice también ha participado en otras cintas de Marvel Studios como Captain Marvel, así como en series como Legion y Watchmen
Elizabeth Olsen volverá como Wanda Maximoff / Scarlet Witch en la serie WandaVision y en la cinta Doctor Strange in the Multiverse of Madness.
Preparate para el Infinity Countdown
Las piedras infinitas. Individualmente, ellos otorgan a sus problemas gran poder. Juntos, otorgan el poder de un dios. Previamente destruidas, las gemas del infinito se han reformado y están dispersas en todo el universo.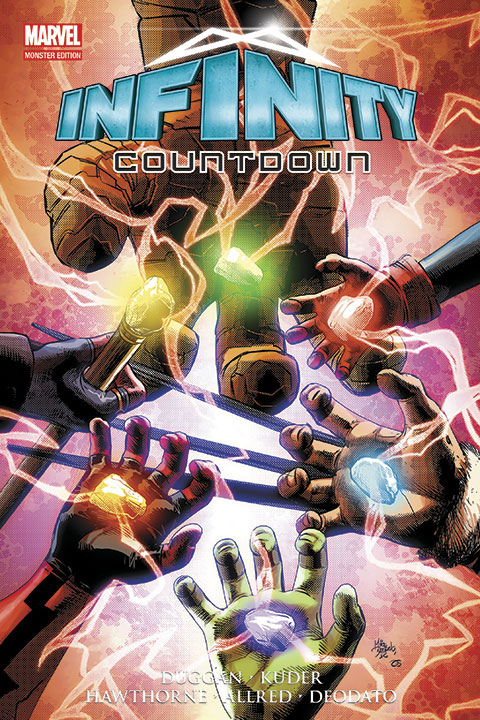 SMASH y Marvel Comics México traen para ti Marvel Monster Edition Infinity Countdown, una historia de Gerry Dugan que puedes conseguir en éste enlace