En redes sociales Chris Evans (Capitán América) aplaudió la manera en la que Ryan Reynolds (Deadpool) lleva el marketing de su empresa de telefonía celular.
Si bien en los cómics Deadpool ha sido un experto en sacar de quicio a todos los personajes del Universo Marvel, incluido el Capitán América, en la realidad el intérprete del Mercenario Bocazas, Ryan Reynolds, ha logrado la admiración de propios y extraños, incluido Chris Evans, quien le dio vida al Capitán América en el MCU.
Reynolds, quien también es conocido como un empresario, adquirió la empresa Mint Mobile en noviembre de 2019, y bajo su mando esta compañía ha buscado acercarse a los usuarios de telefonía celular.
Una de sus primeras decisiones fue cancelar su comercial durante el Superbowl, y con dicho presupuesto pagar un desplegado en el New York Times y dar a sus nuevos clientes una prueba de tres meses para que conozcan los servicios de su empresa.
What feels like 17 years ago, we were shooting an epic first ad for @MintMobile. This is not that ad. pic.twitter.com/Lo1cLiOzek

— Ryan Reynolds (@VancityReynolds) May 4, 2020
Ahora Reynolds uso sus redes sociales para mostrar la idea de un comercial para Mint Mobile, ayudado por una modesta presentación de Power Pont y su sentido del humor.
Deadpool cautiva en redes al Capitán América
Esta publicación llamó la atención de Chris Evans, el mismo Capitán América, quien no dudó en expresar su admiración por la habilidad de marketing del intérprete de Deadpool:
How is he able to single-handedly jiu-jitsu any circumstance into a perfect marketing campaign??

I'm gonna go switch my plan while I try to figure this out. https://t.co/4ngnBQ7V6y

— Chris Evans (@ChrisEvans) May 4, 2020
"¿Cómo es capaz de arreglárselas para convertir cualquier circunstancia en una campaña de marketing perfecta?… Voy a cambiar mi plan mientras lo averiguo"
Esta no es la primera ocasión en la que Evans aplaude las decisiones de Reynolds, en febrero el actor que encarna a Steve Rogers en el MCU aplaudió la decisión de su colega, e intérprete de Wade Wilson, de acercarse a los clientes de su empresa.
This dude is killing it https://t.co/uJxhEdDw7q

— Chris Evans (@ChrisEvans) January 30, 2020
Deadpool: Buenas Noches
Wade Wilson enfrentará su misión más difícil: ¡Eliminar a Santa Claus. Luego, Deadpool se encontrará en medio de una retorcida rivalidad entre dos parques de diversiones ¡Un carnaval convertido en carnicería!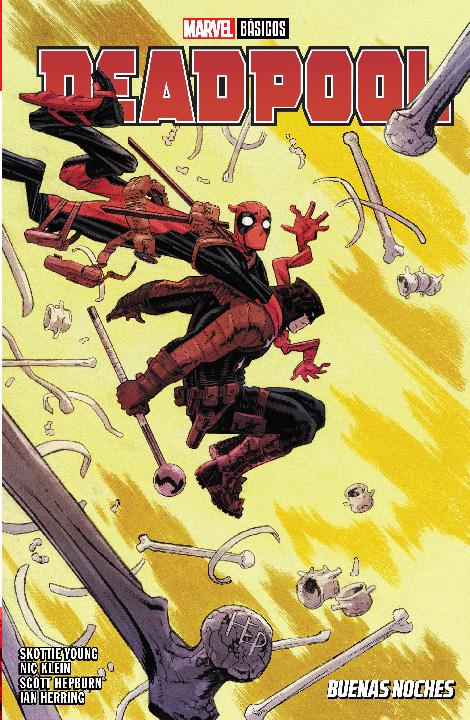 SMASH y Marvel Comics México presenta Marvel Básicos – Deadpool: Buenas noches, un tomo donde Skottie Young le da rumbo a los disparates del Mercenario Bocazas, el cual puedes adquirir en este enlace.