No son los gatitos, los memes ni los tráileres de películas, la nueva tendencia de internet son los tatuajes en el pecho de Chris Evans.
Hace unos días, el mejor Capitán América de la historia, Chris Evens, concedió una entrevista al lado de su hermano Scott para el canal ACE Universe de ACE Comic Con. Además de todo lo que Evans contó sobre el Universo Cinematográfico de Marvel y sobre sus futuros proyectos de cine, esta entrevista se volvió un éxito en las redes sociales por un detalle extra-cinematográfico.
La video-entrevista mostró a Chris Evans en una camiseta sin mangas cubierta por una camisa estampada. Sin embargo, la camisa abierta a la altura del pecho y la camiseta escotada revelaron algo que sorprendió a las usuarias de las redes sociales: múltiples tatuajes que tiene Chris Evans en el pecho.
El revuelo ha llevado a muchas a sentirse sorprendidas porque estos han sido eliminados en las películas. Aquí recogemos algunos ejemplos:
Los tatuajes en el pecho de Chris Evans: la nueva tendencia en redes
i have not known a single moment of peace since i saw chris evans in this floral shirt+tank top combo that shows off his arms AND chest tattoos. rip my brain today. pic.twitter.com/g2o8o5ZLGw

— molly freeman (@mollyrockit) March 24, 2021
To all the new people losing their minds over Chris Evans' tattoos – welcome! pic.twitter.com/DlyQGzhE7V

— Clare (@_clarebear_82) March 24, 2021
late to the party but i would just like to say..

CHRIS EVANS' CHEST TATTOOS 😍 pic.twitter.com/biNOLrYUfk

— lauren (@itsIaurenmae) March 25, 2021
Just saw a buzzfeed article talking about how Chris Evans has tattoos what the fuck

— jodie! (@jowilldie) March 25, 2021
Wait, @ChrisEvans has tattoos?! How did I now know this till now?!

— J (@GreenEyedGleim) March 25, 2021
yeah hi i will be talking about nothing else today except these pictures of chris evans and his chest tattoos re-emerging tyvm😍😩❤️ pic.twitter.com/iRRItMJ9pV

— Amanda Azar (@amandaazar) March 24, 2021
I need to cleanse my timeline.

Can you all SPAM me with Gifs or pICs of whoever you are fanning whether in outlander fandom or beyond.

After the onslaught that is Ontario politics I can barely remember #ChrisEvans tattoos from yesterday

Help a fangirl thrive pic.twitter.com/s2gapPTkZv

— Skimminy Cricket (@kim45607978) March 25, 2021
don't text i just remembered chris evans is covered in tattoos pic.twitter.com/8m3ycK4HZm

— Wendy (@werndyyy) March 24, 2021
Chris Evans has chest tattoos?!? pic.twitter.com/10h9f5Rudn

— moony | 🖤🥀 (@MarsSailor_) March 25, 2021
@ChrisEvans has tattoos? Good. If I'm not going to kick him out of bed for cookie crumbs I'm not going to do it for sweet, sexy ink. Bring it on I say. #tattoos for days #ChrisEvans

— PUP4CCC at bUneke.org (@gwynduffy) March 25, 2021
I don't think y'all understand how happy knowing that the booski, Chris Evans, is a tattooed king makes me! pic.twitter.com/3USFsHMMGv

— TayLani Stark #BlackLivesMatter (@GrownGeekGirl) March 25, 2021
Fuente: Ace Universe
Busca en nuestra tienda online
Marvel Deluxe – Capitán América: White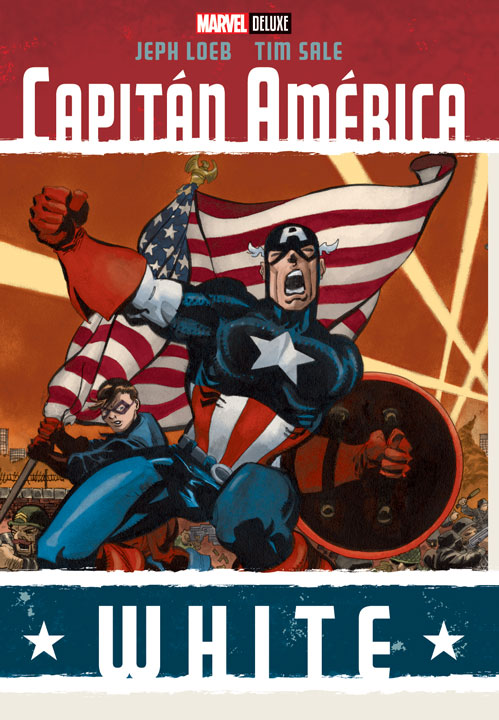 Para Steve Rogers lo más difícil de ser un hombre fuera de su tiempo, es ser un hombre sin un mejor amigo. A medida que Capitán América llega a términos con su pérdida, anhela la sencillez de la moral en blanco y negro que existía en la Segunda Guerra Mundial…
A su lado se encuentra Bucky Barnes corriendo, temerario, hacia el campo de batalla, y detrás de ellos, los Comandos Aulladores. Las probabilidades están en contra de ambos y hay vidas en riesgo. Llevarán la batalla al mayor de todos los males.
El equipo ganador del premio Eisner, Jeph Loeb y Tim Sale (Daredevil: Yellow, Spider-Man: Blue y Hulk: Gray) revisitan los días de gloria de Bucky y el Capitán América en esta clásica historia de una amistad forjada en la guerra.
Recopila Captain America: White # 0 – 5.

También se está leyendo:
Sebastian Stan está absolutamente marcado
Júpiter en oposición: Cómo ver al planeta gigante esta semana paso a paso
La película de Netflix que protagonizarán Chris Evans y Ryan Gosling
Elsa Pataky siempre viaja con Chris Hemsworth y toda su familia
La Chapulina Colorada de Marvel ¿infringió derechos de autor?