Uno de los momentos que nos pusieron los pelos de punta en el final de la séptima temporada de The Walking Dead fue ver a Shiva, la tigresa de Ezekiel, sin cadenas, dándose un buffet a costa de los Salvadores.
Esta secuencia nos dejó muchas preguntas en el aire, la más frecuentes fue ¿filmaron esa secuencia con una tigresa de verdad? algo que el actor Chandler Riggs, quien interpreta a Carl, despejó las dudas al respecto
ok but here's the best part about filming that whole episode:

— chandler riggs (@chandlerriggs) April 3, 2017
"Esta es la mejor parte de filmar el último episodio", Así preparó Riggs a los fanáticos en una de las escenas cumbres del último episodio de la serie.
when shiva came in clutch, it was literally a guy in a blue suit jumping off of a trampoline and tackling the guy lmaooo

— chandler riggs (@chandlerriggs) April 3, 2017
Cuando Shiva saltó sobre uno de los seguidores de Negan, Riggs develó el secreto detrás de esta gran escena, hecha gracias a la tecnología CGI.
i found a picture omg pic.twitter.com/6njTO96Ysj

— chandler riggs (@chandlerriggs) April 3, 2017
Mientras que el sitio Movieplot develó una toma del detrás de cámaras de esta escena.
Algo que en la edición final se vio de la siguiente manera
Este esfuerzo fue recompensado por los fans, que siguen reaccionando a tan genial efecto, pero algunos no olvidan el error del venado en esta temporada que acaba de finalizar.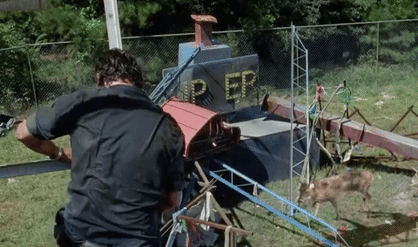 http://www.smashmexico.com.mx/trend/los-10-grandes-momentos-de-la-temporada-7-de-the-walking-dead/
http://www.smashmexico.com.mx/trend/los-dias-de-negan-estan-contados-en-the-walking-dead/
http://www.smashmexico.com.mx/trend/winslow-el-mas-increible-zombie-de-the-walking-dead/
http://www.smashmexico.com.mx/trend/top-5-mejores-zombies-de-twd/
http://www.smashmexico.com.mx/trend/las-10-muertes-mas-impactantes-en-the-walking-dead/