Cliff Blesiznski es reconocido dentro de la industria de los videojuegos por su participación en la saga de Gears of War. Después de 20 años trabajando para Epic Games, decidió renunciar para fundar su propio estudio llamado Boss Key Productions.
El estudio desarrolló los videojuegos: LawBreakers (juego de first-person shooter que tuvo buena crítica, pero que no funcionó comercialmente) y Radical Heights. Debido al desempeño de sus juegos Cliff tuvo que confirmar, hace unos días, el cierre de su estudio.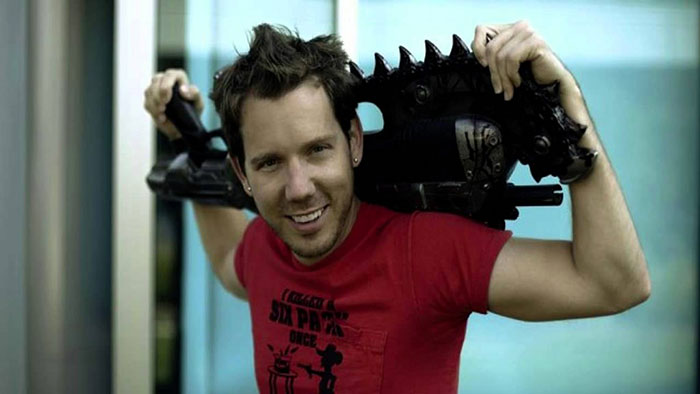 Lo siguiente puede ser algo lamentable, ya que Blesiznski siempre ha tenido ideas interesantes que se han visto reflejadas en sus juegos. En un gesto por dar a conocer los planes que ya no se van a materializar, el desarrollador compartió a través de sus redes sociales arte conceptual de lo que pudieron haber sido sus próximos títulos.
Dentro de los Tweets que publicó, se puede apreciar arte conceptual de un juego titulado "Donuts", el cual pretendía ser un sucesor espiritual en VR de Toobin solo que con animales. Las imágenes suelen ser muy atractivas, lástima que no lograron el financiamiento necesario.
Here's the silly/fun one – basically a VR spiritual sequel to Toobin, only everyone are animals – and a way to fight Seasonal Affection Disorder. (Mario Kart on water with animals in VR.)

Called "Donuts." pic.twitter.com/wNKef9QsS4

— Cliff Bleszinski (@therealcliffyb) May 15, 2018
Otra de las ideas que podemos ver es la de un juego con nombre clave "DragonFiles" en donde seríamos ninjas/samurais en una aeronave gigante, y en donde montaríamos dragones y lucharíamos contra zombies. Con un estilo de juego PvE (jugador contra el entorno) en donde podríamos usar armas de corto alcance y pistolas. También se planeaba que fuera permitida la personalización, la incubación y la crianza de huevos de dragón. El punto era aprender de los juegos como Scalebound y Liar para poder desarrollar un juego más pulido y completo.
Here's one of the games I wanted to do codenamed "DragonFlies."

Basically you were ninja/samurai in airships riding dragons fighting zombies with friends in a PVE "feudalpunk" setting on floating islands. (the airships = your "aircraft carriers", the dragons = your "planes") pic.twitter.com/yX2ivPwezb

— Cliff Bleszinski (@therealcliffyb) May 15, 2018
Según Cliff, las propuestas fueron presentadas a varias compañías como Microsoft, Sony, EA, 2K, Activision, y Warner Bros. sin que ninguna estuviera interesada.
¿Qué opinan de las ideas del diseñador de Gears of War? Quizás, con un poco de suerte, alguna otra compañía podría estar interesada.