Una de las villanas que redimió su camino a lo largo del Universo Cinematográfico de Marvel es Nebula, quien recibió un cambio radical a comparación de su apariencia en los cómics, donde debutó en las páginas de Avengers #257 (Julio, 1985). ¡Sorprende a todos caracterizando a Nebula con los pasos de este tutorial profesional!
La villana creada por Roger Stern y John Buscema, quien originalmente era la nieta de Thanos, trascendió a la pantalla grande, gracias a la actriz británica Karen Gillan, quien apareció por primera ocasión dentro del MCU en Guardians of the Galaxy (2014).
Para la versión en pantalla grande, en 2014, Gillan se comprometió a tal grado de rapar su cabellera. Así facilitó las extensas sesiones de maquillaje, para darle un gran realismo a su interpretación.
Consulta ésta y más curiosidades que rodean a la producción de Guardians of the Galaxy en éste enlace.
En éste video puedes consultar a detalle los pasos que puedes seguir para transformarte en Nebula, a través de un completo tutorial. Ya sea para una convención, o bien, para una fiesta temática.
Conoce a Alyson Tabbitha
La responsable de convertirse en cualquier personaje emanado del séptimo arte es Alysson Tabbitha, una joven estadounidense que desde el año 2014 es una reconocida cosplayer internacional.
Desde que era una niña, Tabbitha recibió un gran apoyo por parte de su madre al momento de disfrazarse de sus personajes predilectos, llevando su pasión a niveles altos, que la llevaron a ser
De ésta manera, Tabbitha no sólo le ha dado vida a personajes femeninos, como Nebula, Wonder Woman o Leeloo de la cinta The Fifth Element, también puede encarnar a diferentes personajes que han inmortalizado actores como Johnny Deep o Heath Ledger
Consulta su perfil de Instagram más personajes y caracterizaciones de Tabbitha, quien ha llevado su arte alrededor del mundo.
Preparate para el Infinity Countdown
Las piedras infinitas. Individualmente, ellos otorgan a sus problemas gran poder. Juntos, otorgan el poder de un dios. Previamente destruidas, las gemas del infinito se han reformado y están dispersas en todo el universo. A medida que se descubren sus ubicaciones, las fuerzas se convierten en una batalla que enviará al universo a un camino oscuro.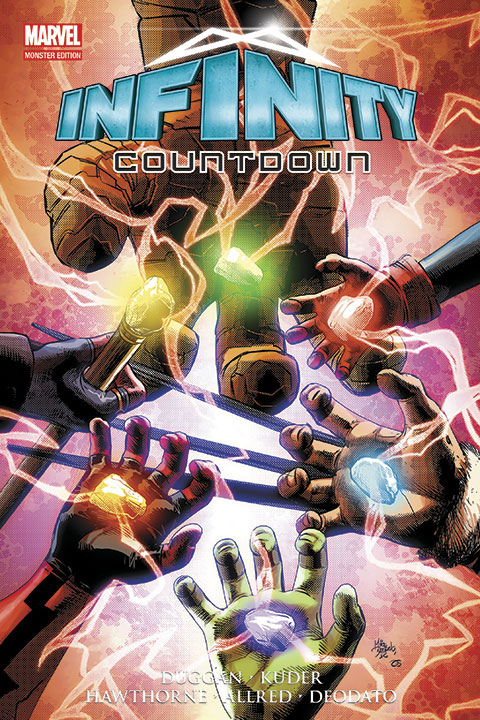 SMASH y Marvel Comics México traen para ti Marvel Monster Edition Infinity Countdown, una historia de Gerry Dugan que puedes conseguir en éste enlace