En redes sociales circula un arte conceptual donde el actor Aidan Gallagher es caracterizado como Robin para la cinta de The Batman
Si bien The Batman representa el reinicio de la mitología del Caballero Oscuro en la pantalla grande, los fanáticos del vigilante de Gotham esperan que más personajes lleguen a la pantalla grande como Robin, y el actor Aidan Gallagher es uno de los candidatos más fuertes para tener el papel.
En redes sociales, diferentes artistas conceptuales han compartido como se vería el protagonista de la serie Umbrella Academy como Damian Wayne, la encarnación más reciente en los comics de Robin, el Joven Maravilla.
😯

(Art by @MizuriOfficial) #DamianWayne #AidanGallagher #SonOfBatman Robin pic.twitter.com/f3mwsNYt8z

— Comicbook Clique (@MajorIssuesCBC) August 3, 2020
También puedes leer: Zack Snyder ya quiere ver a Robert Pattinson en The Batman
Estos artes conceptuales son parte de la campaña en redes sociales, impulsadas por los fanáticos de la serie de la plataforma más grande del mundo para que Gallagher sea tomado en cuenta por el director Matt Reeves para la trama de The Batman, o bien para sus secuelas.
So I started watching the Umbrella Academy last night and the only thing on my mind is how perfect of a Robin Aidan Gallagher would make

— Neo Medaxm (@NeoGameSpark) August 3, 2020
Anoche comencé a ver la Umbrella Academy y lo único que tengo en mente es lo perfecto que sería un Robin interpretado por Aidan Gallagher.
i do think @AidanRGallagher would make a good Damian Wayne/Robin

— Chuckie (@ChuckieChk) August 3, 2020
"Creo que Aidan Gallagher sería un buen Damian Wayne / Robin".
Make it happen please! #TheUmbrellaAcademy #batman #robin #AidanGallagher #DamianWayne pic.twitter.com/5nhGMBL1EX

— BladeWinchester (@BladeWinchester) August 3, 2020
¡Hagan que suceda por favor! #TheUmbrellaAcademy #batman #robin #AidanGallagher #DamianWayne
¿Cuál es el estatus de las filmaciones de The Batman?
Matt Reeves, director de The Batman, concedió una entrevista al diario The Daily Beast, donde informó que porcentaje de la cinta lleva filmado y las conclusiones que ha sacado en este tiempo, antes de la pausa por Coronavirus.
"Hemos filmado aproximadamente una cuarta parte de la película hasta el momento; nos quedan tres cuartos. Y cuando sea el momento adecuado y sea seguro hacerlo, volveremos a él".
Reeves señaló que en el mes que ha logrado filmar The Batman, el elenco que le acompaña ha hecho un trabajo que tendrá su propio sello en la historia del Caballero Oscuro en la pantalla grande.
No te pierdas; The Batman: Así se vería Matthew McConaughey como Two-Face
La nueva cinta The Batman estará protagonizada por Robert Pattinson como Bruce Wayne / Batman, Zoe Kravitz como Selina Kyle / Catwoman, Paul Dano como The Riddler, Colin Farrell como Oswald Cobblepot / The Penguin y John Turturro como el jefe del crimen Carmine Falcone. Además estarán Jeffrey Wright como el comisionado Gordon, mientras que Andy Serkis será Alfred Pennyworth.
The Batman llegará a las salas de cine el 1 de octubre de 2021
Fuente: movieweb
All-Star Batman and Robin: The Boy Wonder en SMASH y DC Black Label
Las leyendas de los cómics Frank Miller y Jim Lee le brindan al público una versión radicalmente nueva de una de las relaciones más fundacionales de la cultura pop: el Dúo Dinámico compuesto por Batman y Robin.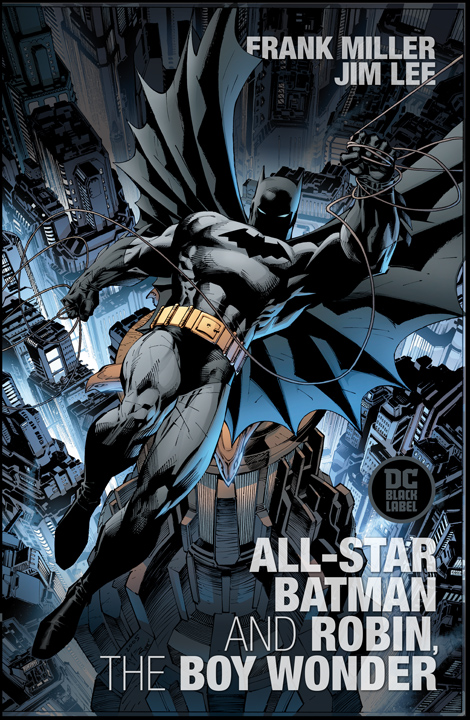 SMASH y DC Black Label traen ara ti: All-Star Batman and Robin: The Boy Wonder. Una obra que reimagina el comienzo de la peculiar relación de los Paladines Encapotados, dos huérfanos traumatizados que le declaran la guerra al crimen.
¡Consigue tu ejemplar en este enlace!
También se está leyendo:
Así es como se vería Henry Cavill como Batman
Así luce Robert Pattinson como Batman
Las películas más caras de Hollywood
Galanes que han interpretado a 'Batman'
Batman moriría al volar como lo hace