El director de The Suicide Squad, James Gunn, y el presidente de Marvel Studios, Kevin Feige, demostraron que entre los creativos de Marvel y DC los une una gran amistad
Si bien es conocida la rivalidad entre Marvel y DC, los encargados de crear el contenido para ambas editoriales, incluido en cine, no comulgan con dicha idea, y eso lo dejaron en claro James Gunn, director de The Suicide Squad y Kevin Feige, presidente de Marvel Studios.
En días recientes, en el marco de la segunda fecha de la DC FanDome, James Gunn reveló en su cuenta de Instagram fotos inéditas de la primera lectura del guión de The Suicide Squad, con el elenco confirmado para esta cinta.
En los comentarios de la publicación un usuario le preguntó al cineasta cual fue la reacción de Kevin Feige al enterarse que trabajaría con DC Comics y Warner Bros, algo que platicó con el ejecutivo de La Casa de las Ideas.
"Platiqué con Kevin Feige antes de aceptar el trabajo y él fue muy amable y me apoyó como siempre. Solo quería que hiciera una buena película".
No te pierdas: ¡Primer vistazo a The Suicide Squad de James Gunn!
Gunn señaló que incluso Feige y el productor ejecutivo de Marvel Louis D'Esposito fueron un día a las filmaciones de The Suicide Squad en Atlanta.
"Él (Kevin Feige) y Lou D'Esposito incluso vinieron a visitar el set y nos vieron filmar. No existe la enemistad entre bastidores como en la comunidad de fans".
James Gunn y su gran reto con The Suicide Squad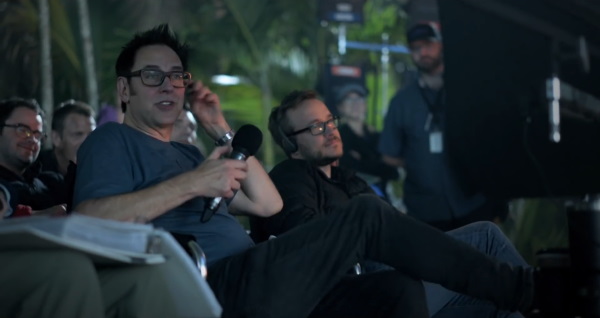 Tras ser separado de Marvel Studios, James Gunn fue contratado por DC Comics y Warner Bros., para desarrollar una nueva versión de The Suicide Squad, la cual el cineasta escribió el guión y dirigió entre 2018 y 2019.
Una vez que finalice el compromiso de James Gunn con DC Comics, el cineasta arrancará con Marvel Studios los trabajos de preproducción para la tercera película de Guardians of the Galaxy, la cual sería el final de la saga.
The Suicide Squad contará con las actuaciones de Margot Robbie, Viola Davis, Joel Kinnaman y Jai Courtney, volverán a interpretar sus papeles de Harley Quinn, Amanda Waller, Captain Boomerang y Rick Flag respectivamente.
El elenco de esta cinta lo complementan Idris Elba, David Dastmalchian, Nathan Fillion, Peter Capaldi, Alice Braga, Michael Rooker, Sean Gunn, Taika Waititi y Joaquín Cosio.
The Suicide Squad llegará a las salas de cine en el mes de agosto de 2021.
También puedes leer: En ésta película se inspiró The Suicide Squad de James Gunn
Fuente: DC Fandome
Doomsday Clock en SMASH y DC Comics México
El Dr. Manhattan, un ser casi omnipotente, ha estado reescribiendo el Universo DC: reformando las historias de algunos héroes, borrando a otros completamente, jugando por igual con los destinos de buenos y malos. Pero la razón permanece como un misterio.
¿Qué beneficios podría brindarle el Universo DC a un ser divino de otro mundo? y ahora que nuestros héroes han entendido que los convirtieron en peones, ¿qué pueden hacer para detenerlo?
SMASH y DC Comics traen para tí Doomsday Clock, una serie que reescribirá el pasado, presente y futuro del Universo DC, dejando en claro que nada termina nunca. Adquiere en este enlace el Volumen 1. Y adquiere acá el Volumen 2.
También se está leyendo:
Margot Robbie se quita la ropa… ¡y algo sale mal!
Batgirl: Daisy Ridley y Katherine Langford podrían interpretarla
Así se enteró Margot Robbie de su nominación al Oscar
Lindsay Lohan se disfraza de la novia del Guasón