Previo a finalizar las filmaciones de Thor: Love and Thunder, Chris Hemsworth aprovechó sus ratos libres para ejercitarse, con un atuendo emanado de la década de los años 80
¿Seguros que no es Andre Agassi? El Dios del Trueno ha cambiado el atuendo de los brazaletes y el Stormbreaker por muñequeras y una diadema similar a la de los tenistas en los años 80. Una batalla esta por empezar, ahora en un gimnasio… al parecer.
No te pierdas: El héroe favorito del hijo de Chris Hemsworth ¡No es Thor!
El diario Daily Mail compartió unas fotografías desde el set de Thor: Love and Thunder, donde Chris Hemsworth luce un peculiar atuendo para ejercitarse durante las pausas entre las filmaciones.
New Thor pics from behind the scenes of Thor: Love and Thunder!

(via Daily Mail: https://t.co/Qr4Sdif01C) pic.twitter.com/aDN8cvygkT

— Thor: Love and Thunder News (@lovethundernews) May 28, 2021
Estas fotografías fueron tomadas semanas atras desde las locaciones en Sidney, ya que Hemsworth se encontraba acompañado por sus hijos.
Esta semana Hemsworth compartió en sus redes sociales una curiosa foto, donde cuenta que el héroe favorito de su pequeño hijo es cierto hombre de Acero de la Distinguida Competencia.
Dirigida por Taika Waititi, Thor: Love and Thunder contará con un elenco encabezado por Chris Hemsworth como Thor, Natalie Portman como Jane Foster, Tessa Thompson como Vakyrie, Chris Pratt como Peter Quill / Star-Lord, Dave Bautista como Drax, Karen Gillen como Nebula, Russel Crowe como Zeus y Christian Bale como Gorr the God Butcher.
Thor: Love and Thunder llegará a las salas de cine el 6 de mayo de 2022.
No te pierdas: Chris Hemsworth festeja 10 años de Thor con foto inédita de dos "desconocidos"
Fuente: Daily Mail
El temor de Fear Itself llega a SMASH y Marvel Comics México
El hierro se fractura. Los soldados caen. Dioses mueren. Capitán América, Thor, Iron Man y los Avengers son los héroes más poderosos de la Tierra, –pero incluso ellos conocen el miedo. Y cuando un antiguo mal poderoso se adueña de nuestro mundo, cada héroe debe hacer un sacrificio para salvar al planeta.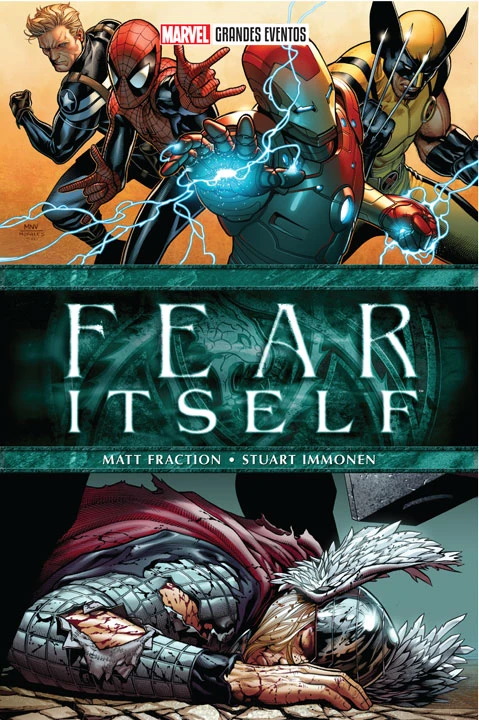 SMASH y Marvel Comics México traen para ti Fear Itself, una historia de la autoría de Matt Fraction y Stuart Immonen, que no puede faltar en tu colección.

También se está leyendo:
Un actor de Grey's Anatomy pudo ser Thor en el MCU
¿De dónde vienen los nombres de los meses del año?
¿Qué piensan los hijos de Chris Hemsworth de que su papá sea Thor?
¿Por qué Chris Hemsworth sufre para meterse en la piel de Thor?
Mark Ruffalo transmite por error parte de la nueva película de Thor