Thor: Love & Thunder nos sorprende con la incorporación de Melissa McCarthy, y algunas fotos de set revelan al personaje que tendrá la actriz.
El Daily Mail difundió fotos del set de Thor: Love & Thunder que muestran a Melissa McCarthy junto a su esposo Ben Falcone y Luke Hemsworth, quienes aporta su versión de una escena de Thor: Ragnarok. Hablamos de la batalla entre los hermanos Thor, Loki y Hela. En este caso, McCarthy representa Hela, la diosa de la muerte.
Luke Hemsworth, por su parte, interpreta a su hermano mayor, Chris, como el Dios del Trueno. Otras fotos revelan que Matt Damon y Sam Neill parodian a Loki y Odin, respectivamente. Ambos actores interpretaron al dios de la travesura y al ex rey de Asgard en la escena teatral anterior de Ragnarok.
Melissa McCarthy has been spotted on the set of THOR: LOVE AND THUNDER alongside Matt Damon and Luke Hemsworth.

Matt and Luke are reprising their roles as actors playing Loki and Thor while Melissa is an actress playing Hela. pic.twitter.com/f9kG6afid4

— Marvel HUB (@MarvelNewsHub) March 2, 2021
Thor: Love and Thunder presentará a Jane Foster (Natalie Portman) de regreso a la franquicia Thor para convertirse en la nueva Diosa del Trueno. La película el run del escritor Jason Aaron en Mighty Thor, cuando Jane Foster reemplazar a Odison a la par que lucha contra el cáncer.
Dirigida por Taika Waititi, Thor: Love and Thunder está protagonizada por Chris Hemsworth como Thor, Tessa Thompson como Valkyrie, Natalie Portman como Jane Foster, Jaimie Alexander como Lady Sif, Chris Pratt como Star-Lord, Dave Bautista como Drax, Karen Gillen como Nebula y Christian Bale como Gorr el Dios carnicero. La película llegará a los cines el 6 de mayo de 2022.
Fuente: Daily Mail
Busca en nuestra tienda online
Marvel Básicos – Vota Loki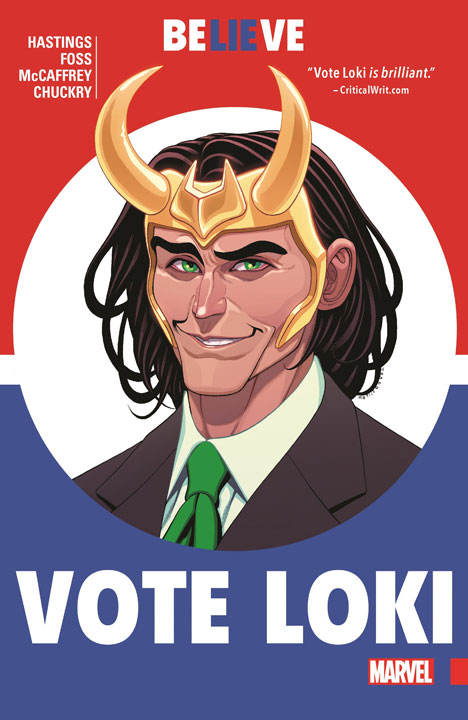 ¿Quién mejor para dirigir el gobierno que el Dios de las Mentiras?
Loki es muchas cosas: dios, embaucador, hermano, hijo, villano, incluso héroe. Ahora quiere agregar un título más a la lista: ¡Presidente de los Estados Unidos! Así es, ¡el Dios de las Travesuras quiere ser el gobernante del mundo libre! ¿Pero esto es sólo otro ardid?
Un hecho es seguro: con la sonrisa ganadora de Loki y su lengua persuasiva en la campaña electoral, ¡esta elección se ha vuelto mucho más interesante! Muy pronto, el pueblo estadounidense comerá de la palma de su mano pero, ¿puede el futuro presidente Laufeyson influir en los medios de comunicación? Y, ¿cuál será su respuesta cuando los héroes de la Tierra arranquen su campaña de desprestigio?
Una crisis en Latveria ofrece a Loki la oportunidad de manifestar su posición en política exterior… pero ten por seguro que no causaría una catástrofe nacional sólo por un poco de prensa positiva. ¿O sí?
Recopila Vote Loki #1-4, además Los clásicos Journey into Mystery #85 (1962) y Avengers (1989) #300.

También se está leyendo:
Un actor de Grey's Anatomy pudo ser Thor en el MCU
¿De dónde vienen los nombres de los meses del año?
¿Qué piensan los hijos de Chris Hemsworth de que su papá sea Thor?
¿Por qué Chris Hemsworth sufre para meterse en la piel de Thor?
Mark Ruffalo transmite por error parte de la nueva película de Thor