Wonder Woman es algo grande. Y Lynda Carter es a su vez es grande cuando hablamos de la historia de del personaje, pero no nada más, también es fundamental para las producciones de acción protagonizadas por mujeres.
Recordemos que su versión de Wonder Woman (1975) fue la más exitosa de una generación que vio iniciar la incursión de las mujeres en la TV de acción, al lado de Jaime Sommers en The Bionic Woman (1976) y Joanna Cameron en The Secrets of Isis (1975).
Como un acto de reconocimiento a una carrera intachable, Lynda Carter recibió una estrella en el Paseo de la Fama de Hollywood, por sus más de 50 años en el mundo del espectáculo.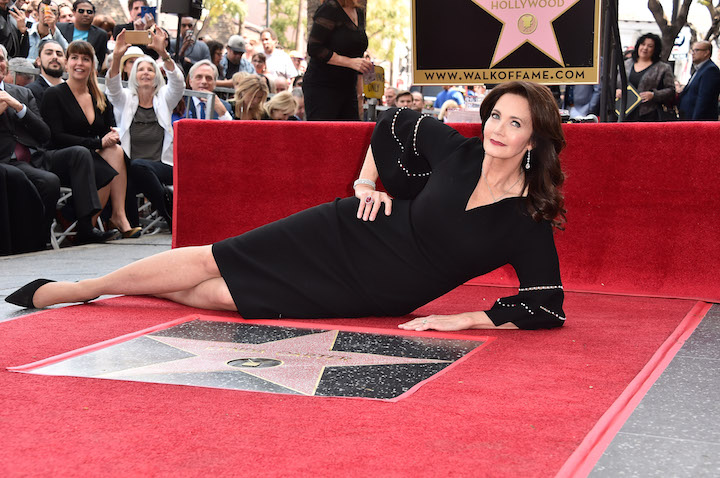 A sus 66 años, esta actriz, cantante y reina de belleza no pudo olvidar al personaje que dio fama mundial y en el acto de inauguración de la estrella cruzó sus antebrazos como lo hace la icónica Wonder Woman.
Según recoge el sitio EW, el CEO de CBS, Les Moonves, estuvo presente para presentar la estrella de Carter, junto a la cineasta Patty Jenkins, quien dirigió la película Wonder Woman en 2017, protagonizada por Gal Gadot.
Para Jenkins, refiriéndose a Lynda, "su Wonder Woman me hizo creer que podía tener todo lo que quisiera, y lo más importante, me hizo sentirme feliz por quererlo. Ella no tenía miedo de ser dulce o dura, no tenía miedo de ser tan cariñosa como fuerte, no tenía miedo de amar ser mujer y celebrar su feminidad, mientras pateaba traseros y cambiaba el mundo".
Gal Gadot también rindió homenaje a Carter a través de Twitter.
Congrats my beloved beautiful @RealLyndaCarter ❤ for receiving a star on the Hollywood Walk of Fame🌟 Thank you for your loving kindness shared by the sisterhood of women of wonder 😍 #WomenOfWonder pic.twitter.com/sgaqoElLOi

— Gal Gadot (@GalGadot) 3 de abril de 2018
Wonder Woman de 1975
La primera serie de televisión Wonder Woman fue transmitida originalmente de 1975 a 1979, con un total de tres temporadas. La primera producida por la cadena ABC y la segunda y tercera por CBS.