Esta semana salieron a la luz las primeras imágenes desde el set de Shazam. Gracias a los fotógrafos que rodean el la producción de la próxima película del DCEU pudimos conocer el mítico atuendo con el que Billy Batson y su versión adulta debutarán en la pantalla grande.
El traje con el que pudimos ver a Zachary Levi tiene una fuerte inspiración en diferentes títulos de DC Comics, sobretodo de la etapa más reciente entre Gary Frank y Geoff Johnes. Sin embargo, algunas de las primeras reacciones alrededor del atuendo lo compararon con el traje que Robin Williams utilizó en la serie Mork and Mindy.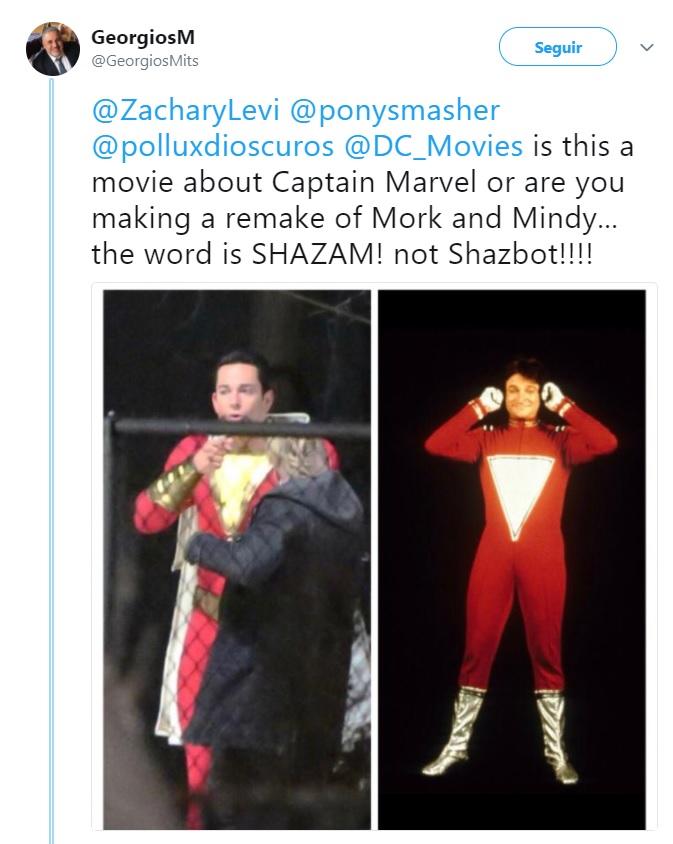 En medio de comentarios sarcásticos y de buen humor un usuario arrobó a Zachary Levi en twitter para comparar la foto del set con el traje del comediante. A lo que atinadamente el ahora mortal más poderoso del mundo respondió con el saludo clásico de la serie.
Nanu nanu, fam. 💅 https://t.co/yiMR9QEHmp

— Zacovfefe (@ZacharyLevi) March 6, 2018
Mientras que una buena parte del mundo recuerda más el traje de Mork, los lectores de cómics no dejamos de comparar las fotografías con el atuendo que el personaje ha tenido desde la década de los 40's. Sin temor a equivocarnos la producción a cargo de David F. Sandberg ha optado por algo clásico para unir al héroe con el resto de personajes de la Liga de la Justicia.
Mientras nosotros esperamos a conocer un poco más sobre Shazam de forma oficial, podemos estar tranquilos con el trabajo que DC Films realiza en estos momentos y para muestra un nuevo video desde el set de filmación donde podemos observar al Dr. Sivana enfrentando a Shazam… ¿emocionado por la pelea?
Excited to see Mark Strong as Dr Sivana in #Shazam (even if it is in a BTS long shot from the Toronto set) pic.twitter.com/PaZ8S6Pe0N

— jeremy r! hudson (@Captain_Hudson) March 7, 2018
¿Qué te pareció el traje de Shazam?