Antes de dar el cerrojazo final a  la serie de Arrow, los amigos de Oliver Queen tuvieron que enfrentarse a un último villano de nombre John Byrne.
Esto sin duda fue un homenaje que le hicieron los productores a uno de los icónicos creadores de cómics como los es Byrne. Él estuvo en una de las etapas con mayor éxito de los X-Men donde participó en la saga de Dark Phoenix o Days of Future Past.  Cocreó a personajes como Kitty Pryde, Emma Frost, Sabretooth y Ant-Man (Scott Lang). 
También trabajó para los títulos de Batman, Green Lantern, Wonder Woman, Justice League of America.
Punto aparte, merece su etapa en la miniserie The Man of Steel, cuando reinventó el mundo de Superman después de los eventos de Crisis en Tierras Infinitas en los años 80. También trabajó en el evento Legends, que presentaría al Suicide Squad  y reinventaría a la Justice League a fines de los años 80.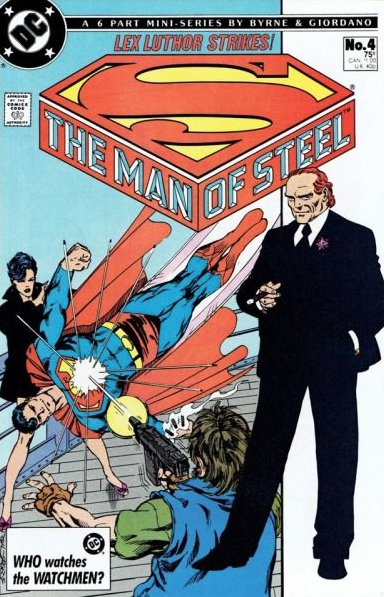 En una secuencia de flashback de la temporada 1, Oliver realizó una pequeña investigación sobre el siguiente nombre en la lista de su padre: John Byrne, el CEO de una compañía cervecera. "La compañía es un frente", explicó a Diggle. "Está usando sus camiones para transportar un tipo de mercancía muy diferente"
"He estado tratando de nombrar a John para siempre, y esta fue literalmente mi última oportunidad. Así que me acerqué a él, y él dijo que estaba interesado en eso e hicimos que pasara", dijo Marc Guggenheim a Comicbook.com.
Crisis on Infinite Earths en SMASH y DC Comics México
Crisis on Infinite Earths es una historia que marcó un parteaguas en el Universo DC en los años 80, no sólo al poner un orden en sus diferentes tierras, también por los eventos impactantes que imaginaron Marv Wolfman y George Pérez.
SMASH y DC Comics México traen para ti.
SMASH y DC Comics México traen para tí. DC Essential Edition: Crisis on Infinite Earths. Consíguelo en este enlace