The Penguin
Nombre Real: Oswald Chesterfield Cobblepot
Alias conocidos: The Penguin
Estatura: 1.60 m.
Afiliaciones conocidas: Injustice League, Suicide Squad
Primera aparición: Detective Comics #158 (1941)
Biografía:
Ridiculizado a una edad temprana por sus características de pájaro, sumado a la sobreprotección de su madre, Oswald Cobblepot convirtió su resentimiento en un implacable deseo de poder. ¡Ahora es conocido como el Penguin, un cerebro criminal y uno de los pandilleros más despiadados, y elegantes, de la historia de Gotham!
Poderes y habilidades:
A pesar de su apariencia grotesca, The Penguin no cuenta con superpoderes o habilidades sobrehumanas, pero es un maestro manipulador, capaz de enfrentar a sus enemigos entre sí. Sus armas preferidas son los paraguas personalizados que están equipados para liberar gas lacrimógeno, disparar balas o actuar como un rotor de helicóptero de mano para un escape rápido.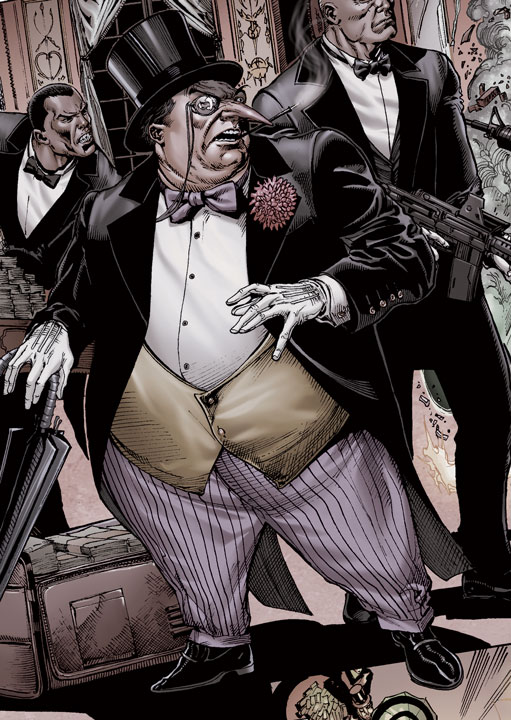 Momentos claves:
One of most perfect frame-ups
Buscando abrirse camino en el mundo criminal de Gotham City, Penguin roba una obra de arte valiosa para el jefe de la mafia, al cual asesina para tomar su lugar. Ante la persecución de Batman y Robin, el penguin lohgra que la policía arreste al Caballero Oscuro, pero al aparecer diferentes obras hurtadas, Batman y Robin son exonerados, pero no logran capturar al ladrón
No Mans Land
Después del terremoto y la caída de Gotham, Penguin fue posiblemente la persona más poderosa de Gotham en ese momento. Aunque su territorio era un poco escaso, controlaba la mayor parte del inframundo y las pandillas. Sin prisiones y con ganas de un pedazo de Gotham, Penguin se encontró en guerras de pandillas y desacuerdos con Two-Face, Killer Croc, Mr. Freeze y Black Mask..
Penguin: Pain and Prejudice
Desde los primeros días de su juventud hasta los años de envejecimiento como némesis de Batman, la sociedad y la humanidad han sido poco amables con el querido Sr. Cobblepot y le complace enormemente saber que cada momento de su vigilia se dedica a causar estragos y venganza a aquellos que se han equivocado.
Descubre más detalles de Batman en el sitio especial de los 80 años de Batman en SMASH.