El evento Crisis on Infinite Earths del Arrowverse se convirtió en un éxito para DC Comics y la cadena The CW, gracias a su gran historia y a los cameos y referencias que aparecieron a lo largo de los cinco episodios. Si bien la serie Krypton está situada dos siglos antes de los eventos de Crisis on Infinite Earths, estuvimos cerca de ver a Seg-El en este gran crossover.
El actor Cameron Cuffe, quien interpretó a Seg-El, el abuelo de Superman en la serie Krypton, se mostró contento por el resultado del crossover del Arrowverse, pero lamentó no haber tenido un cameo en Crisis on Infinite Earths, debido a su agenda de trabajo.
A massive congratulations and thank you to @mguggenheim and all who made #CrisisOnInfiniteEarths happen. The work that has gone into these shows for the past 8 years is staggering and without them forging a path, #Krypton would never have come to be.

— Cameron Cuffe (@thecameroncuffe) January 15, 2020
"Una enorme felicitación y gracias a Marc Guggenheim y todos los que hicieron que Crisis on Infinite Earths ocurriera. El trabajo que se ha dedicado a estos programas durante los últimos ocho años es asombroso, y sin ellos, el camino que llevó a #Krypton nunca se hubiera dado".
I'm sad I wasn't able to put on the "S" once more and stand alongside some of my heroes. We tried, we wanted to make it happen, but I had already committed to something and we couldn't make it work. It happens in this game.

— Cameron Cuffe (@thecameroncuffe) January 15, 2020
"Estoy triste porque no pude ponerme la "S" una vez más y estar junto a algunos de mis héroes. Lo intentamos, queríamos que sucediera, pero ya me había comprometido con algo y no pudimos hacerlo funcionar. Sucede en este juego".
You guys know my love for @DCComics is endless and hopefully our paths will cross again… if nothing else, we El's have hope. pic.twitter.com/9D0lRIMqAi

— Cameron Cuffe (@thecameroncuffe) January 15, 2020
"Ustedes saben que mi amor por DC Comics es interminable y esperamos que nuestros caminos se crucen de nuevo … si nada más, la Casa El tiene esperanza".
La serie Krypton llegó a su final en 2019, tras dos temporadas de transmisión en la cadena SyFy en los Estados Unidos, y lamentablemente nos perdimos de un cierre en Crisis on Infinite Earths.
Crisis on Infinite Earths en SMASH y DC Comics México
Crisis on Infinite Earths es una historia que marcó un parteaguas en el Universo DC en los años 80, no sólo al poner un orden en sus diferentes tierras, también por los eventos impactantes que imaginaron Marv Wolfman y George Pérez.
Es por ello que SMASH y DC Comics México no quieren que pierdas detalle de una de las tramas más espectaculares en la historia de los cómics y por ello te tendrá próximamente una edición de lujo que no te puedes perder.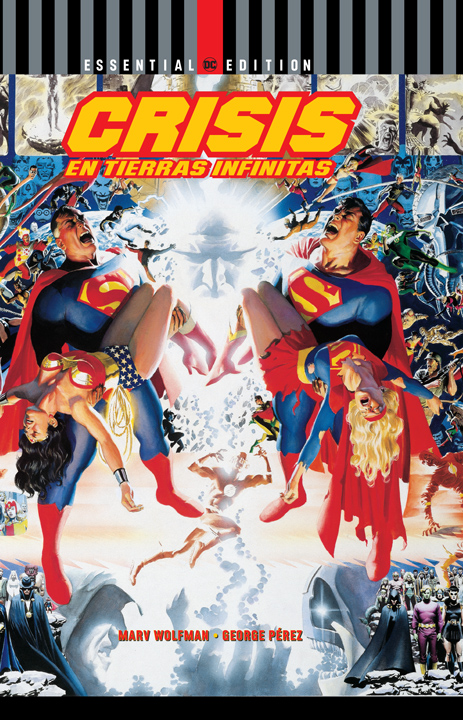 DC Essential Edition: Crisis on Infinite Earths llegará a tus manos, en un tomo con pasta dura, y en español, para que descubras la historia que cambió el Universo DC y varias sorpresas más que puedes adquirir en éste enlace.