La tercera temporada de DC's Legends of Tomorrow tendrá al equipo de White Canary bastante ocupado tratando de enmendar los problemas que se desataron al alterar la línea de tiempo.
Los viajes temporales serán uno de los atractivos de estos nuevos episodios, y si bien, las Leyendas no se dan abasto con el Waverider, hay otro vehículo que se podría usar.
El actor Brandon Routh, quien interpreta a Ray Palmer / The Atom, publicó una fotografía en donde aparece dentro de un automóvil conocido por los amantes del cine, el famoso DeLorean, de la saga Back to the Future.
Esta fotografía fue tomada en el set de filmación, y la aparición del DeLorean corresponde al cuarto capítulo de la nueva temporada, el cual se emitirá a finales del mes de octubre, que será un especial de Halloween.
Este episodio también podría marcar el debut de la actriz Susie Abromeit, quien interpretará a la madre de Atom, gracias a uno de las etiquetas que Routh colocó en la foto (#RaysMom). Recordemos que en esta tercera temporada se descubrirán aspectos desconocidos del pasado de Atom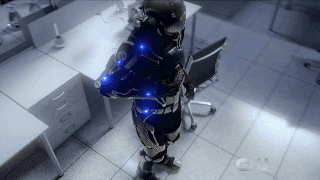 DC's Legends of Tomorrow regresa el 10 de octubre, en la pantalla de la cadena CW, en los Estados Unidos. En Hispanoamérica aún se desconoce la fecha de estreno de la tercera temporada.
https://www.youtube.com/watch?v=qwGNep39atY
http://www.smashmexico.com.mx/dc/2017/08/15/los-eventos-de-vixen-repercutiran-en-legends-of-tomorrow/
http://www.smashmexico.com.mx/dc/2017/08/07/constantine-y-su-posible-llegada-a-legends-of-tomorrow/
http://www.smashmexico.com.mx/dc/2017/08/03/datos-temporada-3-legends-of-tomorrow/
http://www.smashmexico.com.mx/dc/2017/07/23/dcs-legends-of-tomorrow-presenta-el-trailer-de-su-temporada-tres/
http://www.smashmexico.com.mx/dc/2017/05/26/primer-poster-de-la-tercer-temporada-de-legends-of-tomorrow/