Ante los rumores que indican la presencia de Green Arrow en la serie The Peacemaker, el director James Gunn aclara los informes surgidos en redes
Además de dirigir The Suicide Squad, James Gunn prepara lo que será la filmación de The Peacemaker, serie spin-off que se centrará en el personaje interpretado por John Cena, y donde se presume podría debutar Green Arrow en el Universo Exendido de DC Comics.
Si bien los rumores de la aparición del arquero esmeralda cobraron fuerza en diferentes sitios de internet, el mismo James Gunn se encargó de desmentir ésta noticia que algunos medios afirmaron como cierta.
It's nonsense. https://t.co/lIzH1xe1ZF

— James Gunn (@JamesGunn) November 23, 2020
No te pierdas: James Gunn defiende el trabajo de Margot Robbie en The Suicide Squad
"No tiene sentido" respondió Gunn a un tuit de un fanático quien le preguntó si eran ciertas las publicaciones que apuntaban a la llegada de Green Arrow al cine y televisión del DCEU.
No esta cerrada la puerta para Oliver Queen
Más adelante el mismo Gunn aclaró que es un gran fan de Green Arrow, pero su incorporación a The Suicide Squad o The Peacemaker no esta considerada.
Side note: as I kid I LOVED Green Arrow. When my friends and I played Justice League, that's who I'd be. I stayed up late one night making myself a little hat. And he was my favorite Mego action figure, tied with removable-mask Batman, but even better than Starsky & Hutch. pic.twitter.com/cB5t9KP3US

— James Gunn (@JamesGunn) November 23, 2020
"Nota al margen: cuando era niño, me encantaba Green Arrow. Cuando mis amigos y yo jugáramos a la Liga de la Justicia, yo era (Green Arrow). Una noche me quedé despierto hasta tarde haciéndome un sombrerito. Y él era mi figura de acción favorita de Mego, atado con una máscara removible de Batman, pero incluso mejor que Starsky & Hutch".
Inclusive el actor Steve Agee, quien le prestará su voz a King Shark en la cinta de The Suicide Squad, bromeó en relación si él no estaba interpretando a Green Arrow.
Wait, I'm not Green Arrow?

— Steve Agee (@steveagee) November 23, 2020
Don't ruin the surprise.

— James Gunn (@JamesGunn) November 23, 2020
"No arruines la sorpresa" Contestó el cineasta a la respuesta de Agee donde preguntó si él no estaba interpretando a Green Arrow.
Para la cinta y la serie, el luchador de la WWE John Cena será el encargado de darle vida a éste antihéroe, quien se presentará en la pantalla grande en The Suicide Squad.
The Suicide Squad contará con las actuaciones de Margot Robbie, Viola Davis, Joel Kinnaman y Jai Courtney, volverán a interpretar sus papeles de Harley Quinn, Amanda Waller, Captain Boomerang y Rick Flag respectivamente.
El elenco de esta cinta lo complementan Idris Elba, David Dastmalchian, Nathan Fillion, Peter Capaldi, Alice Braga, Michael Rooker, Sean Gunn, Taika Waititi y Joaquín Cosio.
The Suicide Squad llegará a las salas de cine en el mes de agosto de 2021.
También puedes leer: Más nombres se suman al elenco de la serie The Peacemaker
Fuente: Twitter
Así empezó la aventura de Injustice en SMASH y DC Comics México
¡Los súper héroes del Universo DC como nunca los habías visto!
Superman es el héroe más grande de la Tierra. Pero cuando el Hombre de Acero no puede proteger lo que más quiere en la vida, decide olvidarse del mundo… y comenzar a gobernarlo.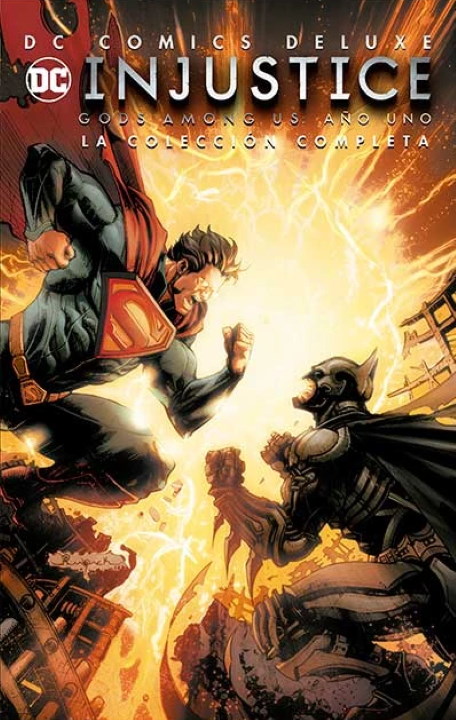 SMASH y DC Comics México trae para tí Injustice: Gods Among Us, Año Uno, un relato escrito por Tom Taylor (EARTH 2) con el arte de Jheremy Raapack y Mike S. Miller (BATMAN: ARKHAM UNHINGED), y más.

También se está leyendo:
Margot Robbie se quita la ropa… ¡y algo sale mal!
Batgirl: Daisy Ridley y Katherine Langford podrían interpretarla
Así se enteró Margot Robbie de su nominación al Oscar
Lindsay Lohan se disfraza de la novia del Guasón