James Gunn, director de The Suicide Sauqd, aclara la situación entre Superman y Bloodsport antes de los eventos de la película
En cuestión de semanas James Gunn presentará su versión de The Suicide Squad, y en las filas del equipo más peligroso del Universo DC incorpora al actor Idris Elba, quien interpretará a Bloodsport, un villano que puso a Superman al borde de la muerte.
Happy #SupermanDay pic.twitter.com/7CKEh5GtOL

— James Gunn (@JamesGunn) June 12, 2021
No te pierdas: The Suicide Squad cuenta con nuevas imágenes del equipo
A través de su cuenta de twitter, James Gunn se unió a la celebración del día de Superman, a lo que un usuario de esta red social le preguntó si el Hombre de Acero tendrá alguna participación en The Suicide Squad, a lo que el cineasta respondió que Bloodsport tiene algo que ver en el asunto.
Bloodsport is in prison for taking him down with a kryptonite bullet. If you believe these covers, he may not be the bad guy in that situation. #TheSuicideSquad

— James Gunn (@JamesGunn) June 12, 2021
"Bloodsport está en prisión por derribarlo (a Superman) con una bala de kriptonita. Si crees en estas portadas, es posible que él no sea el malo en esa situación".
Otro usuario le preguntó a Gunn su Blodspoort tuvo éxito al asesinar a Superman o sólo logró herirlo, a lo que el cineasta sólo atinó en responder que el asesino falló en su misión.
He put him in the ICU but he failed to kill him.

— James Gunn (@JamesGunn) June 12, 2021
Lo colocó en la Unidad de Ciuidados Intensivos, pero no logró matarlo.
En los cómics Bloodsport debutó en las páginas de Superman Vol. 2 # 4 (1987), obsesionado con la guerra de Vietnam, después de que su hermano regresó herido de dicho conflicto.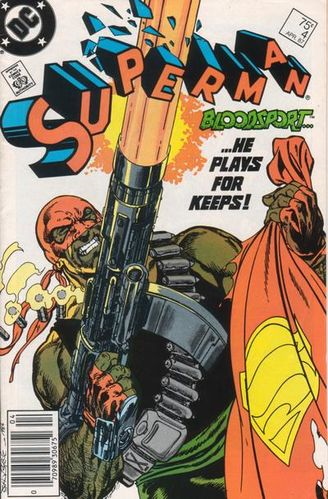 Esto lo aprovechó Lex Luthor para convencerlo de cazar a Superman con balas de kriptonita.
The Suicide Squad contará con las actuaciones de Margot Robbie, Viola Davis, Joel Kinnaman y Jai Courtney, volverán a interpretar sus papeles de Harley Quinn, Amanda Waller, Captain Boomerang y Rick Flag respectivamente.
El elenco de esta cinta lo complementan Idris Elba, David Dastmalchian, Nathan Fillion, Peter Capaldi, Alice Braga, Michael Rooker, Sean Gunn, Taika Waititi, Joaquín Cosio y Sylvester Stallone.
The Suicide Squad llegará a las salas de cine en el mes de agosto de 2021.
También puedes leer: The Suicide Squad: James Gunn ya tiene completa y lista la película
Fuente: Twitter
¡Hagan sus apuestas! Justice League vs Suicide Squad en SMASH y DC Comics México
Los miembros de la Liga de la Justicia son los superhéroes de la Tierra más famosos y poderosos. Pero no son el único equipo en la ciudad.
El Suicide Squad ataca desde las sombras y hace los trabajos que son demasiado sucios para los superhéroes. Bajo el puño de hierro de la Directora Amanda Waller, estos monstruos y maniacos han operado en total secrecía… hasta ahora. Batman está sobre ellos, y la existencia del Escuadrón no es algo que él y la Liga de la Justicia puedan tolerar. Deben desaparecer.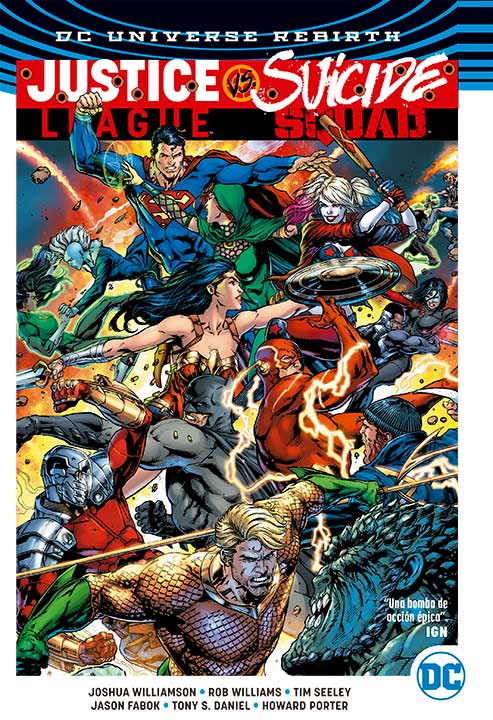 SMASH y DC Comics México traen para tí DC Comics Deluxe: DC Universe Rebirth: Justice League vs Suicide Squad, un evento imperdible que no debe faltar a tu colección

También se está leyendo:
Margot Robbie se quita la ropa… ¡y algo sale mal!
Batgirl: Daisy Ridley y Katherine Langford podrían interpretarla
Así se enteró Margot Robbie de su nominación al Oscar
Lindsay Lohan se disfraza de la novia del Guasón