En un programa matutino de los Estados Unidos, Marvel Studios presentó un pequeño clip con Sam Wilson en acción durante la primera temporada de The Falcon and The Winter Soldier
La Fase cuatro del Universo Cinematográfico de Marvel le da la bienvenida en breve a The Falcon and The Winter Soldier, serie que nos presenta un nuevo clip con Falcon en acción.
Star of #TheFalconAndTheWinterSoldier @AnthonyMackie talks the new Avengers series from Naval Air Station Joint Reserve Base in his hometown of New Orleans! pic.twitter.com/bc6dY7ctAy

— Good Morning America (@GMA) March 17, 2021
No te pierdas: El Barón Zemo 'en llamas' en nueva imagen de The Falcon and the Winter Soldier
El programa Good Morning America, de la cadena ABC, dio a cknocer un breve clip de la primera temporada, donde Sam Wilson emprende una peligrosa misión, detener que un avión secuestrado antes de que llegue al espacio aéreo extranjero.
Para la presentación de éste video, Anthony Mackie, intérprete de Sam Wilson / Falcon apareció en la Base de Reserva Conjunta de la Estación Aérea Naval en Nueva Orleans, ciudad donde nació el actor.
Mackie, quien fue elegido directamente por Kevin Feige y los hermanos Russo para interpretar a Falcon, reconoció que si bien no tuvo que audicionar, su llegada a Marvel Studios es resultado de años de duro trabajo.
"Llevo mucho tiempo en este negocio, y lo hice de la manera que se suponía que debías hacerlo… No fui a Los Ángeles y dije: 'Hazme famoso'. Fui a la escuela de teatro, hice Off Broadway, hice películas independientes y me abrí camino en las filas. Tomó mucho tiempo para que los resultados se manifestara de la forma en que lo han hecho, y estoy extremadamente feliz por eso".
La nueva era de la justicia en Falcon y El Soldado del Invierno
Continuando los eventos de Avengers: Endgame, Sam Wilson (Falcon) y Bucky Barnes (Soldado del Invierno) emprenden juntos una aventura alrededor del mundo que pone a prueba sus habilidades, y su paciencia.
The Falcon and the Winter Soldier cuenta con un elenco encabezado por Anthony Mackie como Sam Wilson / Falcon y Sebastian Stan como Bucky Barnes / Winter Soldier. También estarán Emily Van Camp como Sharon Carter /Agent 13, Wyatt Russell como US Agent y Daniel Brühl como el Barón Zemo.
Bajo la dirección de Kari Skogland y el guión de Malcolm Spellman, The Falcon and the Winter Soldier estrena su primera temporada el 19 de marzo a través de la plataforma digital Disney Plus.
También puedes visitar: ¡No te pierdas el tráiler final de Falcon and the Winter Soldier!
Fuente: Twitter
Falcon & Winter Soldier ante una gran amenaza en SMASH y Marvel Comics México
Una oficina llena de agentes del gobierno muertos. Un nuevo y talentoso asesino. Dos ex-Capitanes América.
¡Cuando un estremecedor atentado contra la vida de Bucky Barnes lo reúne con Sam Wilson, los dos amigos se ven arrastrados en una frenética carrera por descubrir al nuevo líder de Hydra antes de que un incidente con saldo masivo de víctimas le anuncie al mundo la resurrección del grupo terrorista!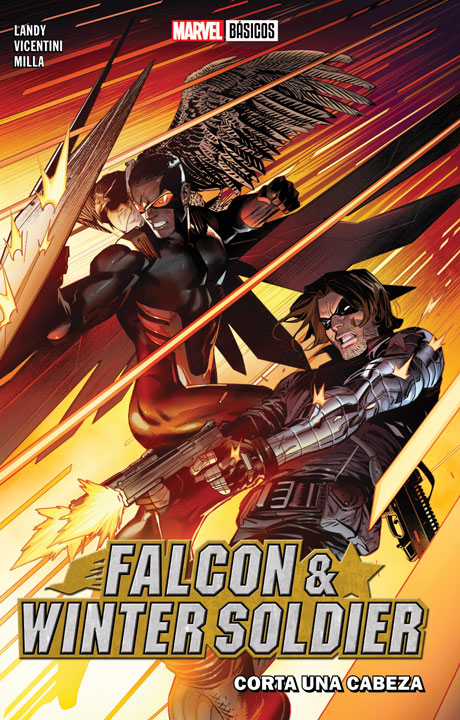 SMASH y Marvel Comics México traen para tí Marvel Básicos – Falcon & Winter Soldier: Corta una cabeza, una trama de la pluma de Derek Landy y los trazos de Federico Vicentini

También se está leyendo:
Sebastian Stan está absolutamente marcado
Júpiter en oposición: Cómo ver al planeta gigante esta semana paso a paso
La película de Netflix que protagonizarán Chris Evans y Ryan Gosling
Elsa Pataky siempre viaja con Chris Hemsworth y toda su familia
La Chapulina Colorada de Marvel ¿infringió derechos de autor?