Una segunda forma de ver las películas es cuando nos enteramos poco a poco de todo lo que quedó fuera del corte final. Por medio de esos extras podemos ampliar el disfrute de algunos momentos o incluso resolver algunos misterios. Y hoy una escena eliminada de Guardians of the Galaxy nos ayuda a cerrar una duda.
Para todos los que amamos la cinta, uno de los objetos que más apreciamos es el Walkman que Star-Lord (Chris Pratt) utiliza y del que se desprende el soundtrack. De hecho, junto a Star-Lord, de alguna manera es lo primero que conocemos al iniciar la película del MCU.
Y como recuerdan, en una parte de la trama Peter Quill es arrestado y su Walkman confiscado. Pues bien, durante una sesión de preguntas y respuestas vía Twitter con el director James Gunn, organizada por el sitio Comicbook.com, habló sobre el guardia que se llevó el equipo de sonido.
Un fan comentó a Gunn vía Twitter: "Siempre sentí un poco de lástima por el guardia que robó el Walkman, el chico solo quería escuchar algo de música". A lo que Gunn respondió: "¡¡Golpeó a Quill!! En realidad, hay una escena eliminada donde baila alrededor de la cárcel golpeando a los prisioneros mientras escucha Magic de los Pilot".
He beat Quill!!!! Actually there's a great cut scene where he dances around the prison beating prisoners while listening to Pilot's Magic. #QuarantineWatchParty #GotG https://t.co/RkgQpq2Aq1

— James Gunn (@JamesGunn) April 8, 2020
Y aquí tenemos la escena eliminada en Guardians of the Galaxy:
El guardia tiene algo que decir
El actor Spencer Wilding, quien interpretó al guardia, habló sobre su participación en la cinta, calificándolo de "verdadero placer" y alabando a Gunn. El sitio mencionado informa que Wilding es: "un ex kickboxer profesional, y ha hecho una carrera en la pantalla grande interpretando diversas criaturas, extraterrestres y monstruos, que incluyen apariciones en Harry Potter and the Prisoner of Azkaban, Batman Begins, The Wolfman, Game of Thrones, Green Lantern, Men in Black: International y Doctor Who. Wilding también apareció en Rogue One: A Star Wars Story, asumiendo el papel de nada menos que Darth Vader".
Playing the mean guard was a real treat not only to feel the character but to work with such a cool cast and of course a great director:-) never forget our 1st day on set meeting u James and all your furry little friends running round your neck 🙂 pic.twitter.com/XOSyAg1alb

— Spencer Wilding (@BigSpenWilding) April 7, 2020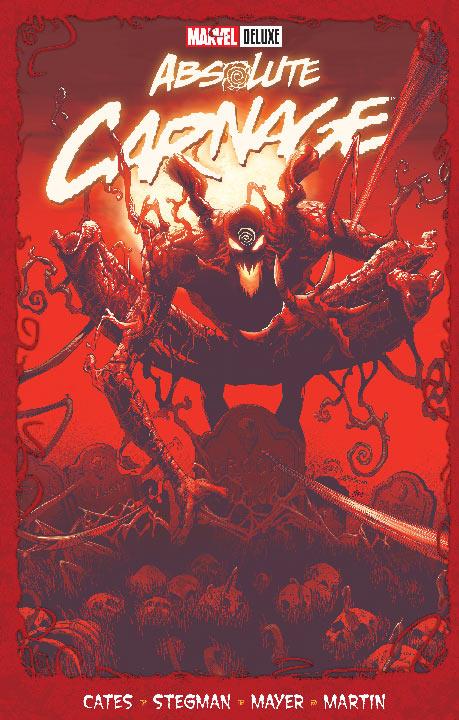 Carnage, el descendiente psicótico de Venom está de regreso, y ¡planea matar a todos los que alguna vez han usado un simbionte! Cletus Kasady se mantuvo al borde de la periferia del Universo Marvel durante meses y ahora está listo para hacer su triunfal regreso a Nueva York, ¡más poderoso que nunca! Y para empeorar un poco más las cosas, existe un nuevo jugador en la cancha, ¡que no es quien esperabas! Spider-Man y Venom harán frente a la locura de Carnage pero, las cosas no se ven nada bien. Estos inquietos aliados apenas han sido capaces de escapar vivos y no han tenido más remedio que arrastrar con ellos a una gran cantidad de héroes que también están en la mira de Carnage. Por impactante que parezca, no todos saldrán enteros de este conflicto… claro, ¡si acaso lo logran!
Recopila Absolute Carnage #1-5 y materiales del Free Comic Book Day 2019 (Spider-Man/Venom) #1