La primera piedra del Universo Cinematográfico de Marvel, Iron Man, celebró su 12º aniversario, y estas imágenes lo festejan.
Ya hemos insistido en que el artista conceptual de Marvel Studios, Ryan Meinerding, es una pieza clave para entender el proceso de creación del MCU. Apenas hace unos días nos mostró una versión no utilizada de la suitcase armor para Iron Man 2, la cual fue recuperada en Iron Man 3. De esa misma tercera parte de la saga, también nos mostró una propuesta para la armadura de War Machine que fue descartada para dar paso a Iron Patriot (aquí puedes echarle un ojo).
Pues bien, reconociendo la absoluta cercanía de Ryan Meinerding con la historia cinematográfica de Iron Man, decidimos recuperar sus artes a propósito del 12º aniversario del inicio del MCU.
Celebramos el 12º aniversario de Iron Man con el arte de Ryan Meinerding:
Empezamos con la selección del artista de sus propuestas favoritas para Iron Man
Póster para el libro de arte de Iron Man
Un poco más del libro The Art of Iron Man
Una armadura de viaje no utilizada
Un diseño temprano del reactor ARC
Uno de los primeros diseños de la Mark 1 en 2006
Más arte conceptual de la primera película del MCU
No te pierdas las mejores armaduras de Iron Man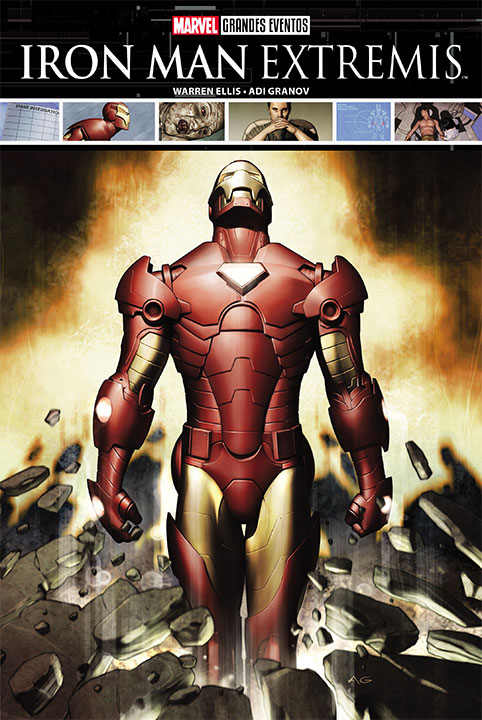 ¡Es el comienzo de una nueva era para Iron Man!
El reconocido escritor Warren Ellis suma fuerzas con el aclamado ilustrador Adi Granov con el fin de redefinir el universo del vengador con armadura para el siglo XXI. ¡Un panorama con nuevas y aterradoras tecnologías amenaza con quebrantar la fragilidad humana! Descubre ¿qué es Extremis, quién lo liberó y qué significa su aparición para nuestro mundo?
Recopila Iron Man (2004) #1-6.