El cineasta James Gunn tomó con sentido del humor la caída de Facebook, donde "publicó" el gran easter egg de Guardians of the Galaxy
La primera cinta de Guardians of the Galaxy es una gran colección de easter eggs, pero el director James Gunn develó que aún queda un gran easter egg por descubrir, el cual por fin reveló en facebook… pero al momento de que la red social colapsó.
No te pierdas: James Gunn asegura que hay un gran easter egg sin hallar en Guardians of the Galaxy
Con su particular sentido del humor, James Gunn trolleó en su cuenta de twitter a los usuarios de Facebook, al revelar que el easter egg no encontrado de Guardians of the Galaxy lo reveló en la red social creada por Mark Zuckerberg.
I just posted the big Guardians Easter egg on Facebook for everyone to see.

— James Gunn (@JamesGunn) October 4, 2021
"Acabo de publicar el gran easter egg de Guardians en Facebook para que todos lo vean", escribió el cineasta, en un mensaje que recibió más de 1400 respuestas, además de ser replicado en más de 3000 ocasiones.
Claro que no faltó quien le avisara a Gunn que Facebook vio interrumpido su servicio por más de ocho horas
WHAT???!!

— James Gunn (@JamesGunn) October 4, 2021
En 2018, previo al estreno de Avengers: Infinity War, James Gunn reveló que en la primera parte de Guardians of the Galaxy hay un easter egg que aún no descubre los fans de la cinta.
-The big Easter Egg has not been found (not in either Vol. 1 or Vol. 2)
-No, I am not making up the Easter Egg.
-There are actually a ton of unfound Easter Eggs in Vol. 2.
-Kraglin is off doing something important during Infinity War. He will return.

— James Gunn (@JamesGunn) May 9, 2018
"El gran easter egg no se ha encontrado (NI en el Vol. 1 ni en el Vol. 2)".
Ahora James Gunn ha entrado en la producción de Guardians of the Galaxy Vol. 3, cinta que contará con un elenco integrado por Chris Pratt como Star-Lord, Zoe Saldaña como Gamora, David Bautista como Drax, Bradley Cooper cono la voz de Rocket Racoon, Vin Diesel como la voz de Groot, Pom Klementieff como Mantis y Karen Gillan como Nebula.
Guardians of the Galaxy Vol. 3 llegará a las salas de cine el 5 de mayo de 2023.
Te puede interesar: Ésta canción de David Bowie se descartó para Guardians of the Galaxy Vol. 3
Fuente: Twitter
Las locuras de los Guardianes de la Galaxia llegan al Marvel-Verse
¡Los orígenes del equipo galáctico más irreverente!
Desde su primera aparición en 1969, la alineación de los Guardianes ha sufrido varios cambios. En esta edición recuperamos las ediciones que reflejan de mejor modo los momentos y características que estos inadaptados galácticos aportan a esta tribu disfuncional que conquistó el corazón de fanáticos alrededor del mundo gracias a su adaptación a la pantalla grande.
Conoce sus primeras aventuras, sorpréndete con la imaginación de los elementos que envuelven sus historias como su vestuario extravagante, sus fantásticas naves espaciales y sus más grandes misiones interestelares.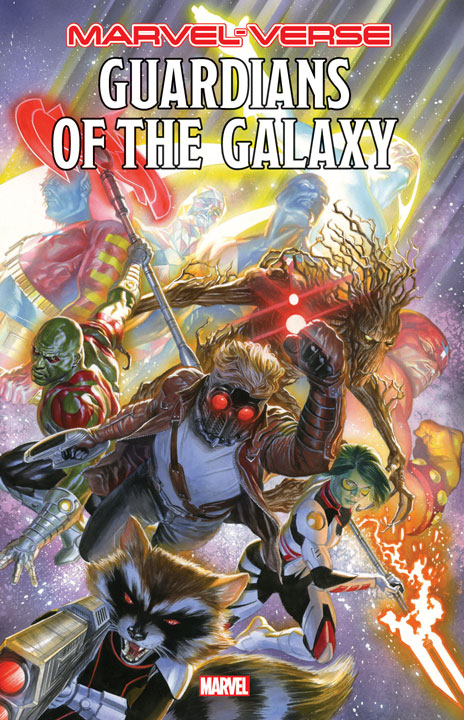 SMASH y Marvel Comics México traen para tí Marvel-Verse: Guardians of the Galaxy, con las mejores historias del equipo más irreverente del Universo Marvel.

También se está leyendo:
¡Deadpool y Spider-Man se burlan de Batman y Superman!
Spider-Man tendrá un nuevo interés amoroso en el MCU
Niños se dejan picar por una viuda negra por querer ser Spider-Man
Polémica por el nuevo Spider-Man
Benicio del Toro y Zoe Saldana inauguran la nueva atracción de Disney