Si bien al momento no es probable que haya Guardians of the Galaxy Vol. 4, el cineasta James Gunn no descarta su regreso para una cuarta parte de la saga
Cada ciclo tiene un inicio y un fin, y en el caso de los Guardians of the Galaxy en el Universo Cinematográfico de Marvel una era podría acabar con el Vol 3, aunque ello no excluye al cineasta James Gun para volver en un posible Vol 4.
También puedes leer: Guardians of the Galaxy Vol. 3 sería la última película de Dave Bautista con Marvel
A través de su cuenta de twitter, el cineasta James Gunn sostuvo una nbreve charla con Dave Bautista, quien señaló que su compromiso con Marvel Studios finalizaba con Guardians of the Galaxy Vol. 3.
There's no Drax for me without you, buddy! You ARE the MCU's Drax the Destroyer and, as far as I'm concerned, could never be replaced. And you have the right to do whatever you want with your acting choices! ❤️ @DaveBautista https://t.co/Mn5uNRVUvN

— James Gunn (@JamesGunn) May 8, 2021
"¡No hay Drax para mí sin ti, amigo! Eres Drax the Destroyer de MCU y, en lo que a mí respecta, nunca podrías ser reemplazado. ¡Y tienes derecho a hacer lo que quieras con tus elecciones de actuación!"
Un tuitero le preguntó a James Gunn si Guardians of the Galaxy Vol. 3 sería la última película que el director filmaría con Marvel, a lo que Gunn señaló que no se descarta para una nueva película del equipo, aunque aclaró que la tercera parte es el final de la historia que empezó a contar en 2014.
Me? Never say never but I see Vol 3 as the end of the Guardians' story I started telling back with Vol 1. https://t.co/q6iuqWoSgQ

— James Gunn (@JamesGunn) May 8, 2021
"Nunca digas nunca, pero veo el Vol 3 como el final de la historia de los Guardianes que comencé a contar con el Vol 1".
¿Veremos el Vol 4 de Guardians fo the Galaxy?
Como SMASH lo informó en semanas recientes, esta tercera entrega de Guardianes de la Galaxia podría ser la última vez que se vea a la alineación original del equipo integrado por Star-Lord, Gamora, Drax, Rocket Racoon, Groot, Mantis y Nebula.
Guardians of the Galaxy Vol. 3 contará con un elenco integrado por Chris Pratt como Star-Lord, Zoe Saldaña como Gamora, David Bautista como Drax, Bradley Cooper cono la voz de Rocket Racoon, Vin Diesel como la voz de Groot, Pom Klementieff como Mantis y Karen Gillan como Nebula.
Bajo la dirección de James Gunn, Guardians of the Galaxy Vol. 3 llegará a las salas de cine el 5 de mayo de 2023.
No te pierdas: James Gunn comparte una foto inédita de ¿Nebula? en Guardians of the Galaxy
Fuente: Twitter
Las locuras de los Guardianes de la Galaxia llegan al Marvel-Verse
¡Los orígenes del equipo galáctico más irreverente!
Desde su primera aparición en 1969, la alineación de los Guardianes ha sufrido varios cambios. En esta edición recuperamos las ediciones que reflejan de mejor modo los momentos y características que estos inadaptados galácticos aportan a esta tribu disfuncional que conquistó el corazón de fanáticos alrededor del mundo gracias a su adaptación a la pantalla grande.
Conoce sus primeras aventuras, sorpréndete con la imaginación de los elementos que envuelven sus historias como su vestuario extravagante, sus fantásticas naves espaciales y sus más grandes misiones interestelares.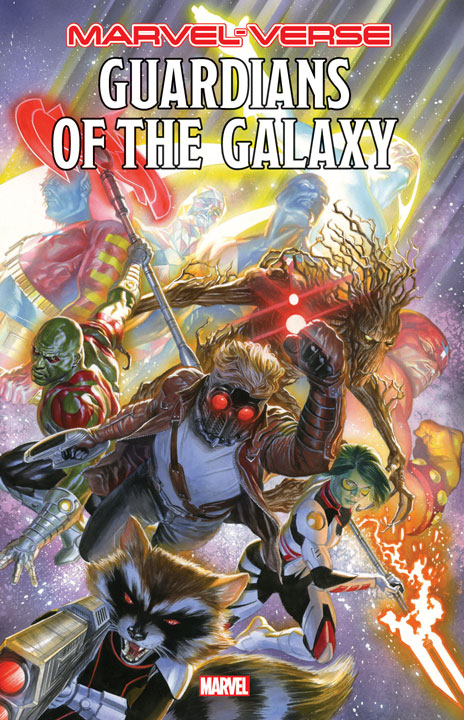 SMASH y Marvel Comics México traen para tí Marvel-Verse: Guardians of the Galaxy, con las mejores historias del equipo más irreverente del Universo Marvel.

También se está leyendo
5 Curiosidades sobre "Guardianes de la Galaxia Vol. 2″
Amanda Seyfried rechazó ser parte de 'Guardianes de la galaxia'
James Gunn usa papel de baño de Guardianes de la Galaxia ante escasez
Zoe Saldaña confiesa que cría a sus hijos con ayuda de tres asistentes
Disneyland podría no reabrir sus parques hasta el 2021