The Batman Who Laughs no sólo desatará su terror en el Universo DC, también lo hará en tu casa en un nuevo juego de mesa
Desde su debut en Dark Nights: Metal, The Batman Who Laughs se ha convertido en uno de los villanos más despiadados y sádicos de todo el Universo DC, y ahora tendrás la oportunidad de tener toda esa locura contenida en un juego de mesa.
De acuerdo con Newsrama, próximamente se lanzará un juego donde el villano creado por Scott Snyder y Greg Capullo será el protagonista de The Batman Who Laughs Rising.
"El perturbador cruce del multiverso entre el Cruzado encapotado y el Joker será el epicentro del conflicto en el nuevo juego de cartas y dados, en el que los jugadores trabajan juntos y reclutan superhéroes clave para dominar a una gran cantidad de supervillanos"
¿De que trata The Batman Who Laughs Rising ?
La descripción del juego menciona: "En The Batman Who Laughs Rising , un pasaje del Multiverso Oscuro ha permitido a los malvados más peligrosos infiltrarse en Gotham City, y estos Caballeros Oscuros junto a su amenazante líder están ansiosos por hacer lo peor en la ciudad".
Los héroes como Batman, Superman, Wonder Woman, Green Lantern o Hawkgirl, tendrán que hacer equipo para enfrentarse a las amenazas que representan Los Caballeros Oscuros, como Merciless, the Dawnbreker, the Murder Machine, The Drawned, Devastator, The Red Death y por supuesto The Batman Who Laughs.
La emoción y el horror de Dark Night: Metal están en SMASH y DC Comics México
Más allá de nuestro universo, existe un Multiverso… y debajo del Multiverso hay un reino de pesadilla donde todo temor que se haya sentido en nuestra Tierra se vuelve realidad.
Cuando la puerta entre mundos es abierta, no son cualquier tipo de pesadillas las que son derramadas Batman es atrapado en el Multiverso Oscuro, y la Liga de la Justicia debe realizar una búsqueda imposible para encontrar al misterioso metal capaz de repeler a los Caballeros Oscuros y al temible Barbatos.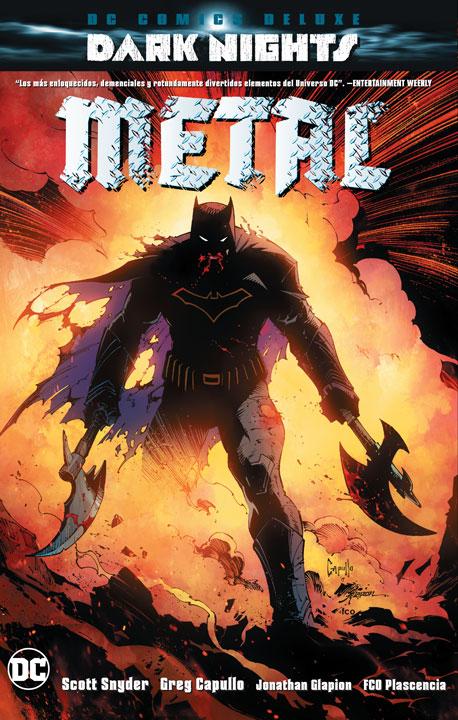 SMASH y DC Comics México traen para ti Dark Nights: Metal, el evento que combró al Universo DC en los últimos años. Adquiérelo en este enlace.