La nueva aventura de Scott Snyder y Greg Capullo irá más allá de los cómics, y a los nuevos cortos animados de Dark Nights: Death Metal se ha unido David Hasselhoff como la voz de Superman
Dark Nights: Death Metal no solo quiere dejar su huella en las páginas de los cómics, la historia de Scott Snyder y Greg Capullo también estará disponible en formato animado, donde se empieza a juntar un elenco de voces, encabezados por David Hasselhoff.
Te puede interesar: Dark Knights Death Metal: Conoce a Kull, la hija de Batman y Wonder Woman
En el tomo cuatro de Dark Nights: Death Metal se dio a conocer que esta historia estará acompañada de un soundtrack a cargo de Tyler Bates, además de una serie de cortos animados en formato motion comic, con un reparto de voces encabezados por David Hasselhoff, quien será Superman.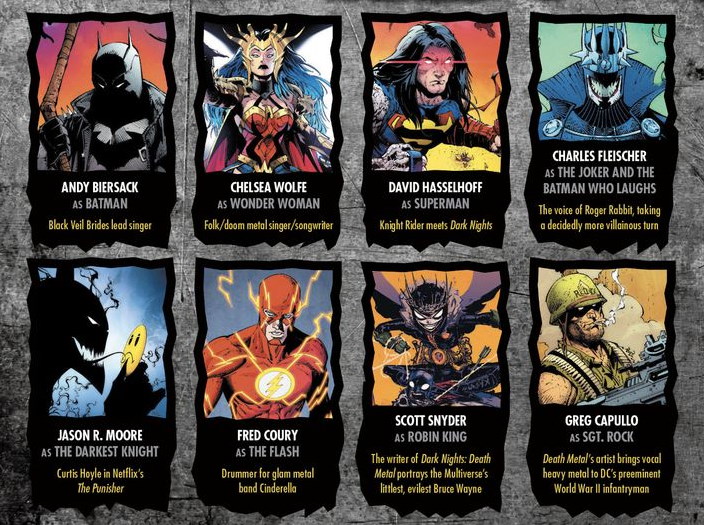 El protagonista de series como Baywatch y Knight Rider estará acompañado de otras personalidades como Andy Biersack (vocalista del grupo Black Veil Brides) como Batman, Celsea Wolf (cantante) como Wonder Woman, Charles Fleischer (voz de Roger Rabbit) como Joker y el Batman que Ríe, Jason R. Moore (Serie The Punisher) como The Darkest Knight, Fred Coury (baterista del grupo Cinderella) como Flash, Scott Snyder (escritor) como King Robin y Greg Capullo (ilustrador) como Sargento Rock.
Éstos episodios estarán disponibles en una página de iternet dedicada a Dark Knights: Death Metal, así como en el canal de youtube de DC Comics, mientras que el álbum con el Soundtrack de la historia llegará en el transcurso de 2021.
No te despegues de nuestras redes sociales, ni de nuestro sitio oficial, ya que te informaremos de manera oficial cuando podrá conseguir la serie que ha sembrado el terror en el Universo DC.
No te pierdas: Robin King: La última obra del horror de The Batman Who Laughs
Fuente: CBR
La emoción y el horror de Dark Night: Metal están en SMASH y DC Comics México
Más allá de nuestro universo, existe un Multiverso… y debajo del Multiverso hay un reino de pesadilla donde todo temor que se haya sentido en nuestra Tierra se vuelve realidad.
Cuando la puerta entre mundos es abierta, no son cualquier tipo de pesadillas las que son derramadas Batman es atrapado en el Multiverso Oscuro, y la Liga de la Justicia debe realizar una búsqueda imposible para encontrar al misterioso metal capaz de repeler a los Caballeros Oscuros y al temible Barbatos.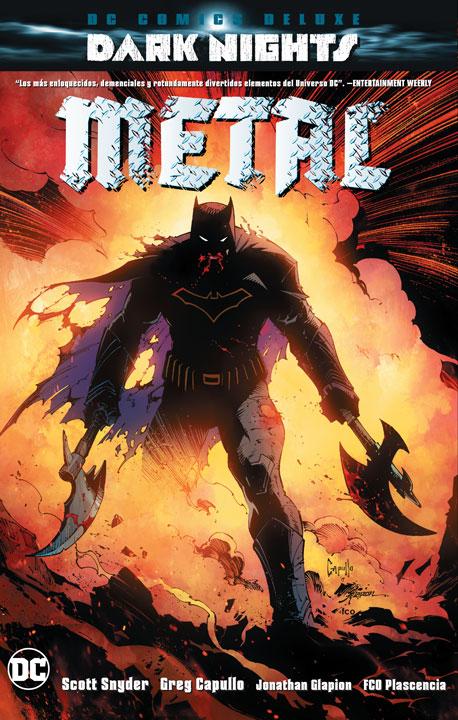 SMASH y DC Comics México traen para ti Dark Nights: Metal, el evento que cimbró al Universo DC en los últimos años.
También se está leyendo
Grant Morrison: Superman era bully
Batman, Superman, Wonder Woman y Flash tienen un nuevo enemigo…
La rutina de Henry Cavill para lograr el Superman
Muere Noel Neill, la primera 'Lois Lane' de Superman