Si hay algo que distingue a Guardians of The Galaxy es su música, y ahora James Gunn comparte una playlist no usada en la película.
Conocidos como The Awesome Mix, las bandas sonoras de Guardians Of The Galaxy y Guardians Of The Galaxy Vol. 2 son parte del corazón de ambas películas. Como indica la revista Empire a través de su sitio web, estas playlist: "no solo proporcionan una banda sonora optimista y conmovedora para las aventuras de Star-Lord y compañía, sino también el núcleo emocional de la serie: canciones transmitidas a Peter Quill por su madre, Meredith, quien murió cuando era joven".
Pues bien, si eres fan de Guardians of The Galaxy, estás de suerte, pues su director James Gunn compartió en sus redes sociales una playlist de Spotify descartada para ambas producciones.
Part of the master list of Meredith Quill's favorite songs I considered for the soundtracks of Guardians of the Galaxy Vol's 1 & 2. I'm not promising I won't use these in future films, but we could all use some joyousness during our time in quarantine. ❤️ https://t.co/ofiKPXqGN4

— James Gunn (@JamesGunn) April 20, 2020
En su publicación, Gunn escribió:
Esta es parte de la lista maestra de las canciones favoritas de Meredith Quill que consideré para las bandas sonoras de Guardians of the Galaxy Vol. 1 y 2. No prometo no usarlas en futuras películas, pero todos podríamos tener algo de alegría durante nuestro tiempo de cuarentena.
Meredith Quill's Complete Awesome Mix
La lista de canciones se llama Meredith Quill's Complete Awesome Mix. Cuando James Gunn compartió esta playlist no usada en Guardians of The Galaxy, el director escribió en su cuenta Instagram:
Hoy agregué la Meredith Quill's Complete Awesome Mix a mi cuenta de Spotify para que la disfrutes. Esto es parte de la lista de canciones que a Meredith Quill le encantó y elegí las canciones para las bandas sonoras de Guardians of the Galaxy Vol 1 y 2. Algunas de estas canciones casi llegaron a la película (She's Gone) y otras que siempre quise usar, pero nunca pude encontrar el lugar adecuado para ellas. En cualquier caso, nunca tuve la intención de compartir estas canciones, ya que podría usarlas en futuras películas. Pero creo que la necesidad de que todos tengamos algo de alegría en estos tiempos difíciles supera todo lo anterior. El link en mi biografía. #guardiansofthegalaxy #gotg #awesomemix #marvel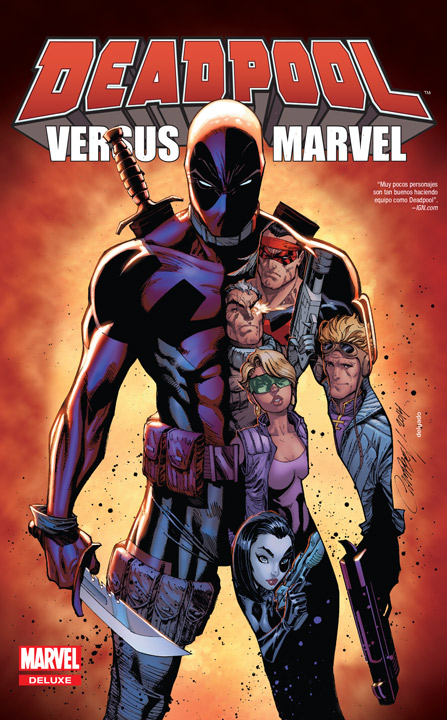 Todo lo que sabías acerca del primer encuentro entre Deadpool y Cable era un error… ¡ahora conoce toda la historia! ¿Podrá X-Force salvar la historia de las manos de Deadpool? Y luego, ¡Wade Wilson viaja al infinito y más allá dándose de guanteletazos con Thanos, el Titán Loco! ¿Pero quién se ganará la blanca y huesuda mano de la Muerte? ¡Y llega la batalla definitiva del demente bueno contra el demente malo cuando Deadpool enfrenta a Carnage! ¡Habrá mucha sangre! ¡Y el Degenerado que se regenera sale con Hawkeye la noche de Halloween! ¡Uh, terrorífico! Además: ¡Madcap se apodera de la cabeza de Wade y DP ayuda a su "mejor amigo" Spidey portando sus redes! ¡Hará muchos amigos e influenciará a la gente al estilo Deadpool!
El Mercenario Bocón contra los más grandes héroes de Marvel y sus villanos más viles!
Recopila Deadpool vs. X-Force #1-4, Deadpool Annual (2013) #1-2, Deadpool vs. Thanos #1-4, Deadpool vs. Carnage #1-4 y Hawkeye vs. Deadpool #0-4.