Tal vez para ti John Krasinski sea el Reed Richards ideal, pero antes que a él se buscó a Daniel Craig para Doctor Strange 2.
Doctor Strange in the Multiverse of Madness nos permitió ver lo que para muchos era el casting ideal:  John Krasinski como como Mr. Fantastic. Sin embargo, ha trascendido que el primer acercamiento para dar vida al Reed Richards del MCU fue con Daniel Craig, el actor que acaba de dejar el papel del 007.
También pude interesarte: Alex Hyde-White apoya a John Krasinski como Reed Richards en el MCU
La anécdota inició con el influencer Robbie Fox como comentario a una nota en la que Elizabeth Olsen narró que nunca había conocido a John Krasinski. A eso, Fox mencionó que el escritor Michael Waldron le confirmó que "la mayor parte de la escena de los Illuminati fue filmada en partes, ya que los horarios de todos los actores no se alinearon entre sí. Sólo la Capitana Carter y la Capitana Marvel estuvieron juntas".
El tuit mereció un comentario del reportero de Deadline, Justin Kroll, respondió: "Como dato curioso, Krasinski no fue la primera opción, el actor que originalmente iba a interpretar el papel estaba preparado para el rodaje, pero cuando hubo un repunte en los casos de COVID, se echó para atrás ya que estaba viviendo en Londres y consideró que por un breve rodaje no valía la pena correr el riesgo de exponer al COVID a su familia", sugiriendo con una imagen que Craig era el actor referido.
Fun fact, Krasinski wasn't the first choice, the actor originally set to play the role was all set to shoot but when there was an uptick in COVID cases, he backed out as he was living in London and didn't think the quick shoot wasn't worth risk of bringing back COVID to the fam pic.twitter.com/sD9nT0omki

— Justin Kroll (@krolljvar) May 14, 2022
Así luciría Daniel Craig como Reed Richards de Fantastic Four
Aunque algunos otros rumores afirman que sí se contempló contar con Daniel Craig para Doctor Strange in the Multiverse of Madness, lo señalan en realidad para Balder el Bravo, el hermanastro de Thor.
Como sea, sabemos que al genial ilustrador BossLogic nada se le escapa y suele darnos las primeras aproximaciones gráficas a las novedades de la cultura geek. Así que te dejamos con su versión del Reed Richards de Daniel Craig:
Ver esta publicación en Instagram
Fuente: TMZ
Los seres más poderosos de Marvel te esperan en nuestra tienda online con:
Marvel Deluxe – The New Avengers: Illuminati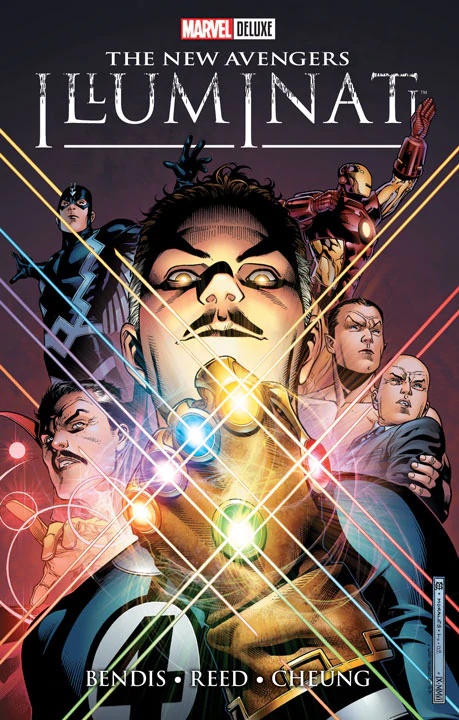 Los Illuminati.
¿Qué son?
Un grupo de élite con los guardianes más poderosos del planeta.
¿Cuándo se reúnen?
Siempre que la Tierra enfrenta sus mayores amenazas.
¿Quiénes son?
Nadie lo sabe
-¡Y esa es su voluntad!
Únete a Iron Man, el Profesor X, Black Bolt, Sub-Marinero y al Señor Fantástico mientras enfrentan las amenazas que nadie más puede manejar –y conoce los secretos que alterarán para siempre el modo en que ellos (y tú) ¡observan el Universo Marvel!
Después de pasar años protegiendo a la Tierra de cualquier daño, es ahora –justo cuando el planeta está bajo la amenaza más grande de todas–, que Los Illuminati descubren la punta de lanza de lo que será una invasión Skrull. Pero, ¿serán capaces de evitar fracturarse en la génesis de esta amenaza mundial?
Recopila: New Avengers: Illuminati #1-5 –por Brian Michael Bendis (New Avengers, House of M y Halo: Uprising) y Brian Reed (Spider-Woman: Origin y Ms. Marvel) y el artista estrella Jim Cheung (Young Avengers) y New Avengers: Illuminati: Road to Civil War -por Brian Michael Bendis y el ilustrador Alex Maleev (Daredevil).

También se está leyendo:
Hugh Jackman envía mensaje a los mexicanos
Washington DC podría tener un equipo de fútbol relacionado con X-Men
Michael Fassbender, entregado a la actuación
Mark Ruffalo transmite por error parte de la nueva película de Thor
Tendrá Estados Unidos traje Iron Man